John Deaton, the attorney representing XRP holders, has put forward a compelling argument that could potentially result in a 99.9% legal victory for Ripple in its ongoing legal battle with the SEC. Deaton's analysis challenges the prevailing belief that the SEC's stance in the Ripple case is evenly split 50-50. Instead, he contends that the advantage heavily favors Ripple, resembling a 90-10 split in their favor. If Ripple ends up facing penalties of $20 million or less, this interpretation could lead to a resounding legal win for the company.
Deaton's perspective has been prompted by a recent post by Stuart Alderoty, the Chief Legal Officer of Ripple. It highlighted another legal setback for the SEC in the ongoing lawsuit. This viewpoint resonates with the sentiment prevalent in the cryptocurrency community. Several have been viewing a potential settlement of $20 million as a positive outcome for Ripple. This assessment takes into consideration the broader implications of the XRP lawsuit and the regulatory landscape surrounding digital currencies.
Also Read: Ripple: XRP Price Prediction For The Weekend
XRP Hits 3-Month High
In a surprising turn of events, XRP has seen a significant resurgence in its market value. It hit a three-month high with a price exceeding $0.68. This surge in value represents a noteworthy recovery since Aug. 2 and coincides with XRP's impressive 23% gain against Bitcoin within just one week. Notably, wallets holding between 100,000 and 1 billion XRP have reached their highest level in 2023. This resurgence has piqued the curiosity of cryptocurrency enthusiasts and investors. This further prompted an exploration of the factors driving this surge in the token's value.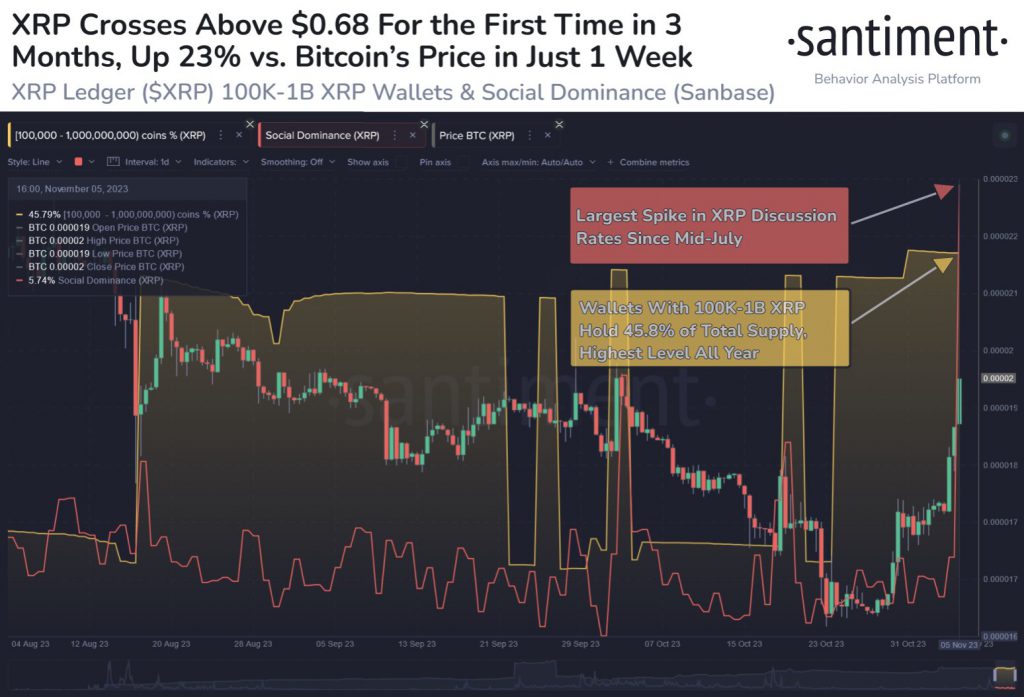 Several key factors contributed to the recent upswing in XRP's price. Firstly, renewed interest in the XRPLedger, the foundational blockchain of the XRP ecosystem, has played a pivotal role. This blockchain has been gaining recognition for its efficient and scalable technology, making it an appealing choice for both institutional and retail investors.
Furthermore, the recent rally in XRP's value, along with the positive legal developments in Ripple's SEC case, underscores the resilience and potential of this cryptocurrency. While the outcome of the lawsuit remains uncertain, Deaton's optimistic scenario and the broader market trends indicate that Ripple and XRP may be well-positioned for future success. The cryptocurrency community and investors are closely monitoring the courtroom developments, as they have the potential to influence the regulatory landscape and the digital currency market as a whole.
Also Read: Dubai Incorporates XRP Into Special Economic Zone