The crypto-verse has witnessed immense volatility throughout the year. With a bearish regime in the market, the industry saw the departure of many as opposed to the arrival. However, certain whales remained loyal as they pocketed increased amounts of crypto. XRP, Litecoin [LTC], and Compound [COMP] in particular recorded an increase in whale address balances throughout the year.
As mentioned earlier, Compound [COMP], an asset that had been laying low since its launch was making noise once again. Over the last three months, whale addresses holding 10K to 1 million COMP boosted their holdings. Santiment, an on-chain analytics platform revealed that these addresses went from holding 61 percent of the available supply to 74 percent.
Litecoin has been making headlines for its recent whale movements. Throughout the last couple of weeks, dormant whale addresses witnessed prominent activity. As the asset resides over $76, whales increased their holdings. Nearly five weeks ago, these whale addresses spiked their supply from 11.3 percent to 15.6 percent.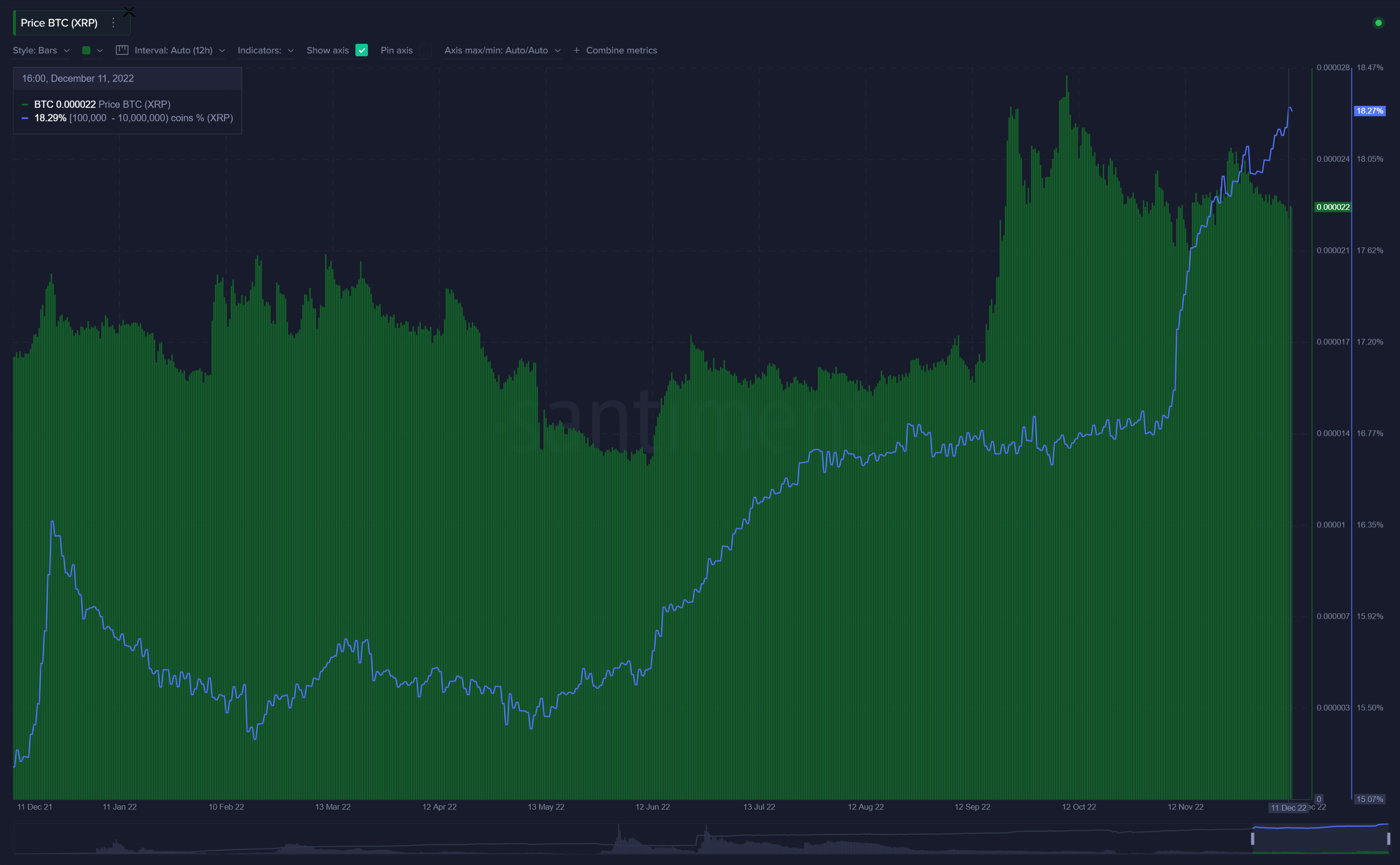 XRP had been making headlines due to Ripple's ongoing tiff with the SEC. While the community assumed that the asset would be sidelined, whales were busy pocketing XRP. A spike back in September and early October lured in whales. During this time, whale addresses holding 100K to 10 million XRP were alerted and decided to increase their holdings. In five weeks, the supply held by these whales went from 16.7 percent to 18.3 percent.
At press time, XRP was seen trading for $0.381 with a 1.73 percent daily surge. The highest that the asset has managed to surge all year is $1.02.
Here's why whale movements are pertinent to the market
Santiment pointed out that we are currently in a flat market. Here, it is quite rare for novice traders to outperform professional traders. However, keeping an eye on whale behavior could help these traders. This is done in order to confirm that they are still benefiting from significant accumulations and dumps coming from the areas with the most market power.
Further elaborating on exchanges moving funds, Santiment wrote,
"Any address with less typically doesn't have enough capital to move markets significantly on major buying or selling. And anything more typically has a high likelihood of being an address that belongs to an exchange. And exchanges don't really hold any bias toward adding or dropping the supply they are holding."
Additionally, it should be noted that Quant [QNT], Uniswap [UNI], and Maker [MKR] recorded a decrease in whale activity as per the report.