XRP, Ripple's native digital currency, is undergoing a remarkable rebound on its price chart. Following a period of sustained losses, XRP has revived its bullish momentum, generating optimism within the cryptocurrency market. This resurgence has sparked enthusiasm among traders and investors as XRP sets its sights on a critical target.
Additionally, November holds promise for positive developments. It could potentially bring an end to the prolonged and contentious legal battle between Ripple and the U.S. Securities and Exchange Commission (SEC), a dispute that has persisted for nearly three years.
The recent resurgence in the cryptocurrency market has given a boost to XRP's value. This further instilled hope among analysts and enthusiasts alike. One notable figure in the crypto community, Dark Defender, a prominent X user, even put forth an ambitious vision for the altcoin. Dark Defender envisions that Ripple's native token could surge to an impressive $6 or more by the conclusion of 2024. This marks a substantial leap from its current position.
Also Read: SEC drops lawsuit against Ripple XRP Executives
Here's how XRP will end October
As we approach the end of October 2023, it's an opportune time to examine the latest price projections for the asset. Cryptocurrency experts at Changelly, a well-known digital currency exchange platform, have shared their insights on XRP's expected price performance as October draws to a close. Their analysis indicates that XRP is likely to reach a high price of $0.763 after a low of $0.66. Changelly revealed that on Oct.30 the asset is slated to surge by 36% pushing its price to $0.763. However, Oct. 31 will see a lower price of $0.677.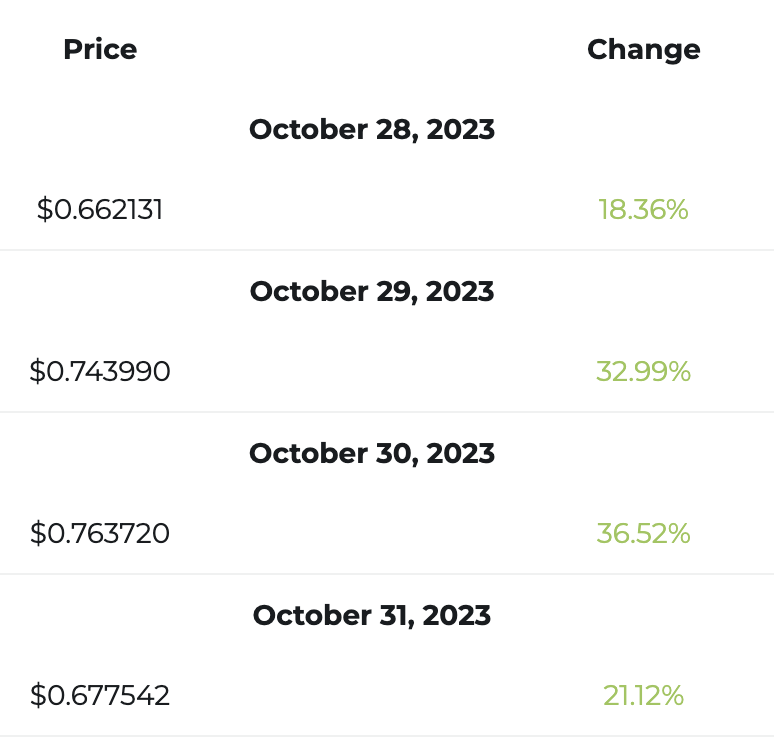 A significant catalyst for XRP's price surge occurred when a U.S. judge ruled that XRP should not be classified as a security. This ruling provided a much-needed boost to the value of Ripple's cryptocurrency, leading to several exchanges relisting the asset. The price briefly soared to an impressive high of $0.8875. However, it's worth noting that XRP, like many other cryptocurrencies, remains susceptible to market volatility, and it experienced a subsequent decline alongside the broader crypto market.
Also Read: Ripple: XRP Repeats 2021 Pattern of 70% Retracement From 2018 High
In conclusion, XRP's resurgence in the face of recent losses underscores the cryptocurrency's resilience. With bullish forecasts and optimistic expectations for November, XRP enthusiasts maintain their positive outlook on the potential for substantial price growth. While exercising caution is essential in the unpredictable world of cryptocurrencies, the upward momentum of the altcoin is undeniably an encouraging sign for its supporters.