Solana, XRP, and Stellar-based crypto investment products have seen a rise in Assets Under Management [AUM] and a spike in activity. On a monthly basis, XLM products surged by 62.7% to $17.3 million. The rise came on the back of a pump registered by Grayscale's XLM
product. XRP and SOL products recorded 33.2% and 55.7% increases in AUM. The figures currently stand at $65.7 million and $87.8 million respectively.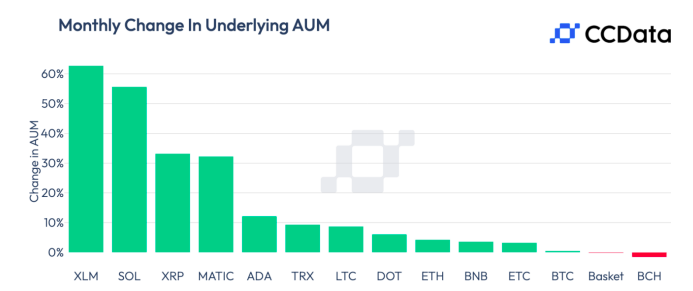 Also Read: $7.4 Million Asset Managing Stellar Lumens Fund Shares Pump 430%
Investors pick ETCs over ETFs
Over the past few weeks, a flurry of ETF-related developments has taken place. Specifically, asset managers from around the world, right from the U.S. to Europe and Australia, filled out applications and launched their products. However, in July, Exchange Traded Commodities [ETCs] registered the highest increase in AUM. They recorded a 31.4% rise to $2.67 billion. In that process, their market share rose from 6.11% to 7.91% in a month. ETCs were followed by ETF products, which increased 6.07% to $3.88 billion, commanding 11.5% in market share. Nevertheless, trust products were the leader of the pack. Elucidating on the same, a recent CCData research report revealed,
"Trust products continued to dominate in terms of AUM, with a market share of 74.4%."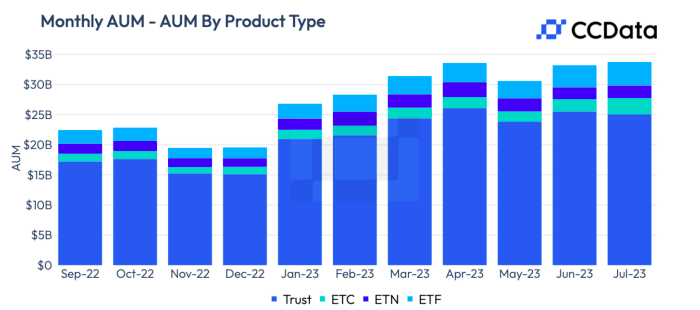 Company-wise, Grayscale was the biggest beneficiary. The aggregate value of all its products surpassed $25 billion, helping the company maintain its position as a dominant player. It was followed by ProShares, 21Shares, Purpose Invest, CoinShares, and VanEck.
The improved statistics bring to light that users continue to hunt for new avenues to provide them exposure to crypto. Innovation and regulations are not essentially going hand-in-hand at the moment. Several regulators, including the SEC, have expressed cynicism over crypto-related spot products. However, with new applications filed by top asset managers, the community remains optimistic and is looking forward to more launches in the near future.
Also Read: Australia Receives First Spot Bitcoin ETF Application