The race for the approval of Bitcoin exchange-traded funds (ETFs) in the United States has reached a crucial juncture. The Securities and Exchange Commission (SEC) has a small window of opportunity to greenlight a dozen pending applications. Beginning on Nov. 9 and spanning the next eight days, the SEC has a unique opportunity to change the landscape of crypto investing by approving these spot Bitcoin ETFs.
ETFs, which allow investors to gain exposure to Bitcoin without directly owning the digital asset, have been a hotly debated topic in the financial world. The SEC's potential consent would pave the way for investors to buy shares backed by Bitcoin. This would make it an attractive and accessible investment option for those who may have been hesitant to directly invest in the volatile crypto asset.
This pivotal moment was highlighted by Bloomberg ETF analysts James Seyffart and Eric Balchunas. They emphasized the significance of this window. The duo suggested that the SEC's delay orders issued for major players like BlackRock, Bitwise, VanEck, WisdomTree, Invesco, Fidelity, and Valkyrie indicate a coordinated effort. This notes that the SEC may be looking to allow all 12 filers to launch Bitcoin ETFs. This will undoubtedly mark a significant shift in their approach. It's important to highlight that approval is not guaranteed, and this window remains a possibility.
The reason for this specific window of opportunity is linked to the SEC's extension of the deadline for several filings. The comment period concluded on Nov. 8, making it the last day for any final decisions. After Nov. 17, the comment period for three specific filings will recommence. This will further delay their potential approval or denial until after Nov. 23.
Also Read: Spot Ethereum ETF To Follow Spot Bitcoin ETF: Says Analyst
Bitcoin touches $36,000
As the SEC's decision-making process unfolds, the crypto market continues to experience significant fluctuations. Bitcoin briefly hit $36,000 before noting a correction. Nevertheless, Bitcoin has shown remarkable growth. The asset saw a 32% increase in the last month and a staggering 99% surge over the past year. At press time, BTC was trading at $36,639.46 with a 3.9% daily surge.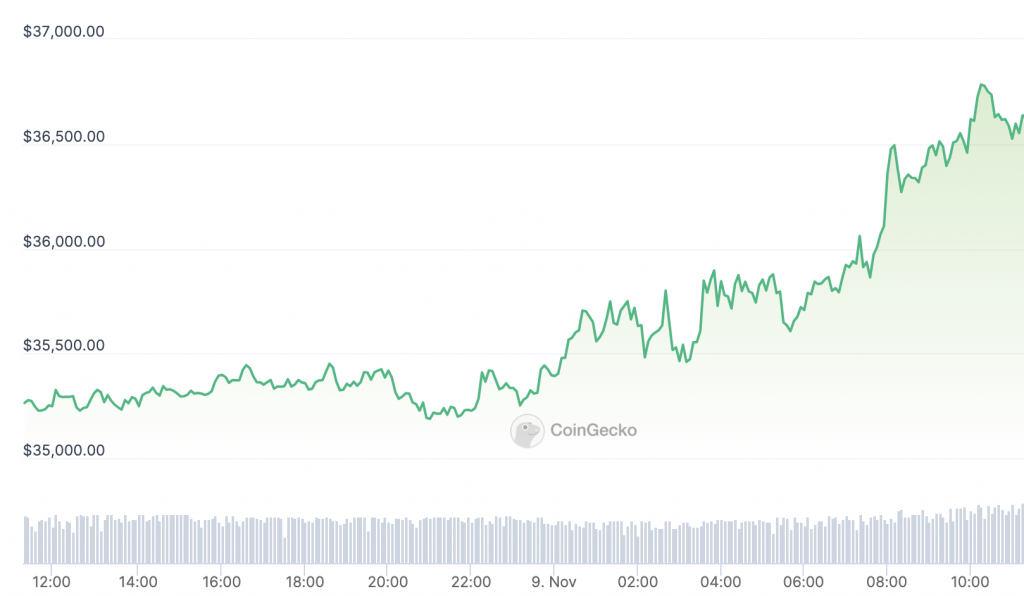 However, it's important to note that the potential approval of a Bitcoin ETF is not yet fully priced into the market. According to Matt Hougan, the Chief Investment Officer of Bitwise Asset Management, many potential investors remain unaware of the imminent approval possibility. Advisors, who represent a natural audience for ETFs, largely do not expect approval until 2025 or later. This means that if and when approval occurs, it could trigger a surge in interest and investment in Bitcoin. Furthermore, this could impact its price and market dynamics.
In conclusion, the upcoming days will be critical in determining the fate of Bitcoin ETFs in the United States. The market eagerly awaits the SEC's decision. If approved, it could mark a transformative moment for crypto investing, potentially driving a new wave of interest and adoption.
Also Read: JP Morgan: SEC Spot Bitcoin ETF Rejection Could Bring Lawsuits