The entire cryptocurrency market has been encountering increased volatility. With Bitcoin [BTC] dipping below $30K, other assets failed to retain their recently achieved highs. Meme coins succumbed to the ongoing downtrend which further pushed Dogecoin [DOGE] below $0.080.
Adding more uncertainty was significant whale movements in the DOGE market. According to recent data, a whopping 151 million DOGE walked out of the world's largest cryptocurrency exchange Binance. This substantial amount of DOGE was reportedly transferred to an unknown wallet.
The movement of this amount certainly entails the capacity to have an impact on the market. However, this transaction seems to be nothing but internal wallet reshuffling. Similar transactions have occurred throughout the weekend where Dogecoin was being moved out of Binance to unknown wallets.
Dogecoin's week ahead
The above whale movements would have certainly profited DOGE if they weren't internal. Sadly, the meme coin persisted in its downtrend. Earlier today, DOGE managed to rise to $0.08063. However, it doesn't seem to be getting the support it requires to move beyond this zone. Therefore, the asset slipped to a low of $0.07744. At press time, DOGE was back trading for $0.07912 with a 1.47% daily drop. Surging above $0.08 continues to remain a task.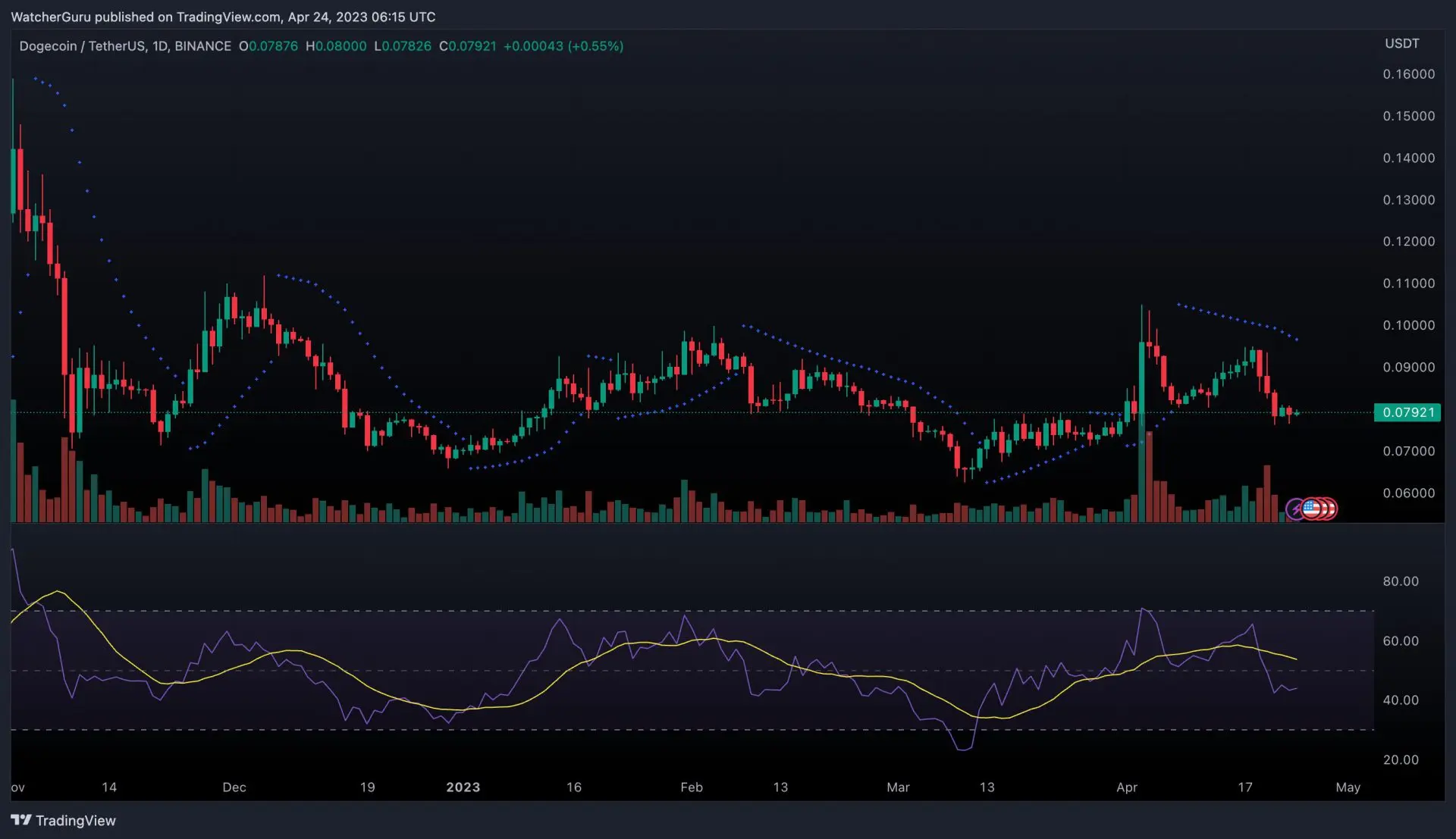 The daily chart of Dogecoin exhibited bearish characteristics. For instance, the Parabolic SAR indicator employed in the chart formed dotted lines above the candlesticks. This is bearish as the line acts as resistance against any potential increase in the meme coin's price.
The Relative Strength Index [RSI] indicator spun a similar story. The RSI marker was currently below the 50 median. This often indicates that the DOGE market is dominated by sellers as opposed to buyers.
Despite the asset's current slump, the holders of Dogecoin were making profits. According to Into The Block, DOGE holders making money at the current price were 54%. Those enduring losses were at 43%. Therefore, this slight setback that the DOGE market is experiencing isn't extremely detrimental at the moment.