Every year, the crypto industry witnesses the introduction of numerous new assets. However, this year holds a particular significance, due to the arrival of PEPE. The meme coin, inspired by frog-themed imagery, made a notable impact upon its launch. Amidst a market saturated with canine-themed crypto assets, PEPE garnered significant attention and achieved widespread attention.
Like any other asset, PEPE faced a substantial decline in value. However, driven by the prevailing market sentiment, the asset managed to regain its prominence and reclaim its position at the top. Amidst these developments, an astonishing 1.93 trillion PEPE tokens were withdrawn from the Binance exchange. According to blockchain sleuth, Lookonchain, a total of $3.03 million worth of tokens were moved out of Binance.
This wasn't the only transaction facilitated by the whale. Notably, before acquiring a significant amount of PEPE tokens, the whale sold nearly 97,735 LINK tokens and 9,883 BNB coins, resulting in a loss of about $342K. It is important to note that the investor intentionally traded their holdings with the intention of acquiring a substantial amount of PEPE tokens. The whale accomplished this move by simultaneously adding an additional 227 ETH worth $424K to their portfolio.
PEPE records spike in network activity
During this period, PEPE witnessed a notable increase in its daily active addresses. According to into the block data, the asset experienced a 7.33% surge, resulting in a total of 3.21K active addresses. Furthermore, the volume of large transactions observed a significant 92% upswing. Presently, the PEPE network's volume of large transactions amounts to $13.91 million.
However, this surge could be in line with increased selling pressure in the PEPE market. The asset's price reflected this trend. At press time, the meme coin was trading for $0.00000153 with a 2.3% daily drop. It is worth noting that the asset saw a weekly pump of 45%.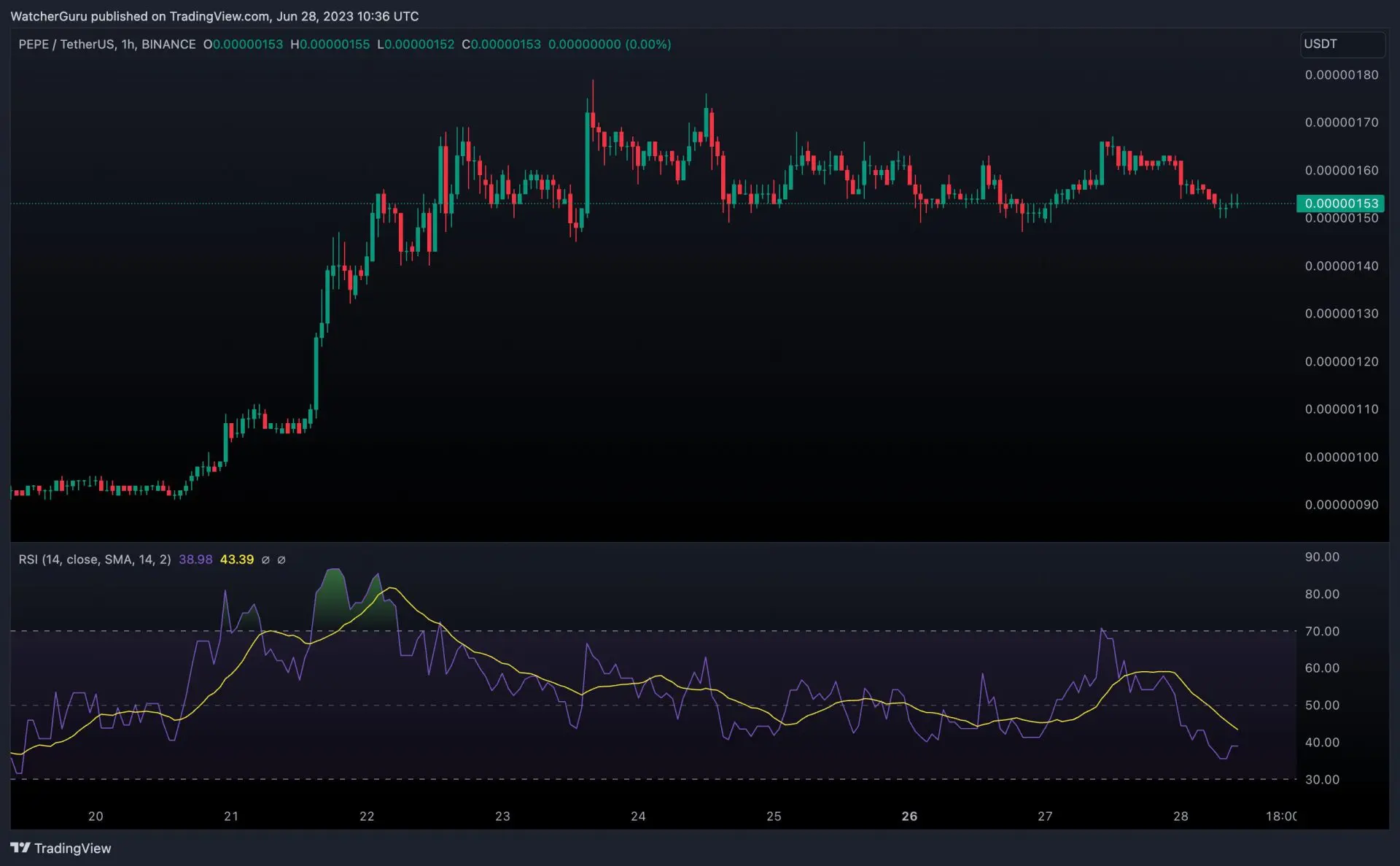 Furthermore, the one-hour chart of the meme coin also indicated a similar trend through the Relative Strength Index [RSI] indicator. The RSI marker resided in the sellers' zone, signifying heightened selling activity.