The crypto market has been in its bearish phase for more than nine months now. To make this phase easier for investors, institutions have been offering crypto products to cater to their specific needs. A couple of months back, for instance, 21Shares had rolled out a crypto winter suite to help market participants tread through this rough patch.
Read More: Bitcoin investors can tread through winter by bankrolling this 'suite'
Now, crypto investment product firm 21.co—the parent of 21Shares—said on Tuesday that it had raised $25 million in a funding round. Notably, the same was led by Marshall Wace that valued the company at $2 billion. Other participants of the funding round included Collab+Currency, Quiet Ventures, ETFS Capital, and Valor Equity Partners.
21.co said in a statement,
"With this round of financing, 21.co will continue to drive rapid, targeted growth through first-of-their-kind products, key market expansions, and strategic talent acquisitions."
It statement further revealed that the post-money valuation makes 21.co "Switzerland's largest crypto unicorn."
The afore-highlighted funding round was the company's first in two years. It said it ended 2021 "on a nine-figure revenue run rate and has seen sustained inflows, even during down markets." Furthermore, in the year period since September last year, it recorded $650 million in net new assets, with assets under management peaking in November 2021 at $3 billion.
How has 21Shares been faring?
Over the past week, top institutions like ProShares and 3iQ had noted digital asset fund outflows [$0.5 million, $9.4 million respectively]. 21Shares, however, registered positive flows worth almost $1.5 million in the same period.
In fact, even on the YTD window, 21Shares' number stood fairly higher when compared to the likes of Purpose, 3iQ, and CI Investments.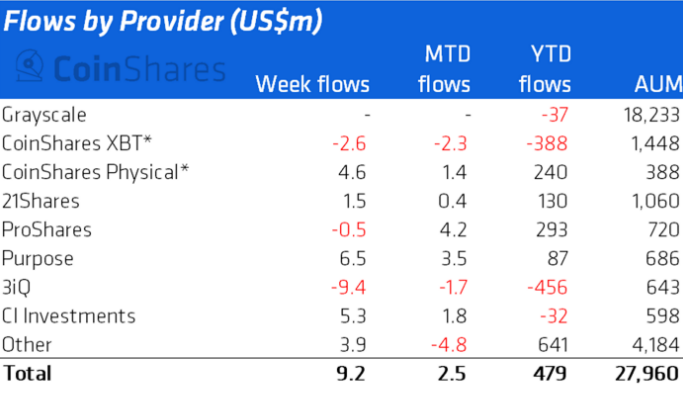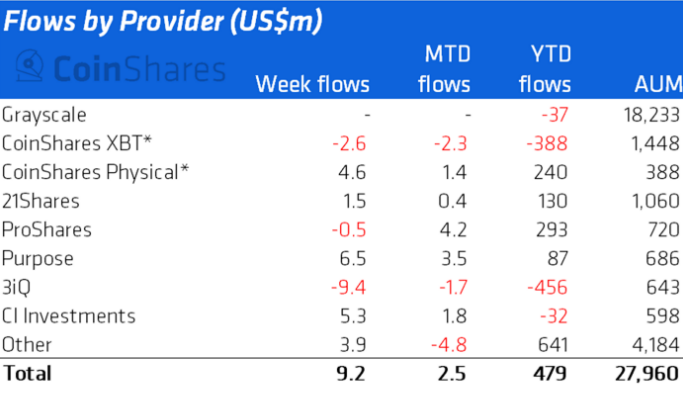 Are Alts now becoming institutions' favored choice?
The same CoinShares report further revealed that digital asset investment products saw minor inflows last week, summing up to $9.2 million.
Institutions have been biased towards altcoins lately. As illustrated below, inflows were seen in Solana [$0.5 million], Cardano [$0.1 million], and XRP [$0.2 million]. Bitcoin and Ethereum, on the other hand, had noted negative flows of $11.1 million and $2.1 million respectively.