The crypto industry dynamics keep changing every cycle. The market saw one of its worst winters recently and it is currently trying to get back on its feet. On the valuation front, the market's capitalization has been able to sustain around $1.2 trillion over the past few weeks. However, the number is still one-third of the $3 trillion bull market peak achieved in 2021.
Likewise, even on the employment front, crypto jobs peaked at around 211,200 during the bull market. However, a recent K33 Research report revealed that the number has dropped by around 23,700. Owing to the aforementioned 11% dip, the crypto employment figure currently stands only around 187,500.
Also Read: Bitcoin Hits 'All-Time High' in Argentina, Turkey: Egypt Next?
The crypto job breakdown
It is a known fact that trading and investment remain to be one of the most popular use cases of crypto assets. Well, this has a direct role to play in the employment arena. At the moment, 60% of employees [more than 110,000] in the crypto industry work in an entity that is focused on facilitating crypto trading and investment.
Well, NFTs were the talk of the talk during early 2022. Top companies from different sectors around the world dipped their toes in the ecosystem. In fact, even prominent celebrities, including Justin Bieber, ended up scooping different, yet trendy, collectibles. The NFT hype did fizzle out during the bear market. Despite that, more than 10,000 people still work on NFTs and NFT gaming projects.
Furthermore, close to 50,000 people are working on projects that are related to blockchain activity. The fields included blockchain protocols, analytics, mining, etc. The remaining 25,000 people are in crypto jobs that do not essentially fall under any of the main categories.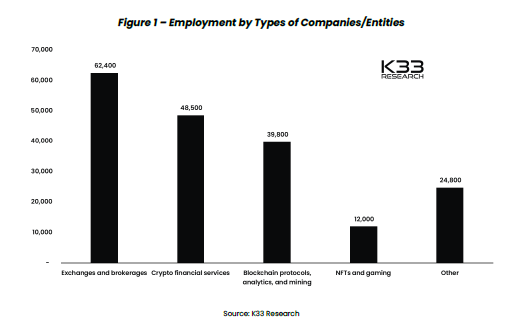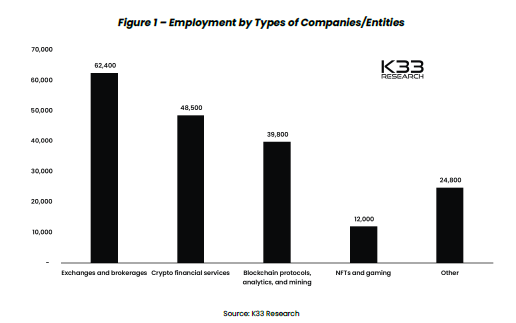 That being said, the mania associated with AI ended up denting crypto's prospects. In fact, AI jobs are 4 times more popular than crypto jobs in 2023. As pointed out in a recent article, the search interest in crypto job opportunities has also recorded a significant drop lately.
Also Read: 'AI Jobs' 4 Times More Popular Than 'Crypto Jobs' in 2023