A host of dormant addresses that bought crypto during its infancy are now becoming gradually active. Citing Whale Alert's tweets, Lookonchain revealed that three whales with 8,199 BTC worth $225 million have renewed activity over the past five days.
First, a dormant address containing 6071 BTC worth $178.12 million was activated after 9.3 years. Back in 2013, the BTCs were worth only $3.3 million. Soon after, another address containing 1128 BTC worth $31.5 million woke up after a period of 10.5 years. More recently, an address with 1000 BTC in possession, valued around $27.4 million, was activated after a 12-year gap.
Alongside Bitcoin, even old Ethereum whales have sprung back into action and have started moving funds. Just a day back, an address containing Ethereum tokens that had been dormant for 7.7 years became active. The ETH holder had taken part in the blockchain's Initial Coin Offering [ICO].
Also Read – Ethereum: ICO Participant Wakes Up After 7.7 Years of Dormancy
Is the dormant Bitcoin address activation trend worrisome?
People from the industry are concerned with this trend of old addresses becoming active and labeling it as "scary." Crypto Banter's Ran Neuner recently tweed,
"I hope it's not a wallet generator that's been cracked. That could be catastrophic."
Also read: Societe Generale Launches Ethereum-Based Euro Stablecoin
When a user replied stating that old BTC addresses becoming active is "just a part of the game" and it's time to embrace the volatility, Neuner pointed out,
"Nope. It's too many at the same time. All from an old vintage."
Even though it seems like a lot of wallets are getting active now, the percentage of supply that has not moved in 5+ years continues to be on an incline. In fact, on Tuesday, April 25, it claimed a new all-time high of 28.626%, suggesting that a significant chink of the circulating supply has not moved in at least 5 years. Amid the individual withdrawals, the chart below shows the bigger picture and is a positive takeaway.
Alongside, it should be noted that there's another giant whale with 79,957 BTC [worth $2.19B] in possession. That address has been dormant for over 12 years. BTC was priced at only at $0.93 when the whale received the coins. None of them have been moved so far, re-highlighting that conviction has not evaporated completely.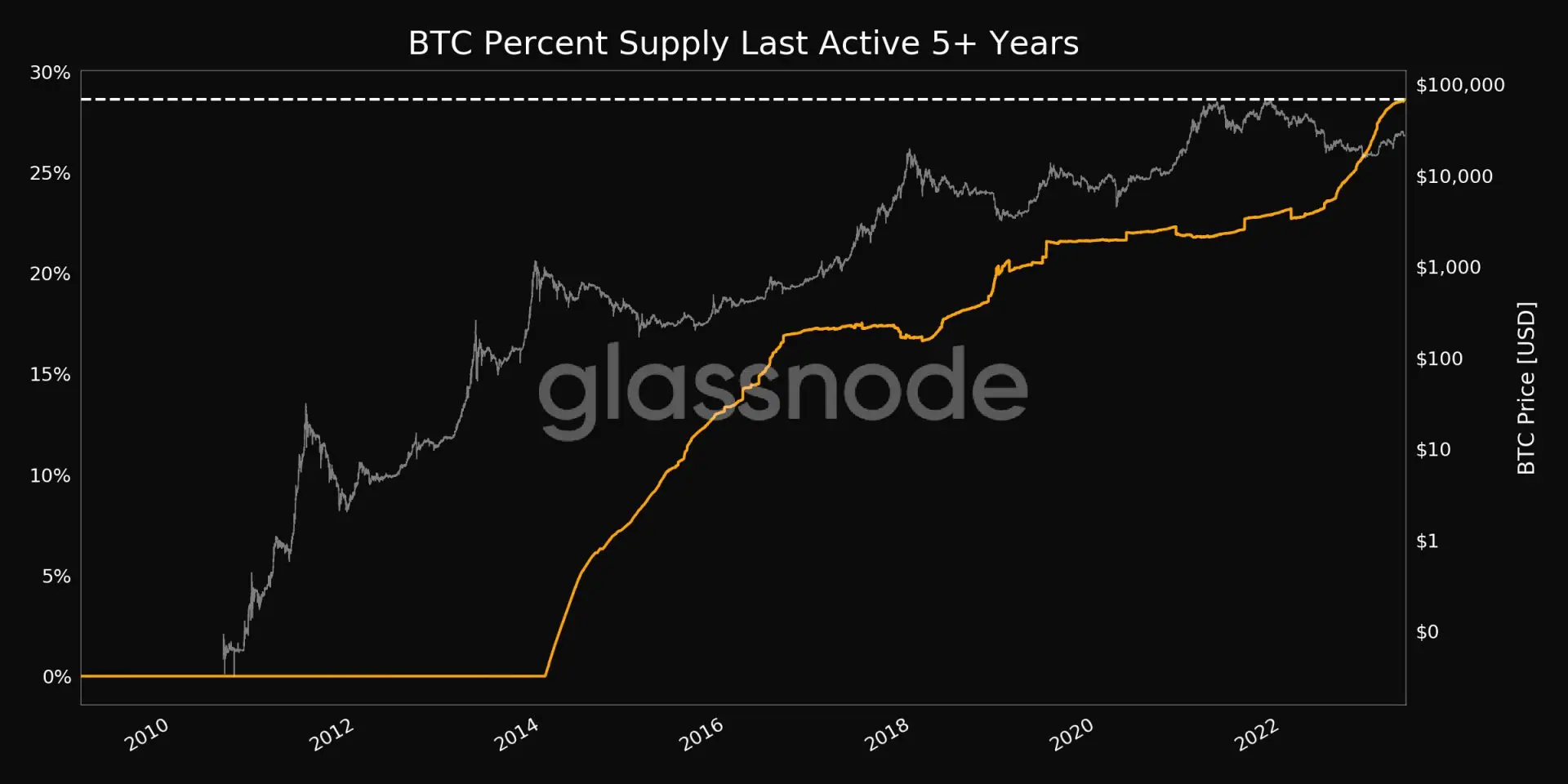 Also Read: 1 Billion USDT Minted on Ethereum As Stablecoin Strengthens Position