El Salvador's President, Nayib Bukele, took to Twitter and stated that central banks of 32 countries and 12 financial authorities will be meeting today (Monday, May 16th) to discuss financial inclusion, digital economy, banking the unbanked, El Salvador's Bitcoin (BTC) rollout and its benefits in the country.
In a series of subsequent Tweets, the president shared the list of countries that are attending the Bitcoin meeting.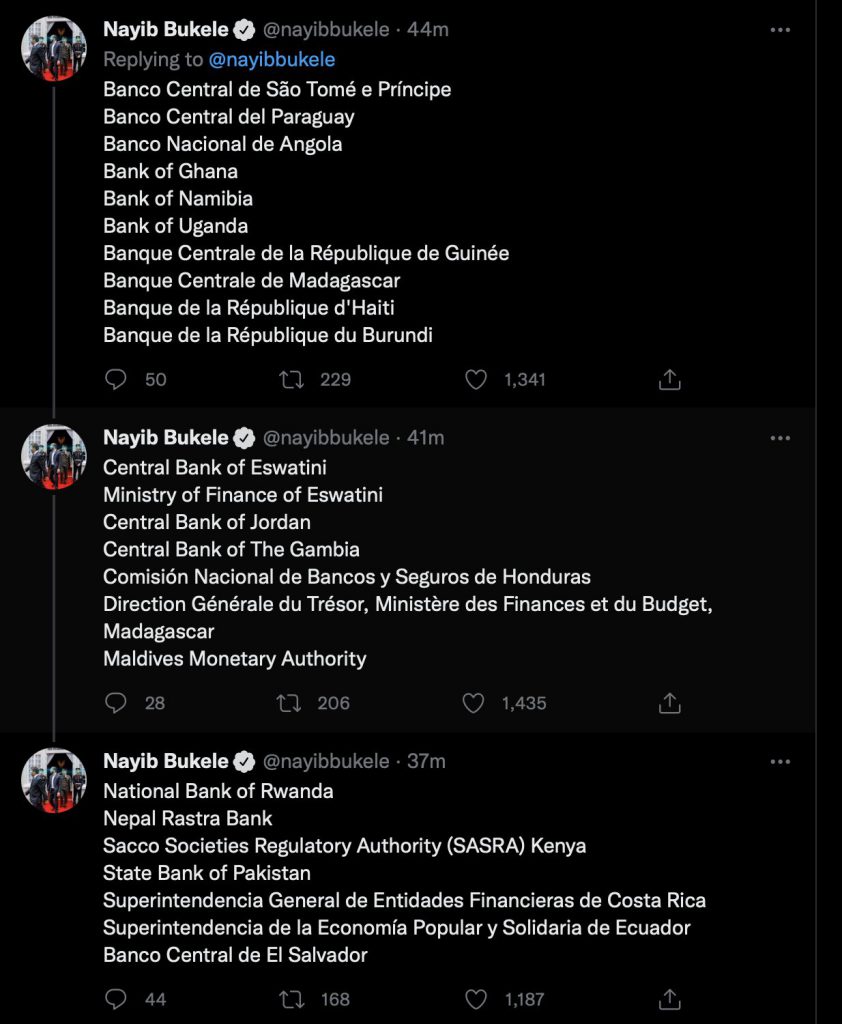 El Salvador's Bitcoin experiment
El Salvador was the first country to make Bitcoin a legal tender. Shortly after the government created an app called Chivo Wallet as well as an educational campaign on how to use it. This digital wallet allows users to convert bitcoin to dollars and vice versa for free, as well as send and receive either currency.
However, according to a study published by the US National Bureau of Economic Research, just 40% of Salvadorans (4 in 10) who downloaded the government-run Bitcoin wallet said they still use it after getting the $30 Bitcoin (BTC) incentive granted by President Nayib Bukele's administration. 1800 El Salvadorian homes were surveyed by the US Bureau of Economic Research, and the group conducted face-to-face interviews.
Despite the fact that the majority of El Salvadorans own a phone with an internet connection, only roughly 60% have downloaded Chivo Wallet. The typical user reports no ATM withdrawals and no Bitcoin payments sent or received in a given month.
Bitcoin had a turbulent fall last week after massive liquidations sent shockwaves through the markets. The original cryptocurrency reached a low of $26,910 on the 12th of May. At press time Bitcoin was trading at $30,415.04, up by 2.7% on the daily chart. Nevertheless, the coin is still down 10.7% on the 7-day chart, and down 21.1% on the 14-day chart. It is also 56.6% down from its all-time high of $69,044.77 which it attained on the 10th of November, 2021.