Recent research by Accenture has revealed that 52% of affluent investors in Asia held some form of digital assets in Q1 of 2022. These digital assets include cryptocurrencies, stable coins, and crypto funds.
As per the research, digital assets accounted for an average of 7% of surveyed investors' portfolios, making it Asia's fifth-largest asset class. This means that it receives a higher proportion of investments in the region than foreign currencies, commodities, or collectibles.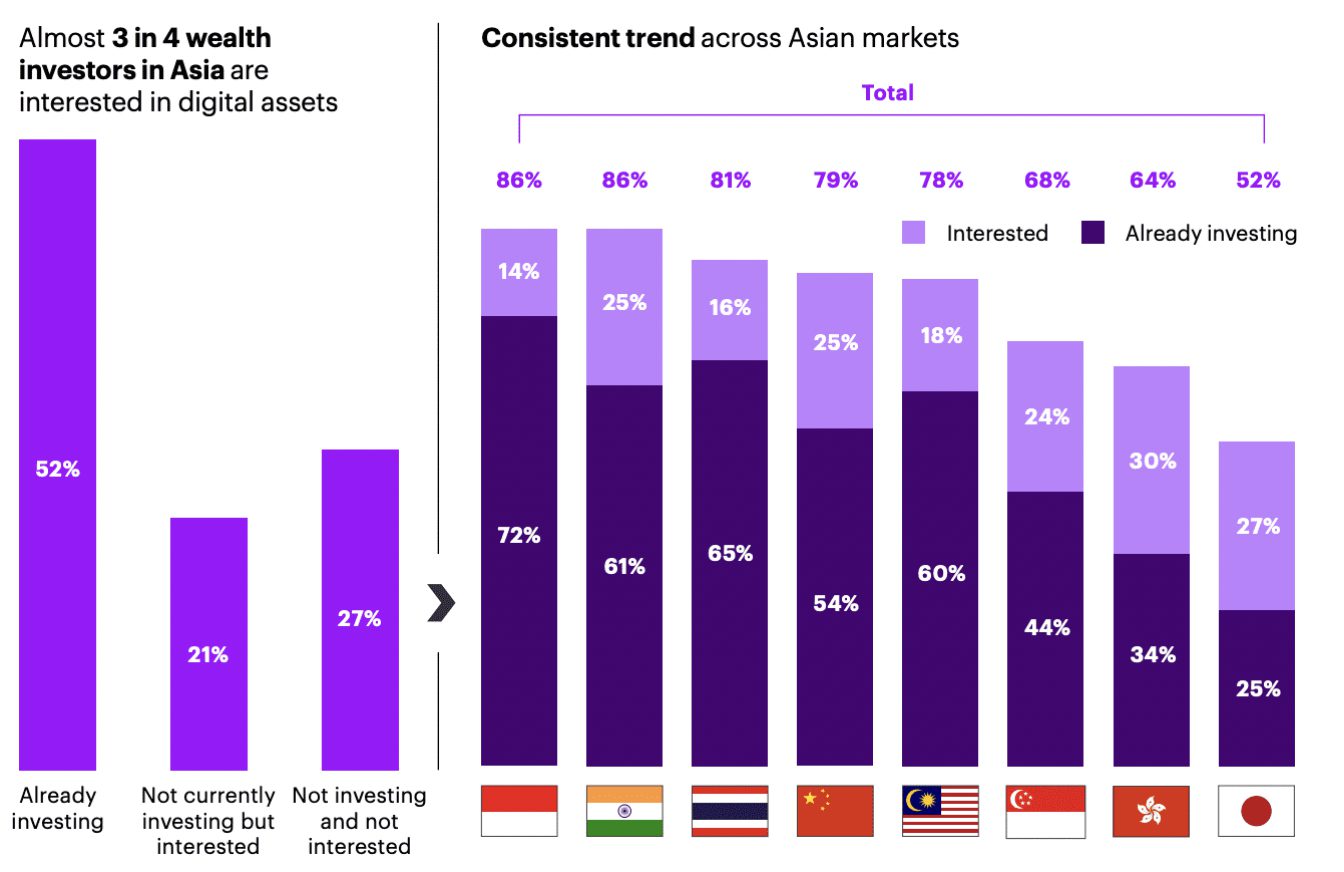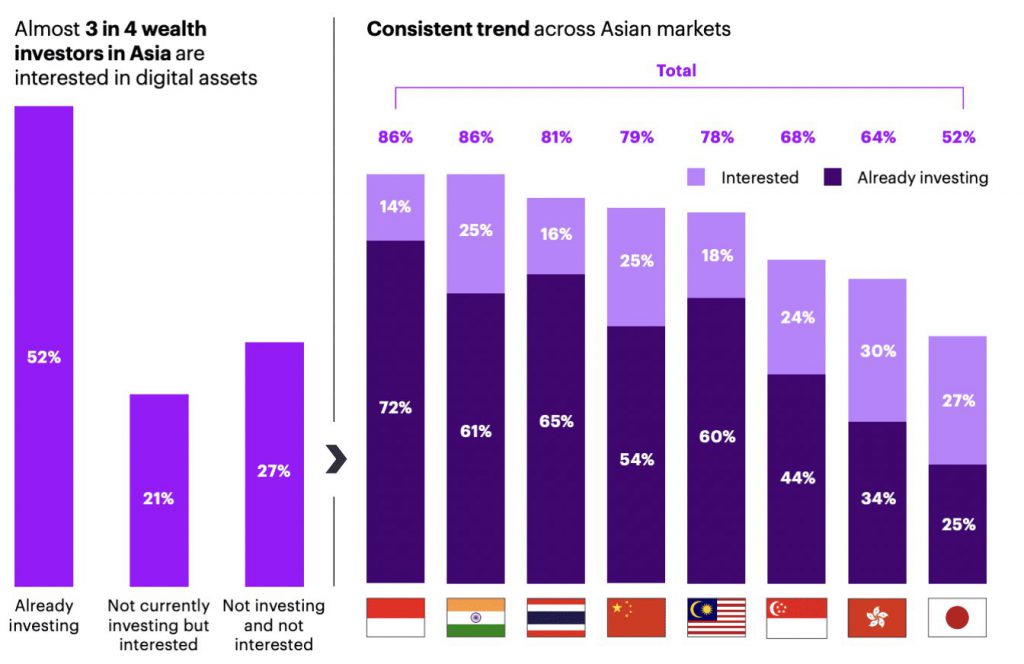 According to Accenture, roughly 3,200 people responded to the poll, with investable assets ranging from $100,000 to $5 million. They came from Hong Kong, mainland China, India, Indonesia, Japan, Malaysia, Singapore, and Thailand. As of the first quarter of 2022, investors in Indonesia and Thailand have the highest allocation of crypto assets compared to their peers.
Although half of the Asian investors had crypto assets in Q1 2022, Accenture's study shows that another 21% are likely to do so by the end of the year, implying that as many as 73% of rich Asian investors might own one by the end of the year.
While Southeast Asia, or Singapore to be precise, was once the crypto hub of the world, that spotlight has since shifted to West Asia, to UAE. In particular, Dubai has emerged as the new crypto Mecca of the world. This can be attributed to the Emirate's crypto and business-friendly laws.
Investment management firms holding crypto back in Asia?
Wealth management organizations, which provide financial planning, tax, investment, and estate planning to their clients, have been sluggish to jump on board the crypto train, according to Accenture's research. As per the survey, 67% of wealth management businesses have no intentions to offer digital asset products or services.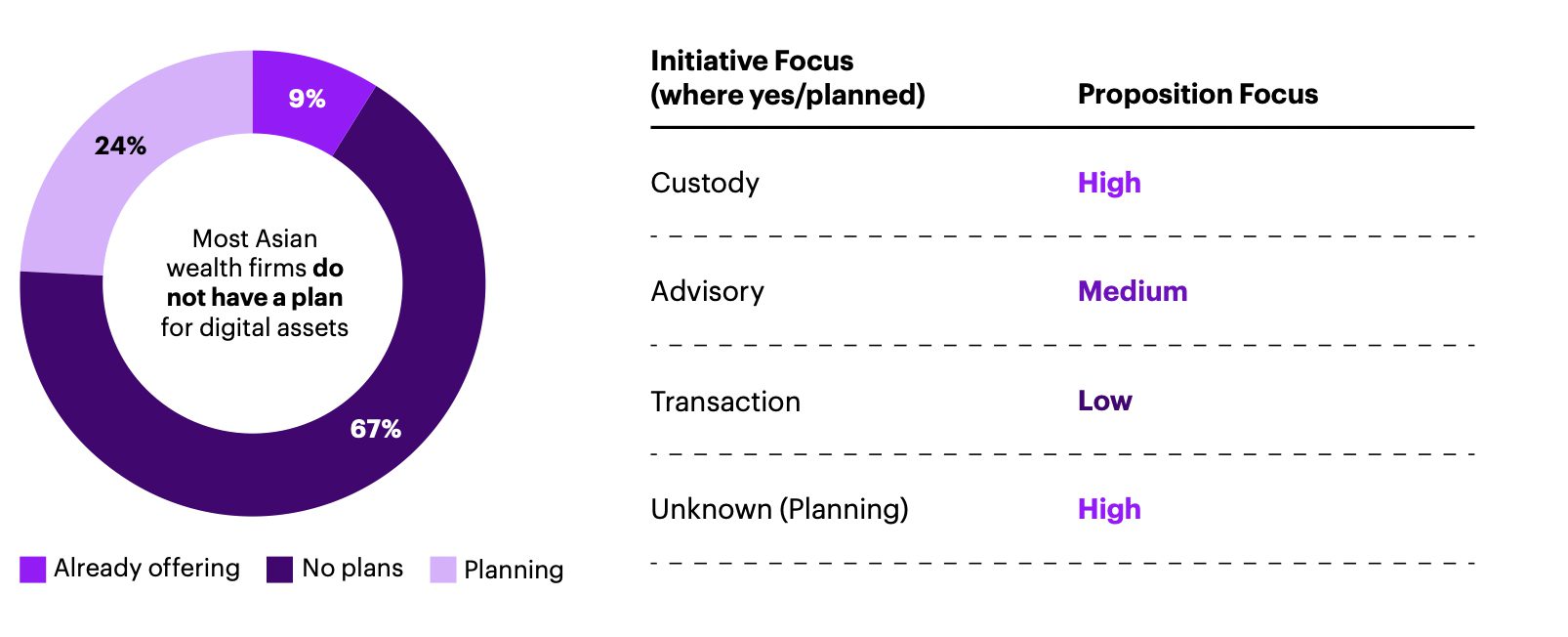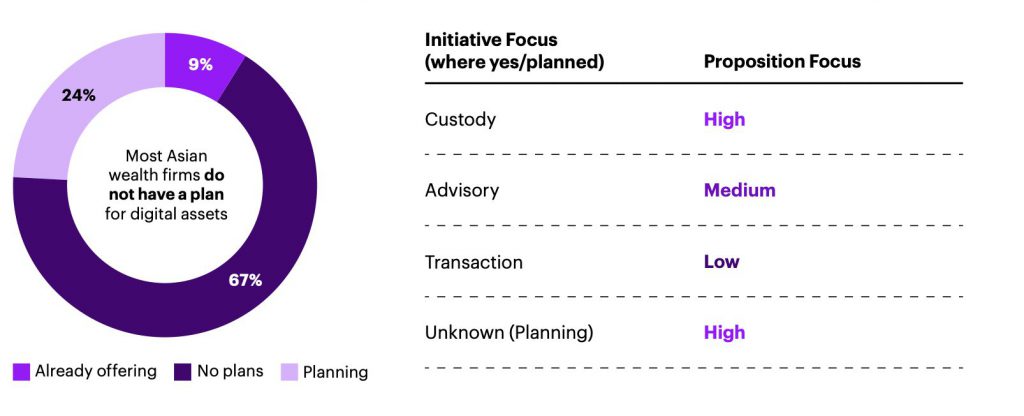 Wealth management firms reported a lack of conviction in and understanding of digital assets, as well as the operational difficulty of starting a digital asset service, as the primary reasons for deferring, instead of focusing on other efforts.
If capital management firms start including crypto, it might pivot investor sentiment, allowing for more adoption. However, this would take away the decentralization aspect of crypto, which is one of the cornerstones of the industry. The dependence of investors on hedge funds and other monetary vehicles does not live up to crypto's idealogy. Although growth in adoption is much welcome, it would be preferred if this development was pushed by the public and not investment managers.