According to recent data, Arbitrum (ARB) distributed around 90.15 million tokens to the community via an airdrop. The tokens were sent to 131 DAO addresses, and the value of the tokens airdropped was around $118 million.
However immediately after the event, a whale by the name of "TRIDENT" sold 131,345 ARB, using three addresses. The whale sold the tokens at a price of $1.31 each, earning $172,000.
At press time, Arbitrum (ARB) has fallen by 0.3% in the last hour and by 0.2% in the daily charts. The whale selling off its ARB tokens may have had a negative impact on the price. However, the crypto markets had already entered a correction before the airdrop took place.
Moreover, this is not the first time whales have dumped ARB. Earlier in April, two anonymous whales dumped millions worth of ARB tokens, despite facing losses. The first whale lost $160,000 and dropped 2.03 million ARB tokens, totaling $1.14 million. The second whale, on the other hand, sold 1.7 million ARB. The whale lost $270,000 when it sold roughly $2 million worth of Arbitrum.
Will Arbitrum make a rebound soon?
ARB is currently facing resistance at $1.3570, with support at $1.2976 in the 4-hour chart. ARB prices in the 4-hour chart seem to point towards consolidation.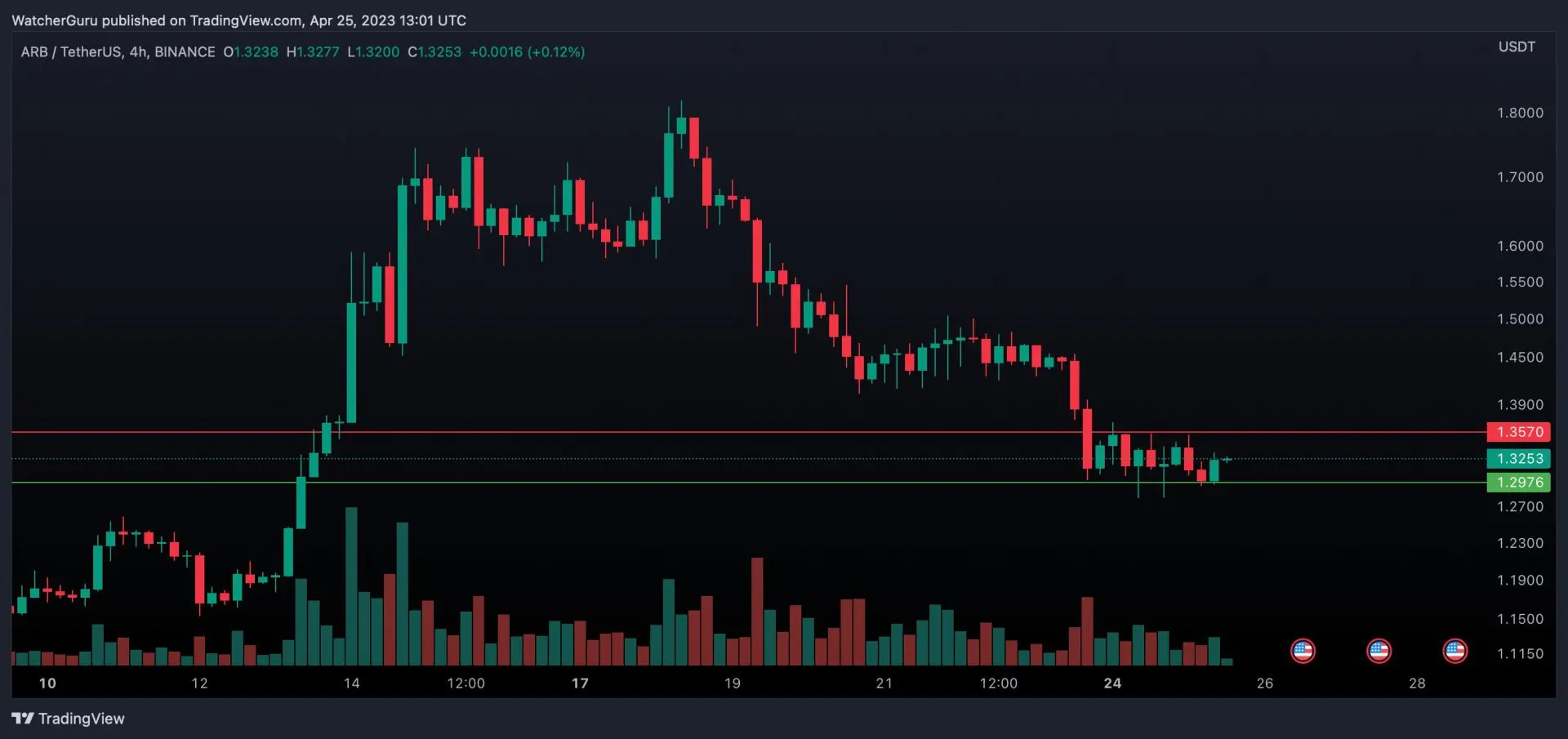 ARB has the potential to exceed well-known cryptocurrencies like Hedera, Aptos, Stellar, ICP, ETC, LEO Token, Avalanche, and XRP, according to analyst Jack Niewold. This is possible because ARB can guarantee that its holders have access to leveraged ETH beta that cannot be liquidated. But the analyst reprimanded the ARB community, saying, "You sold the airdrop."
At press time, Arbitrum (ARB) was trading at $1.32, down by 0.3% in the last hour. Moreover, ARB is down by a whopping 84.77% from its all-time high of $8.67, which it attained upon launch in March of this year.