On the charts, Baby Doge coin has made key progress over the last four days and is in a good position to extend its price recovery. Observers also have a chance to grab the alt at an attractive level since it traded close to its 20-SMA (red). Elsewhere, Bitcoin was challenging its 4-hour 200-SMA and awaited a crucial breakout to extend above $52K.
Should the move come through, alts such as BABYDOGE could have a field day in the coming days. At the time of writing, BABYDOGE traded at $0.000000002010, down by 2.4% over the last 24 hours.
Baby Dogecoin 4-hour time frame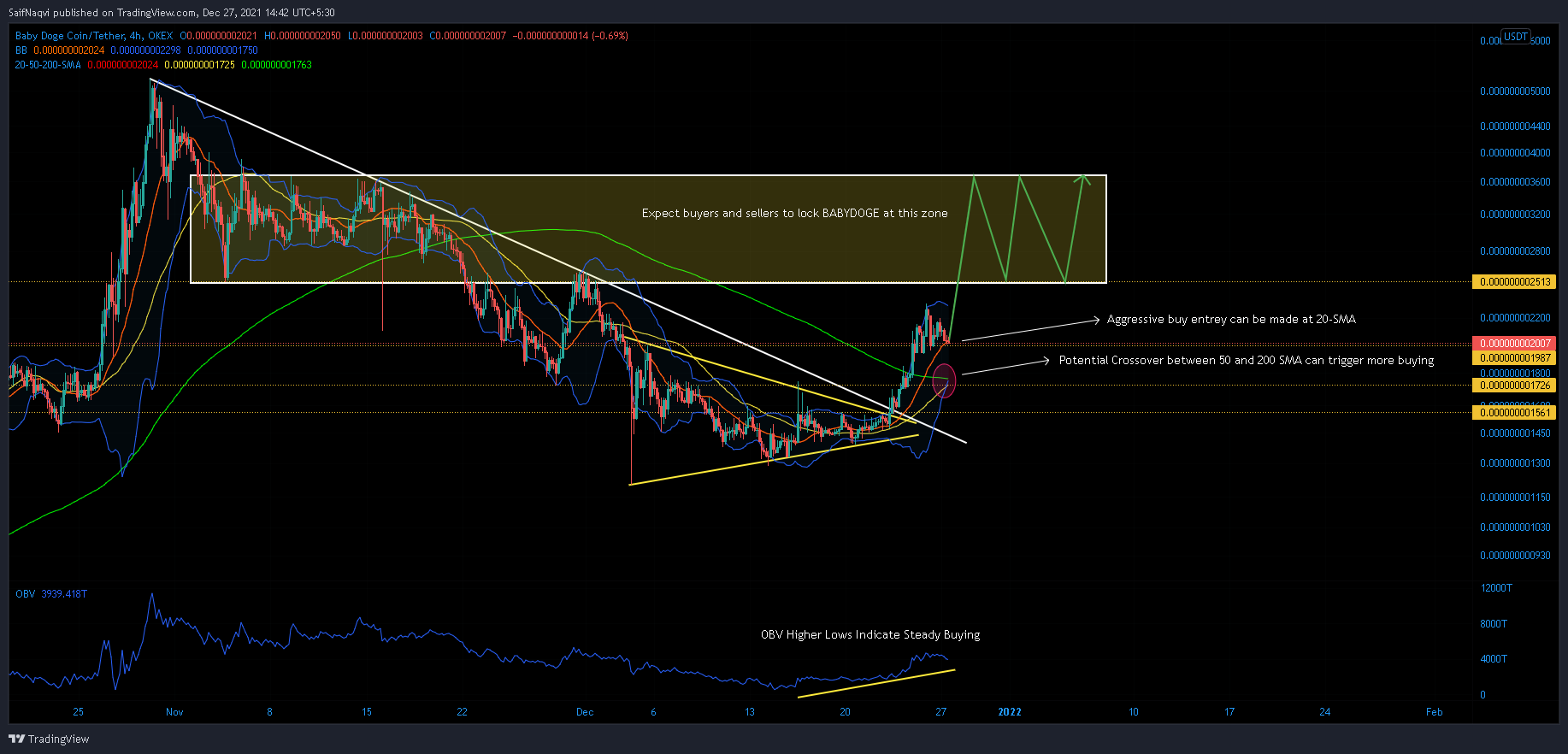 Over the last four days, BABYDOGE has registered a near 60% hike and has cemented its value above $0.000000001561 support on the back of a symmetrical triangle breakout. With the price now parked above the 200-SMA (green) and an upper sloping resistance line, short-selling is no longer a major threat.
A potential crossover between the 50-SMA (yellow) and 200-SMA was also on the table- a development which is usually triggered buying behavior. Hence, bulls can continue working towards recovery with market conditions looking favorable once again.
Now, a close look at the charts indicated that Baby Doge was trading close to its 20-SMA (red) and a support line of $0.000000001987. An aggressive entry made at this point could instantly turn into a 26% profit as the price make its way to 14 October's swing high of $0.000000002513. A retracement can be expected thereafter as investors cash in their gains. From there, expect some lateral movement between $0.000000002513-$0.000000003651 until a clear trend emerges. The aforementioned zone was hotly contested during early November and the same was expected moving forward as well.
Indicators
Favorable predictions were backed by BABYDOGE's 4-hour indicators. The On Balance Volume, which measures buying and selling volume, has been forming higher lows since 16 December. This sign came as a sigh of relief for bullish investors as the alt experienced massive trading outflows between November-mid December. The candles were stable on the Bollinger Bands as well and no immediate threats were spotted. However, some selling pressure could settle in if the price closes below its 20-SMA (red). Such an outcome could initiate a 3%-5% dip to $0.000000001726 support.
Conclusion
BABYDOGE's near-mid term trajectory was optimistic considering the abovementioned factors. Aggressive buy entries can be made at $0.000000001987 support. Those with a lesser risk appetite could wait for some uncertainties to pass by first. Buy trades can then be placed at the 200-SMA (green) in case BABYDOGE closes below its 20-SMA.