Brave browser's token has a habit of dominating during the bearish market. Brave's Basic Attention Token (BAT) reaches a new ATH despite the 24hour bear market. BAT is the most widely used ERC-20 token with a real-life use case.
The coin rose by more than 44% within 24hours and reached a new ATH of $1.81, today, 26 November, just 6 hours ago. The token is a tokenized version of Brave browser that has tokenized online ads. As a user, you can also earn free BAT by simply using the browser. The browser allows you to tip other users on Twitter with tweets you feel are impactful.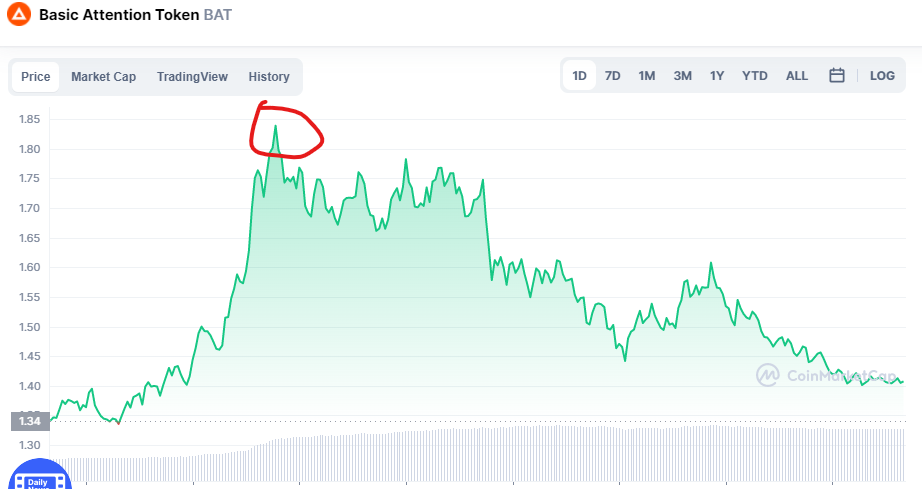 Partnership With Regal Cinemas
The immediate reason behind the recent rise is its partnership with Regal Cinemas. The movie theatre partnered with Brave to accept BAT as payment. However, the build-up for the ATH has happened over the years. The recent climb also coincided with near-peak trading volumes above $2.7B in the past 24 hours.
$BAT remains in the field with limited usage as a liquidity token. Most of the tokens are in circulation in that Brave browser online ad economy. Assessing the latest cryptocurrency growth model, you can see that Brave has more than 36 million active monthly users.
More than 40,000 wallets hold the token and have been bullish about it since its launch. This is ten times more than any other ERC-20 token wallet holding. BAT is no doubt a popular coin with wide distribution. Although, an estimated 20% of the coins might be available on CEXs for speculative trading.
Brave Partners With Solana
Another reason for Brave's ATH is its partnership with Solana, which occurred last week during Solana's conference. The browser is set to allow Solana in its network. Following the Solana's Breakpoint Conference, the CEOs of both companies, Anatolu Yakovenko(Solana Labs) and Brendan Eich(Brave) aim to use the Solana Blockchain to bring top wallet features to Brave's Web3 desktop and mobile browsers during the first half of 2022.
Is BAT a Good Investment?
Following its slow adoption of new cryptocurrency trends, Brave wants to diversify through gaming. The crypto coin aims to join the new trend, which is gamified earning and DeFi. It seeks to achieve this by building its infrastructure. The brave browser will embrace the Metaverse ecosystem. However, for now, these are simply speculations.
BAT is one of the best investments you can get your hands on. It is a slow but sure token, just like $VET and $ETH. The coin gains value overtime after a significant build-up. The coin also dumps less, which means it is a stable coin. You will not have to keep checking your portfolio in fear of massive losses due to sudden cashouts. The price tends to stagnate at a specific point of consolidation after an ATH. Therefore it is suitable for long-term investment.