Binance has reportedly been getting in touch with low-liquidity token projects trading on its platform. Citing excerpts of messages obtained, The Block recently reported that projects have been asked for details regarding their relationships with market makers. The exchange is also seeking information on whether the projects will consider contributing funds to its savings product. According to posts shared on X [formerly Twitter], Binance representatives have allegedly asked,

"Would your team be willing to commit at least 1~5% of your circulating tokens to Binance savings where you would earn interest?"
If projects do not wish to contribute to the savings, Binance specifically wants to know the reasons. In the message sent, the exchange clarified that the "saving pool can serve arbitrager in facilitating lending as a mitigation measure when there's a gap between spot and future price." Project developer teams have been asked to revert back by Aug. 25. Binance's savings products present users and projects rewards, with varying interest rates, for tying up tokens depending on the tenure.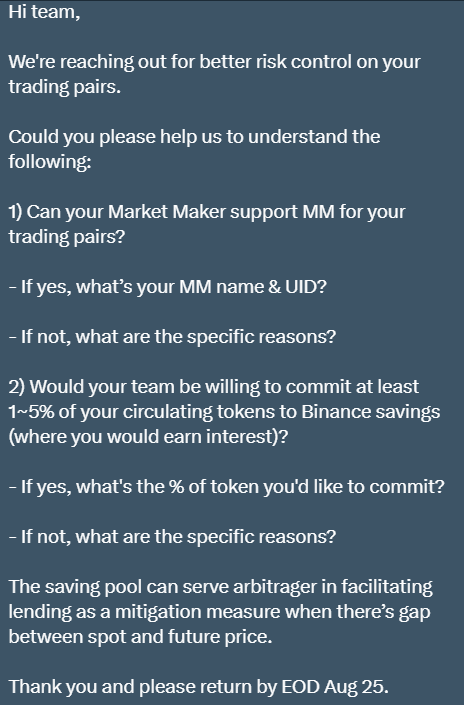 Also Read: Binance: BNB Bridge Hacker Loses $63 Million
Outreach is a Part of Risk Management Measures: Binance
A Binance spokesperson confirmed to The Block that exchange representatives have been reaching out to projects. This is being done as a part of an "ongoing risk management initiative." This reportedly targets a "small number of crypto outfits" that have tokens listed on the exchange with either lower-liquidity trading pairs or low market caps. According to the spokesperson, such characteristics might expose users to risk, "including potential market manipulation."
On one hand, Binance is attempting to protect investors and ward them off manipulation. On the other, the exchange is facing manipulation allegations of selling Bitcoin to uphold the value of its native BNB tokens. Despite the dumping speculations, on-chain data seems to be painting a different picture.
Also Read: Binance Might 'Not' be Manipulating the Bitcoin Market Yet
By reaching out to projects, Binance is encouraging them to initiate steps to bolster their liquidity protection. "Engaging market maker support is one way to enhance such protection," the spokesperson said. The exchange representative further asserted that savings contributions are optional, and added,
"Another possible risk mitigation measure is to make contributions on saving pools, such as Binance Savings. This is the place where users can borrow tokens from, either via Margin or Loan, and trade more actively to inject liquidity into the current market."
Also Read: Thailand Seeking to Shutdown Facebook over Crypto Scam Ads