The cryptocurrency exchange Binance and the Securities and Exchange Commission have been in dispute for a good few weeks. The SEC recently initiated a lawsuit against the exchange, raising concerns on various fronts. As a result, Binance's spot trading volume has seen a steep drop.
Furthermore, the SEC filed a request for a temporary restraining order against Binance.US. However, this particular request was dismissed by Judge Jackson, a decision made in the legal process. It is worth noting that Binance also submitted an application for deregistration as a crypto service provider in Cyprus and withdrew its license application in Austria.
Also read: Hong Kong Establishes Task Force to Drive Web3 Innovation
Amidst the lawsuit, CZ's exchange has witnessed a drop in spot trading volume in Q2, 2023, according to the latest analysis.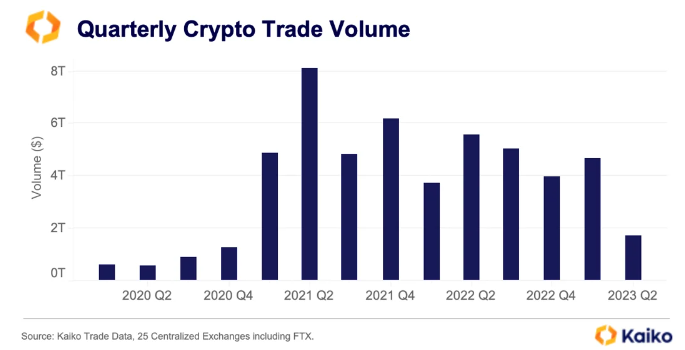 Binance spot trading volume drops by 70%
According to a research report by Kaiko, the largest cryptocurrency exchange has witnessed a 70% drop in aggregated spot trading volume. The data shows that the spot trading volume has dropped to its lowest level. Additionally, this has not been witnessed since Q4 2020.
However, it is not just Binance that has been affected. The research report shows that Coinbase, Kraken, and OKX also lost over 50% of their spot trading volume. One of the primary reasons for this drop in volume could be the regulatory uncertainty in the US.