The crypto markets show little signs of recovery as we enter the last month of what could be called the worst year for cryptocurrencies. Bitcoin (BTC), the original crypto, has slid below $17k once again, while Ethereum (ETH) is hovering above $1.2k. Nonetheless, the year is not yet over, as we still have another three weeks to go.
According to PricePredictions' machine learning-based algorithms, Bitcoin (BTC) could see an increase in price by the end of the year. The algorithm takes into consideration the moving average (MA), relative strength index (RSI), moving average convergence divergence (MACD), Bollinger Bands (BB), and others. As per the algorithm, BTC could reach $18,796.94 on December 31, 2022. The increase is an 11.61% growth from BTC prices at press time.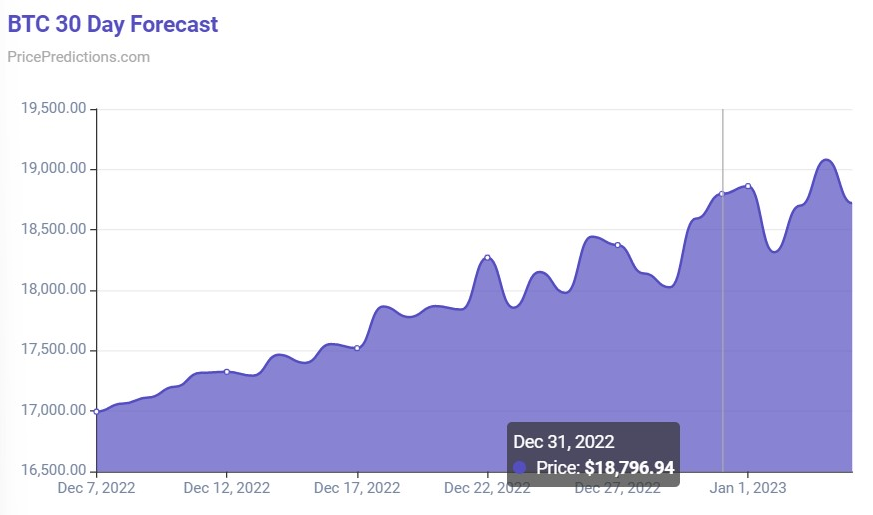 However, the predictions made by the algorithms are lower than those made by CoinMarketCap. By contrast, they predict that by the end of the year, BTC will trade on exchanges for an average price of $19,788.44. CoinMarketCap's predictions account for a 17.50% increase from current BTC prices.
Barriers to Bitcoin going up
One of the barriers to the crypto market is the US Federal Reserve's decision to increase interest rates. The FED is expected to raise interest rates by half a percentage point in its December 13-14 meeting. Although the US witnessed a lower inflation rate (7.7%) in October than in September(8.2%), overall inflation is still above the target of 2%.
Inflation will most likely not reach the targeted 2% until 2025. Inflation is driven by a rise in energy costs globally, owing to the ongoing Ukraine-Russia conflict. The general scenario of the crypto space is unlikely to change without macroeconomic improvements.
At press time, Bitcoin (BTC) was trading at $16,840.41, down by 1.1% in the last 24 hours. Furthermore, BTC is down by 75.6% from its all-time high of $69,044.77, attained in November of 2021.