McDonald's McRib is going to be back on menus, but for one last time. The barbecue-flavored pork sandwich is returning back on October 31 for a limited period. The fast food giant asked customers to "Get one while you can because this is the McRib Farewell Tour." It added,
"Enjoy our famous pork sandwich as if it's your last!"
You might be wondering why an McD menu update has made its way into a Bitcoin article. Well, the said food item has been on and off menus a host of times in the past, and the largest crypto asset's price has outrightly reacted to McD's McRib launch announcements.
As illustrated below, 4 out of 5 times,—in December 2016, November 2017, December 2020, and today—Bitcoin's price has rallied after such announcements. In 2018 alone, an uptrend did not essentially materialize.
Historically, Q4 has been one of the best quarters for Bitcoin, and only in three instances since 2013 have investors earned negative returns. All McRib announcements have, interestingly, been made during year-ending periods.
The mother of all coincidences, right?!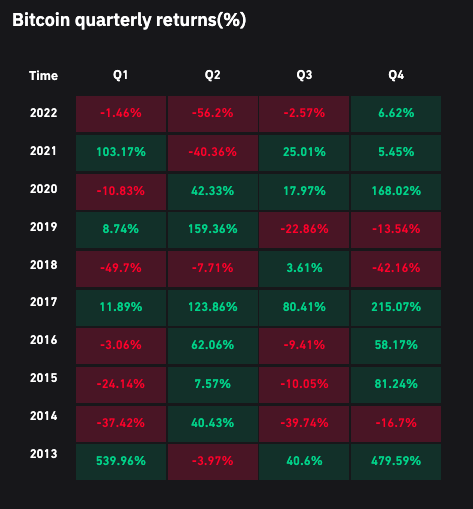 McD and its Bitcoin association
At the beginning of the month, it was reported that the fast food chain McDonald's started accepting Bitcoin as a payment method in the Italian-speaking region of Switzerland, Lugano. The said region is, notably, becoming a lodestone for crypto adoption in Western Europe.
Read More: McDonald's in Lugano, Switzerland Now Accepts BTC & USDT as Payment
McDonald's has especially been at the forefront during bear market phases. During sluggish periods, people from Crypto Twitter post job applications addressing it to the fast food giant. In fact, McD has played along most time.
Time and again the fast food giant has put in efforts to keep itself relevant among people from the crypto community. At the beginning of the year, for instance, McDonald's tweeted about the GrimaceCoin, post which the token's valuation surged by 285k%.
Read More: Can the Dogecoin community put a full stop to the coin's downtrend?