Since the beginning of 2023, the top 100 crypto assets have been outperforming the top 100 stocks. Only during one instance, i.e. in June, stocks overtook crypto for a brief period. With the crypto market currently consolidating, this asset class's lead has been narrowing down. The YTD appreciation of the top 100 digital assets has been hovering around 46% at the moment. The Nasdaq 100 Index stands right behind, at 41%.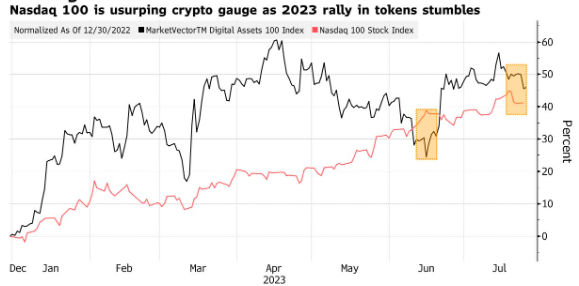 Commenting on the current state of affairs, Caroline Mauron, the Co-Founder of digital-asset derivatives liquidity provider OrBit Markets, recently asserted,
"The rally has lost momentum following the initial excitement sparked by the ETF news, and there are no other visible catalysts on the horizon."
However, she was optimistic about the mid-term future. According to the executive, crypto's downside risk "should be limited as the Fed is near the end of the current rate hiking cycle." This "should support risk assets including crypto," she added.
Also Read: Will Wall Street Accept the 'Trillion' Dollar Crypto Custody Challenge?
Bitcoin and the Earnings Season
It is the 'earnings season' and Wall Street companies have been announcing their Q2 result one after the other. Over the past three years, i.e. in 2020, 2021, and 2022, the crypto market has always rallied from early-mid July to August-September. Under bullish conditions in 2020 and 2021, BTC appreciated by 41% and 81% respectively. Even under macro-bearish conditions in 2022, the asset rallied by 35%.
A rough patch like what the market is currently witnessing was also registered back in 2021. BTC peaked in April and then shrunk down in value before horizontally trading. However, there is one difference that stands out. The asset consolidated around its demand zone in 2021, setting the base to initiate an uptrend. However, in 2023, BTC was consolidating around its supply zone. In fact, it recently broke below the horizontal range, paving the path for a downtrend.
Thus, over the short term, Bitcoin could correct, but when bulls manage to emerge victorious, the market will see a delayed bounce back. Therefore, the 'earnings season' rally might not materialize on time in 2023.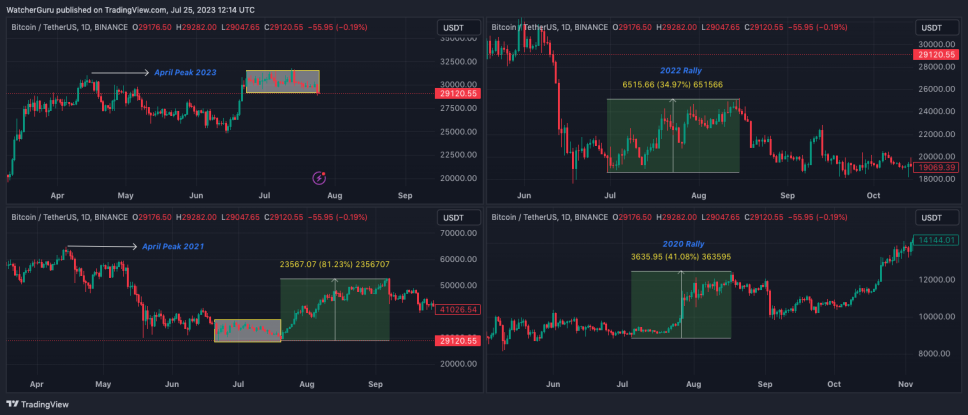 Also Read: XRP Tops Dogecoin, Solana: Becomes Top Traded Crypto of 2023