Bitcoin's dominance in the crypto market has been shrinking lately. Its share has declined from 45% to 27% in 2023. In fact, the dominance dropped by 8% in July as well. A recent Kaiko research report pointed out that the largest asset's dominance across the top 25 centralized exchanges was currently at its lowest level since April. As a consequence, altcoins have benefitted from this trend. Collectively, their dominance has reached a 4-month high.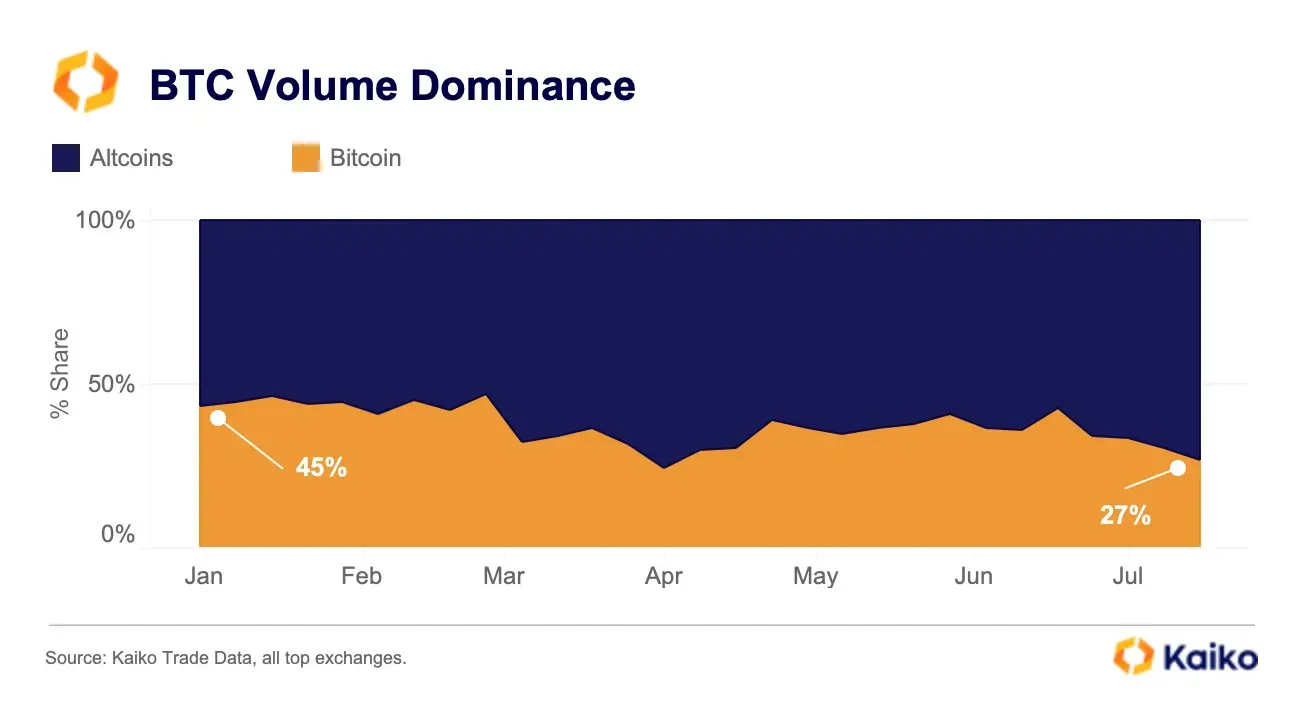 Also Read: Will Wall Street Accept the 'Trillion' Dollar Crypto Custody Challenge?
Top Traded Altcoins in 2023
XRP has been on traders' radar since the beginning of 2023. In anticipation of a positive ruling, participants were seen accumulating the asset during H1. After the ruling, XRP's volume soared and created record highs. With $150 billion in trading volume, it is currently the top-traded altcoin of 2023. Solana, Dogecoin, BNB, and MATIC stood next. They settled transactions worth $50-$100 billion.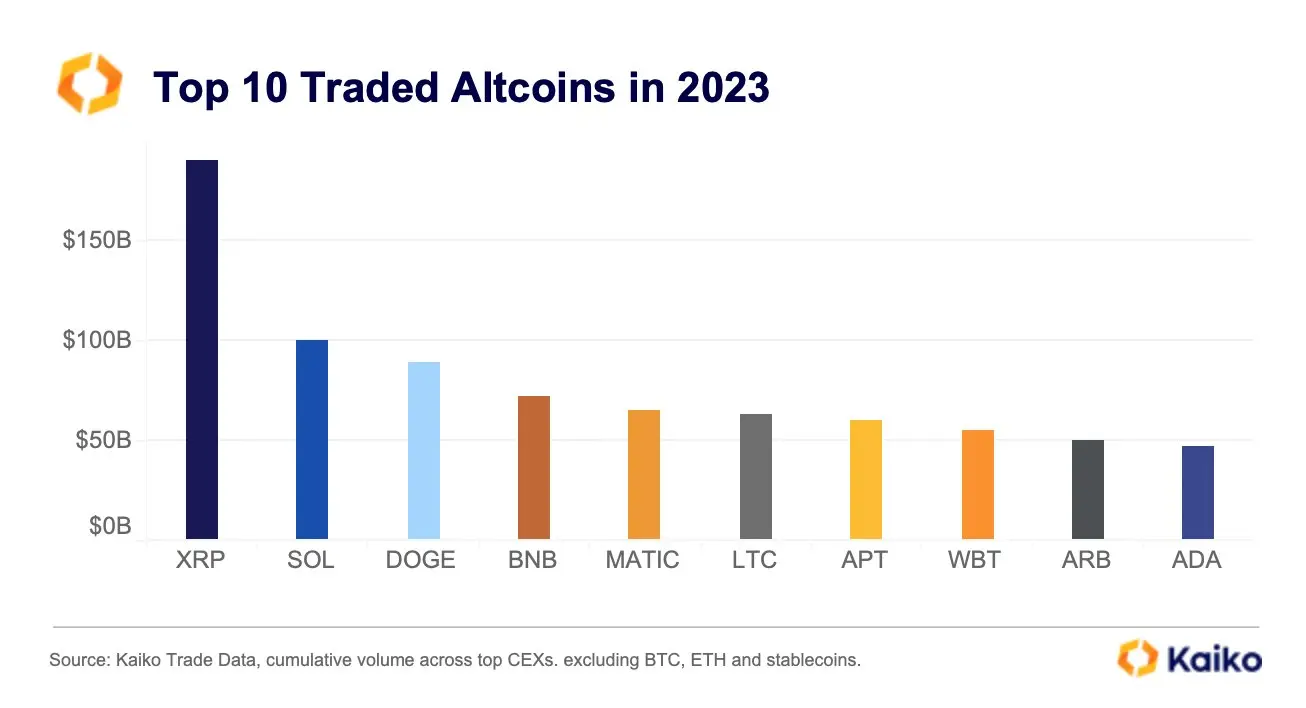 Also Read: Bitcoin Whale Ratio Climbs to 90%, Traders Beware!
On the price front, altcoins have been able to put up a better show than Bitcoin. From mid-June's lows, XRP was up by 52%. Solana, however, appreciated by 87% in the same duration. Dogecoin has rallied by 36%. The first two assets rose in value on the back of the Ripple-SEC ruling. Dogecoin, however, initiated its uptick more recently, owing to the Musk-X announcement.
Bitcoin's performance, on the contrary, has been underwhelming. From its June lows, the largest crypto asset was up by merely 17%. Leaving aside Dogecoin, all other assets have registered losses over the past few days, and were trading in red at press time.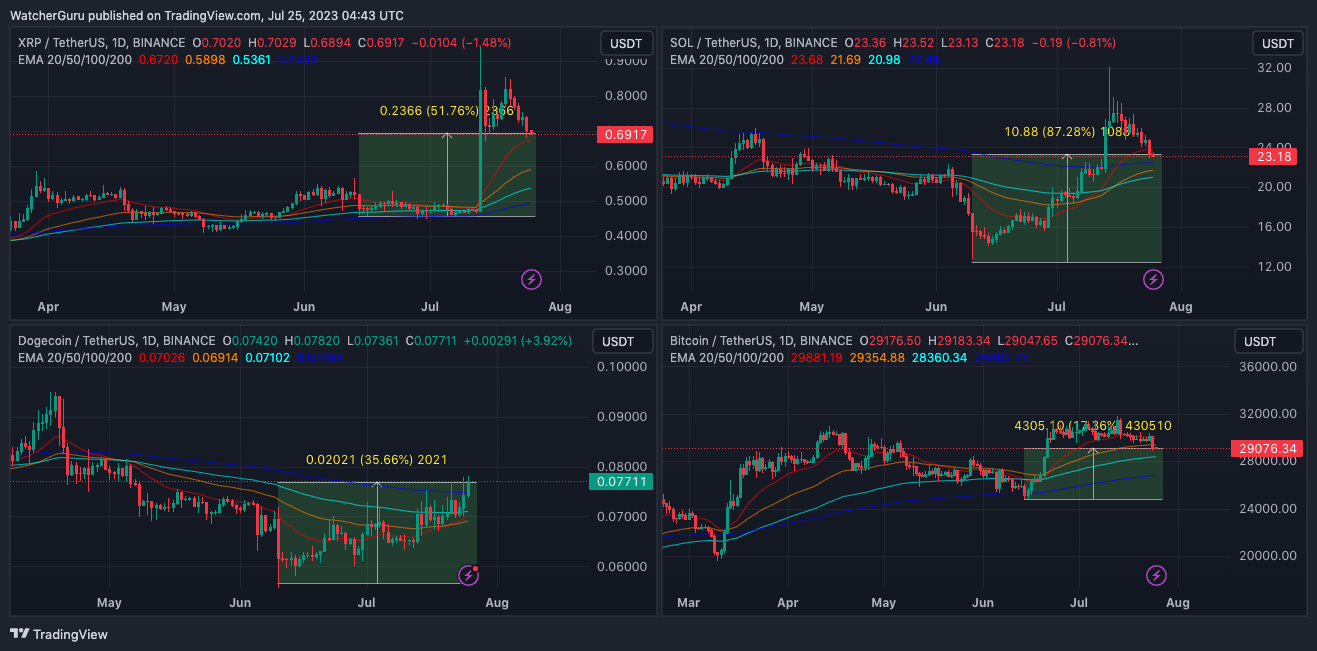 Also Read: Crypto Market Rides 'Animal Racing' Wave: DOGE, PEPE Sidelined