Towards the end of last week, the U.S. stock exchange Nasdaq halted its plans for a crypto custody service, that was once slated for release in the second quarter of this year. The exchange's CEO, Adena Friedman, revealed that the entity took a step behind "considering the shifting business and regulatory environment in the U.S." With the masses excited by the entrance of top asset managers into the space, optimism was rekindled. However, the Nasdaq development was a significant blow to the trillion-dollar crypto industry.

The rules set by the SEC in March 2022, and other regulations expected to be released soon by the Basel Committee, reportedly trigger higher capital requirements for some regulated institutions" who are offering crypto safekeeping services. This has made it "more costly" for some major financial players to do business in the area, Michael Shaulov, Chief Executive of Fireblocks told Bloomberg in a recent interview. In fact, Clarisse Hagège, founder and Chief Executive at Dfns, was also on the same page. Underlining what is currently holding back firms, she said,
"The complicated nature of regulation surrounding custodianship has made it difficult for new players to enter the space and existing players to successfully navigate the regulatory landscape."
Also Read: Societe Generale Becomes 1st Company to Receive Crypto License in France
Crypto Outflows
Riding on the back of the 'entity' wave, institutions diverted funds towards crypto and other digital asset investment products. In fact, the numbers registered over the last few weeks were at a record high. However, the hype seems to have evaporated. CoinShares's latest weekly report brought to light that crypto outflows summed up to $6.5 million over the past week. This succeeds the whopping $742 million inflows registered during the four prior weeks.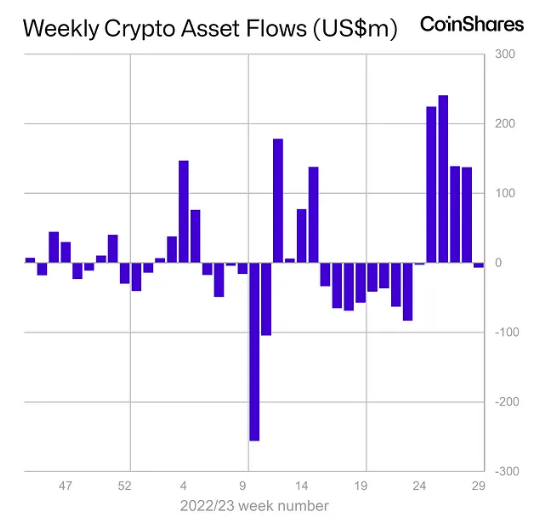 Bitcoin, yet again, was the primary focus, for institutions that slashed their holdings by $13 million. However, many believe that there is light at the end of the tunnel. Matthew Homer, Board Member of Standard Custody, and Managing Member of VC firm The Department of XYZ asserted,
"The challenge for these companies is really the timing – many of them probably believe crypto is here to stay. There will be enduring demand for digital assets like Bitcoin. The real question is the timing and when will the regulatory environment allows for that."
Also Read: Bitcoin ETPs Register 'Record' Inflows: AUM Up by 25,000 BTC