The landscape of the crypto industry has experienced significant transformations. In the aftermath of numerous companies facing setbacks in 2022, many have chosen to withdraw their funds from major exchanges. While this trend persists, the motivation behind these actions has now shifted towards the concept of halving.
Glassnode has observed a steady movement of Bitcoin [BTC] out of exchanges, indicating a significant wave of accumulation by HODLers. The report noted that a considerable amount of BTC has been flowing out of exchanges, as well as from miners and whale wallets, into the hands of long-term holders. This trend is viewed as a positive signal, as similar accumulation phases in the past have often paved the way to bullish cycles in the Bitcoin market.
Glassnode's data revealed that the illiquid supply of Bitcoin has reached a new record high. Illiquid supply is the quantity of BTC held by entities known for consistently holding onto at least 75% of their coins and refraining from active trading.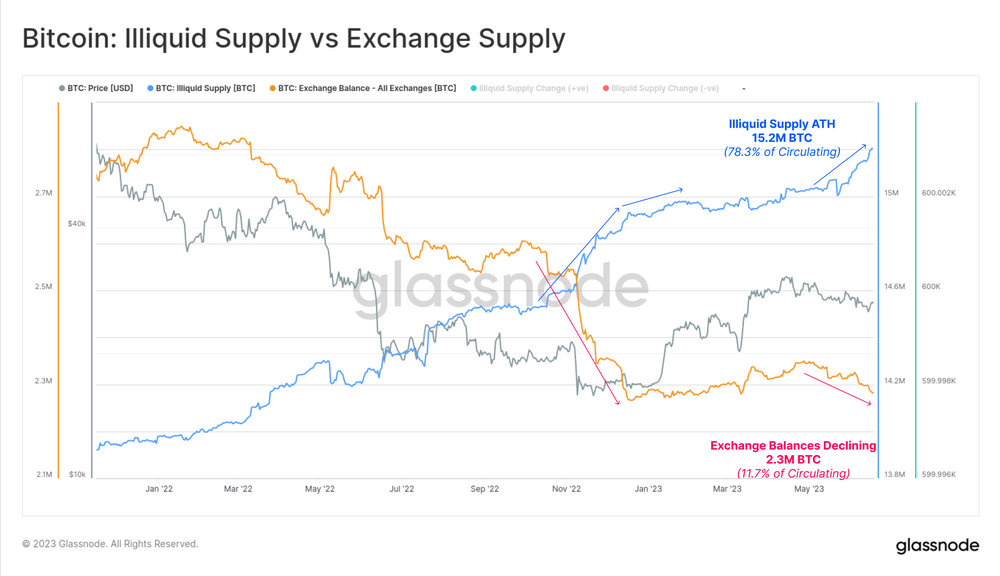 The above chart highlights a widening gap between the quantity of Bitcoin stored on exchanges and the amount held in illiquid wallets. The report noted that "Illiquid supply reached a new ATH of 15.2M BTC this week, whilst exchange balances have fallen to the lowest levels since Jan 2018 at 2.3M BTC."
Furthermore, about 146,000 BTC per month is currently being directed towards these illiquid wallets. This further acts as evidence of a slow and consistent accumulation process taking place.
Why is there a surge in illiquid supply?
The sudden increase in accumulation could be attributed to the upcoming Bitcoin halving event, which is slated to occur on April 14, 2024. During this event, the reward for miners will be reduced from 6.25 Bitcoin per block to 3.125 Bitcoin per block. Many individuals are speculating that Bitcoin may experience a significant surge following the event. In anticipation of this potential upswing, these holders could be accumulating assets to hold until the halving event takes place.
Bitcoin's market cap dominance moves beyond 50%
Today, there was a notable increase in Bitcoin's dominance, taking over the 50% mark and generating significant attention. Currently, the dominance of the crypto asset stands at 50.13%. This highlights the fact that Bitcoin alone represents half of the total market capitalization of the entire crypto market. The market is currently valued at $1.08 trillion.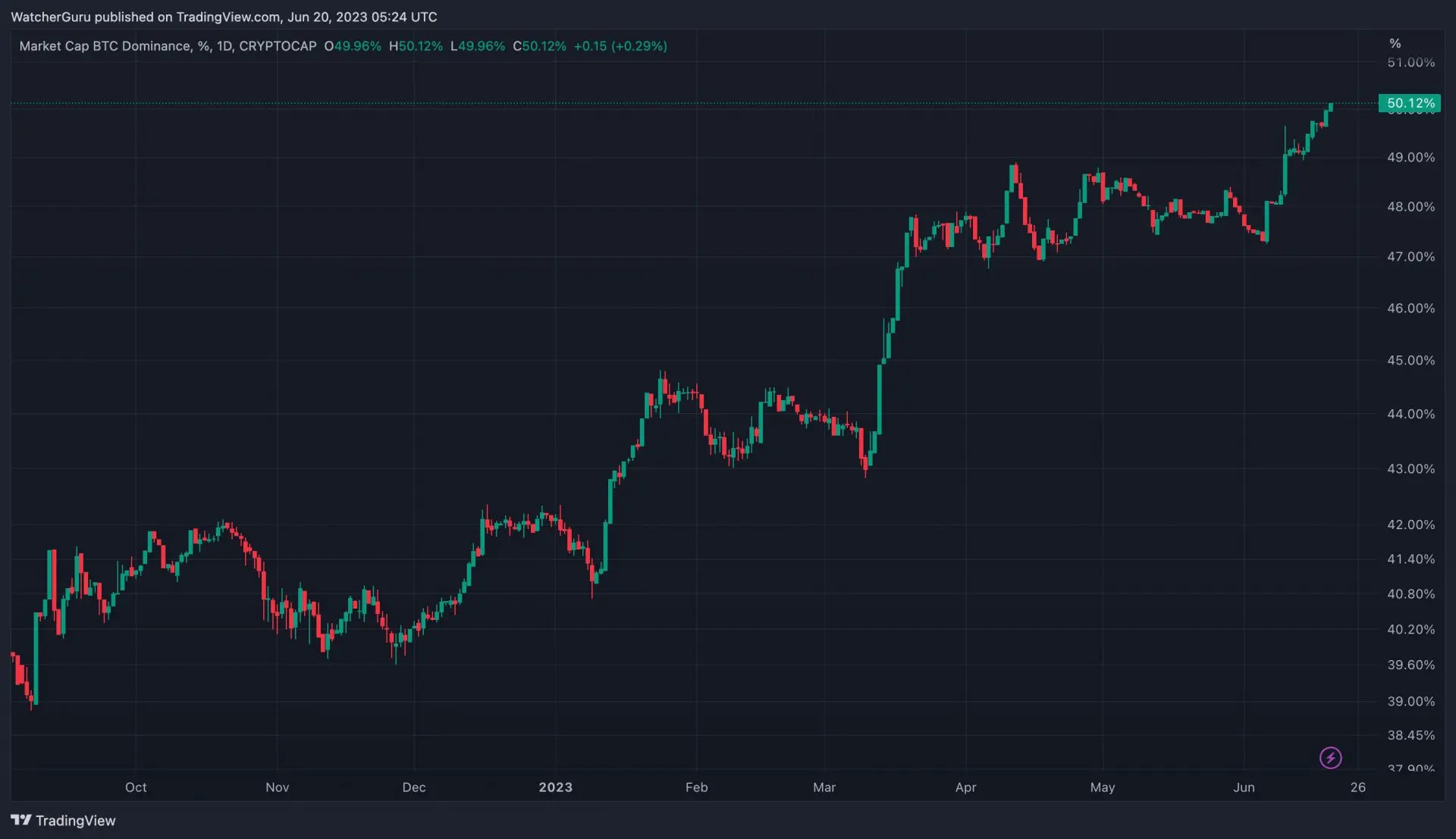 At present, the market capitalization of Bitcoin stands at $522.63 billion, aligning with the upward movement of the asset's price. After lingering around the $25,000 range for a while, Bitcoin experienced a surge, reaching a peak of $27,147 earlier today. At press time, the price of BTC is $26,930 reflecting a daily increase of 1.89%.