Bitcoin is printing new lows after the FTX and Alameda-induced crypto crash that sent the markets tumbling down. BTC reached $15,600 levels on Tuesday and is now trading at its November 2020 lows. Its trading volume has also experienced a dip of 3% sending signals that investors are cautious to take an entry position.
The king crypto is yet to bottom out and analysts are unable to pinpoint the bottom due to various economic factors. However, Web3 consulting firm BDC interviewed 53 C-level executives who have been involved in crypto projects, Defi, and GameFi, about BTC's next leg in the indices.
The majority of analysts interviewed believe that Bitcoin is likely headed deeper into the bear territory in the coming months.
Also Read: What is Bitcoin's Worst Case Scenario Amid the FTX Crisis?
When Could Bitcoin Bottom Out?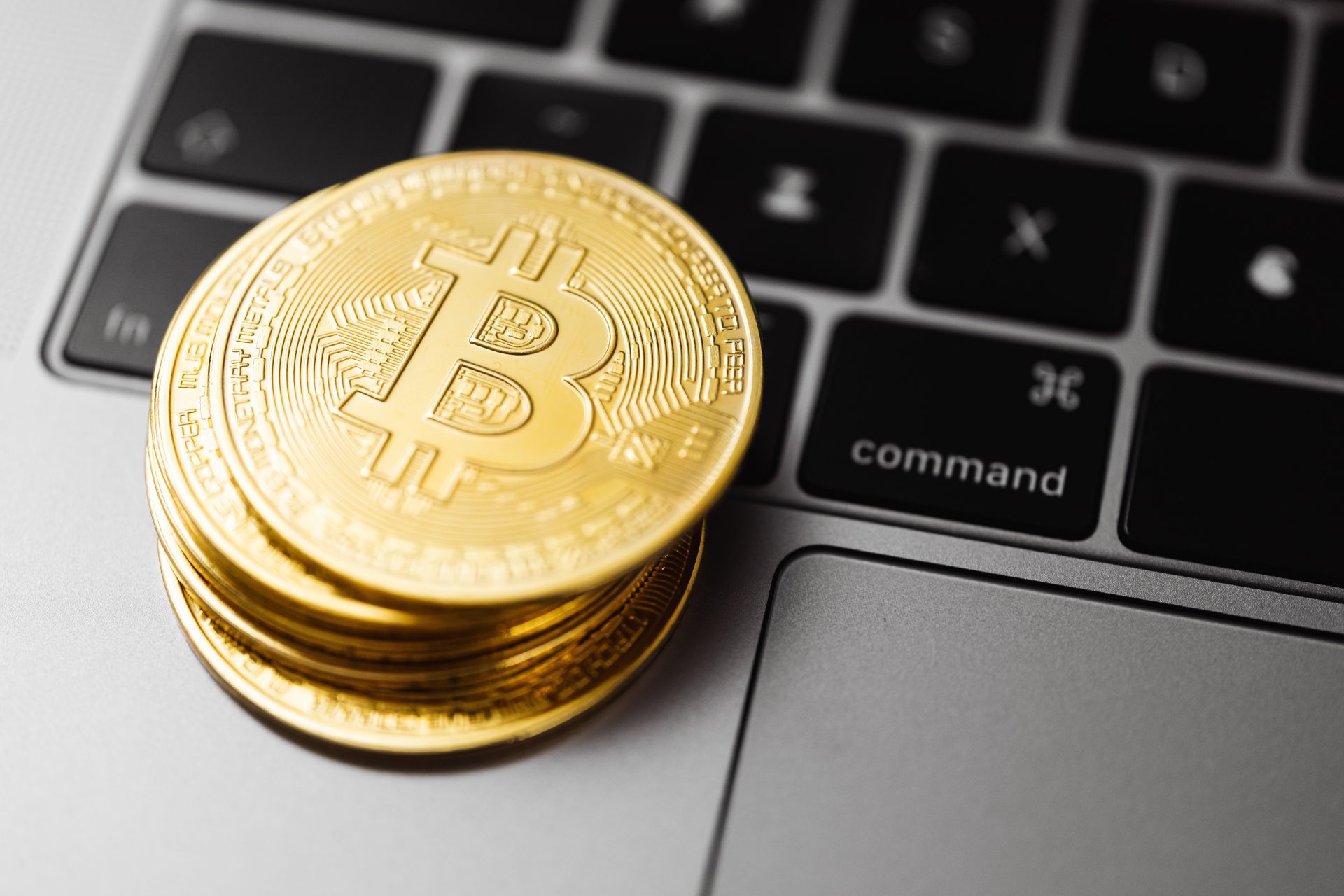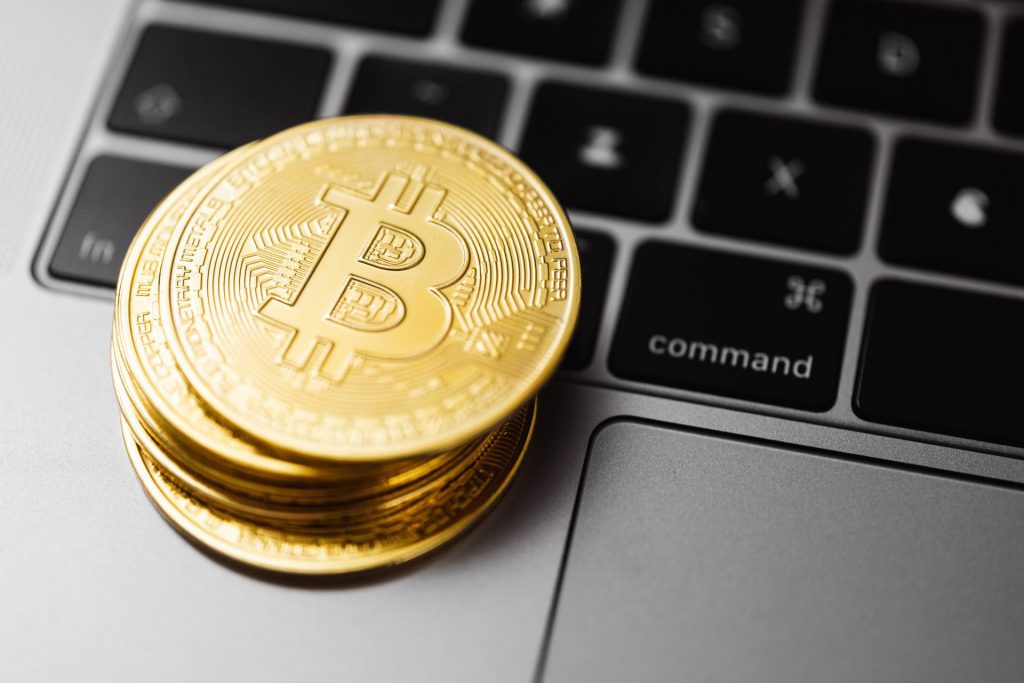 According to the survey, the majority of analysts predict that Bitcoin could bottom out at around $11,479 levels. Nearly 30% of respondents predicted that BTC might bottom out at $11K levels.
If BTC falls to these levels as predicted, it would shed another 30% from its current levels of $16,400. Therefore, BTC would drop nearly 85% from its all-time high of $69,044, which it reached in November last year.
Also Read: Bitcoin Falls to $15K: How Many BTC Holders Are Losing Money in 2022?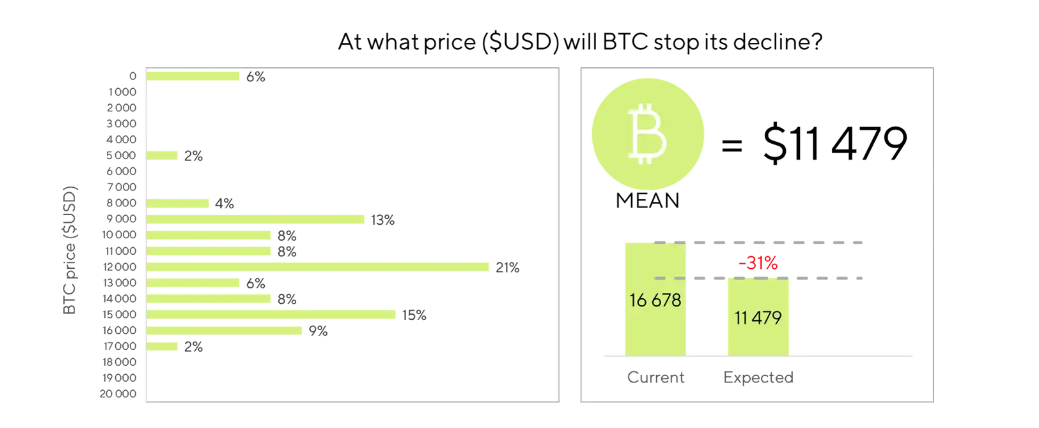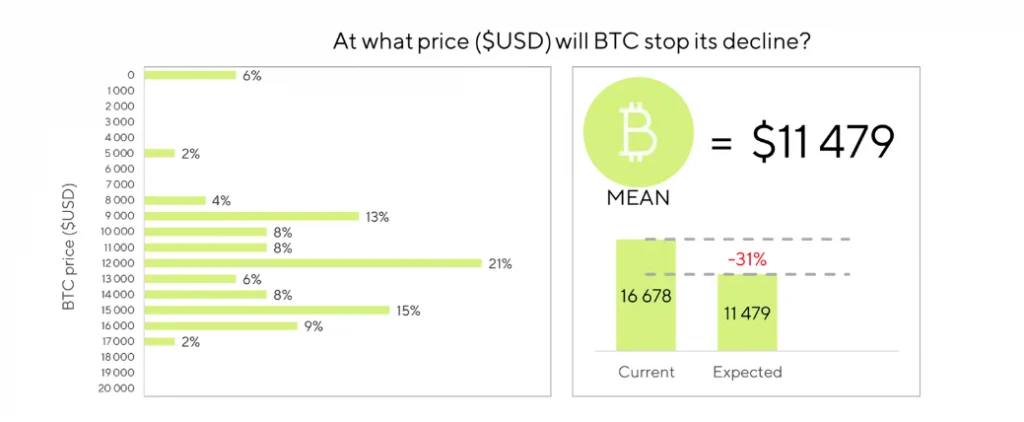 Several other analysts had previously predicted that Bitcoin would bottom out at $10,000 to $12,000 levels. You can read the price predictions here.
The FTX fiasco is most likely to drag BTC down to these levels and also affect the broader crypto markets negatively. The crypto markets have lost nearly $250 billion this month due to the FTX crisis.
The overall market cap fell from $1.1 trillion early this month to $855 billion on Wednesday. The numbers are likely to go down further if the downtrend continues during the weekend.
Also Read: Bitcoin, Cardano Price Target: How Low BTC & ADA Can Go?
At press time, Bitcoin was trading at $16,484 and is up 4.1% in the 24 hours day trade. BTC is down 76.1% from its all-time high of $69,044, which it reached in November 2021.