Bitcoin slipped to $15,600 levels on Tuesday and the king crypto is now at its November 2020 lows. BTC shed all gains that it generated during the bull run last year where it reached an all-time high of $69,044. The majority of crypto investors are underwater as 2022 erased all profits and leading tokens are down by more than 75% from their respective ATH. The market downturn is expected to remain in the coming few months which could spell further trouble for investors.
Also Read: What is Bitcoin's Worst Case Scenario Amid the FTX Crisis?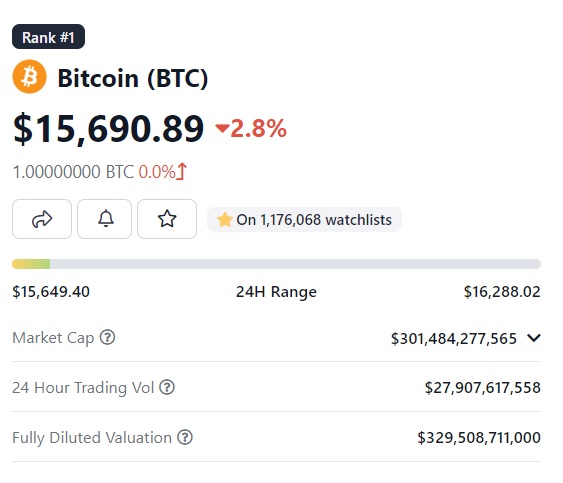 BTC investors suffered severe losses as the leading crypto failed to rally this year burning a hole in their pockets. To add fuel to fire, the markets are nowhere close to a bull run and a rally is called off. Investors received more pain than gain in 2022 and are most likely to face further losses in 2023.
How Many Bitcoin Holders Are Losing Money in 2022?
New data published by IntoTheBlock shows that 52% of Bitcoin holders are currently under loss and losing money in 2022. Data shows that 24.56 million addresses are Out of Money with their Bitcoin investments.
Also Read: Genesis Warns Bankruptcy to Come Without New Funding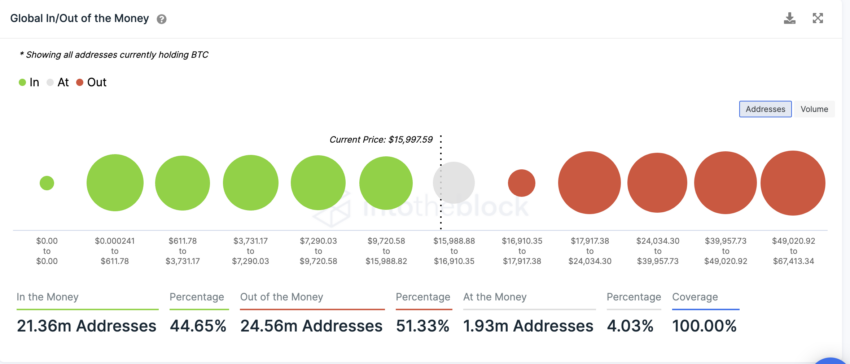 On the other hand, 21.36 million BTC addresses are In the Money and are on the profitable side. Nearly 44.65% of BTC wallets are profitable currently when the BTC price is hovering around the $15,600 mark.
In addition, 4.03% of addresses are currently At the Money, meaning BTC's price is somewhere closer to their purchasing price. These investors are either yet to break even or are sitting at meager profits just above their purchasing price.
Also Read: Bitcoin, Cardano Price Target: How Low BTC & ADA Can Go?


Also, during the March 2020 crash that was caused by the worldwide Covid-19 lockdowns, 58% of wallets faced losses overnight. In the 2018 market crash, nearly 55% of wallets were in loss before BTC bottomed out at $3,200 levels.
Historically, Bitcoin has bottomed out after more than 50% of wallets faced losses.
Also Read: This Country Has the Highest Number of 'Stressed Out' Crypto Investors
Nonetheless, this rule is concluded in 2022 as the markets are in a different situation with top crypto firms collapsing. The economy is staring at a recession and the crash this year has much more to do with macroeconomic factors.
At press time, Bitcoin was trading at $15,690 and is down 2.8% in the 24 hours day trade. BTC is also down 77.2% from its all-time high of $69,044, which it reached in November 2021.