Riding on the AI wave, Nvidia has been one of the best-performing companies on Wall Street this year. A positive quarterly turnover coupled with the rising demand for AI chips put the firm on a pedestal. Currently, Nvidia is the fifth largest American company. At the moment, Michael Saylor's MicroStrategy has just flipped NVDA in terms of returns fetched. Since the last trading week of December 2022, the chip maker's shares have risen 190.17%. In the same time period, however, the pro-Bitcoin Business Intelligence company's share price has appreciated by 191.23%.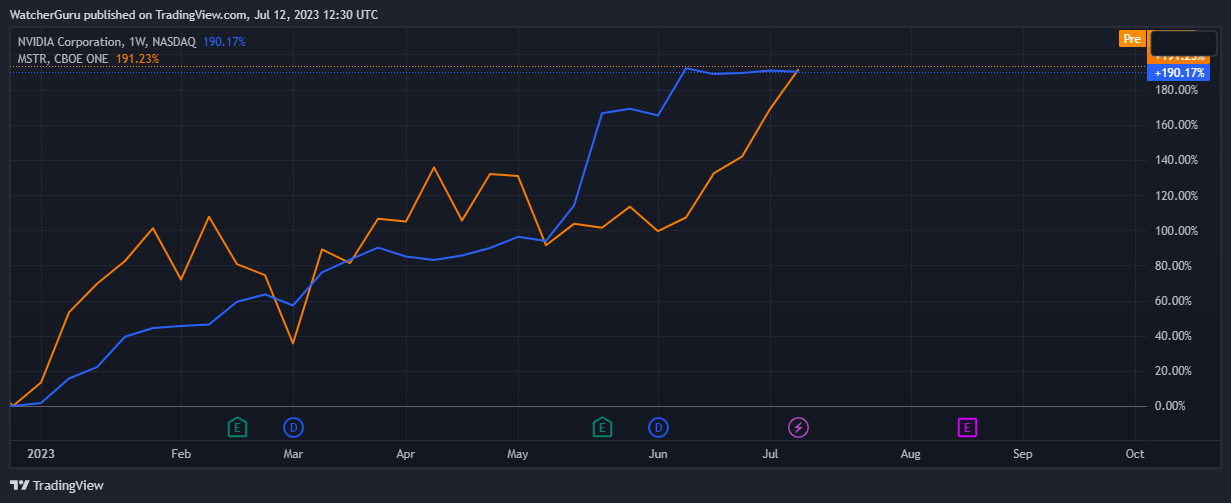 Also Read: 20,000% Vs. 11,000%: Bitcoin Beats Nvidia in 10 Year Gains
MSTR to continue rising?
Irrespective of the state of the market, Michael Saylor's firm has been accumulating Bitcoin. Just a fortnight back, it bought 12,333 BTC for ~$347.0 million. With that, the company's holdings rose to 152,333 BTC. At the current market price of $30,700, they are worth $4.6 billion. Investment bank Berenberg has now raised Bitcoin's April 2024 target to $56,630. Analysts led by Mark Palmer attributed the rise to be driven by the "keen interest" shown by large institutions. Alongside, the "improved sentiment driven by anticipation of the Bitcoin halving" will also have a role to play, they asserted.
Given that MicroStrategy has significant exposure to Bitcoin, the company could benefit from BTC's bull run. The estimated value of the company's Bitcoin holdings is expected to rise from $6.27 billion to $8.74 billion by April 2024. Parallelly, it refined its estimate for the value of the company's software business from $859 million to $1.37 billion.
In effect, Berenberg analysts also raised the MSTR share price target to $510 from the previous estimate of $430. The higher weightage of the value of the company's BTC holdings on the balance sheet and improved forecast for the value of its software business were the key reasons why the investment bank raised the stock's target. During the pre-market hours on Wednesday, July 12, MSTR was trading 1.62% higher at $412.30.
Also Read: AI Crypto Tokens, Bitcoin Bleed: Correlation With Nvidia Stock 'Weakens'