If there's any stock that has had a perfect year so far, it has to be Nvidia. On the first trading day of this year, it opened at $148.5. From there on, it seldom looked back and kept renewing its uptrend streak. Fast forward to press time, the stock is already trading above $420, with investors' YTD gains inflating to more than 200%.
Well, the initial few months were quite fruitful for crypto investors as well. Bitcoin rallied by more than 71% in Q1. As a result, most Altcoins rode along the same bullish wave. However, the sentiment started weakening soon after, and consequentially, losses started piling up. BTC's Q2 returns currently stand at -12.2%. Well, half a month might still be left, but with the macro-sentiment still dented, the tables might not essentially be able to turn around.
Nvidia was back in the news in the latter half of May. The world's most valuable chipmaker ended up becoming Wall Street's fifth largest company. On May 24, NVDA created a low of around $298.06. The very next day, on May 25, the stock price went on to claim a high of $394.8. The close to $100 gap can clearly be seen in the chart below.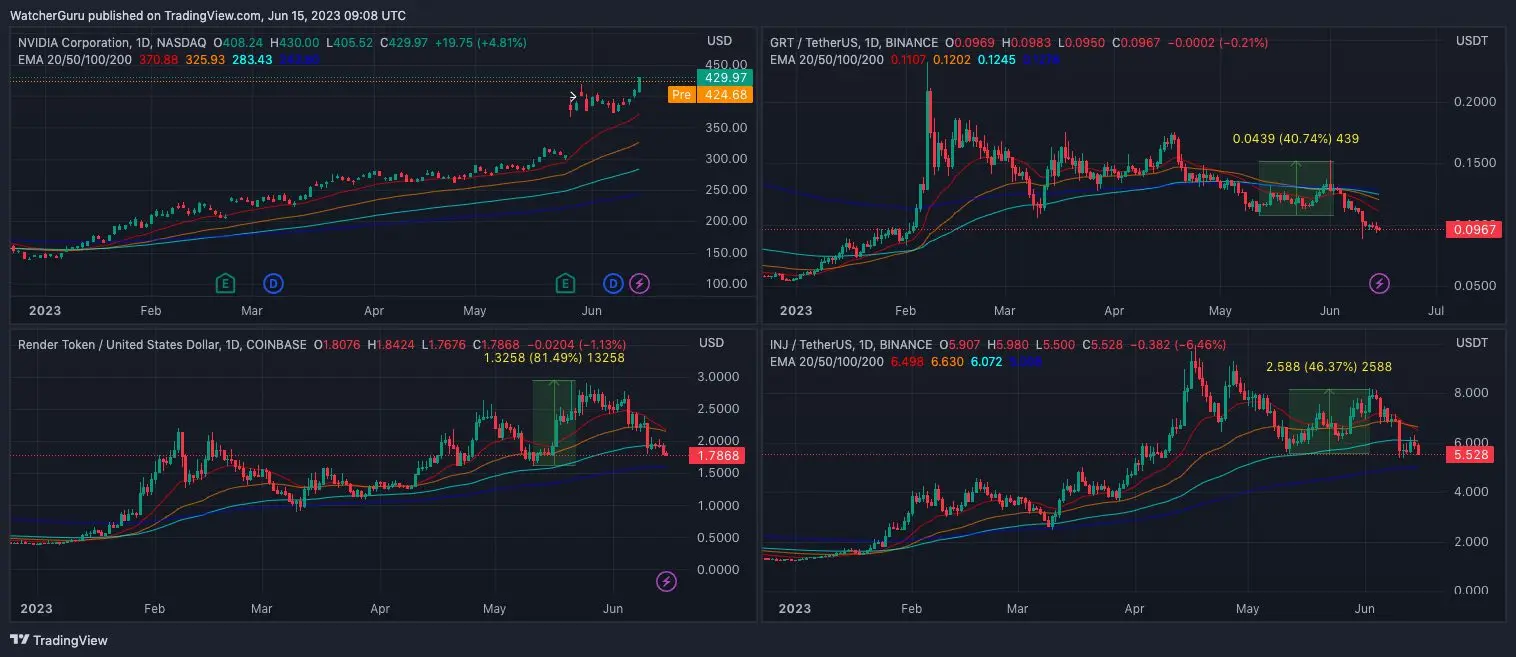 Also Read: 20,000% Vs. 11,000%: Bitcoin Beats Nvidia in 10 Year Gains
Impact on AI tokens, Bitcoin
Specifically, Nvidia forecasted its July-quarter revenue more than 50% above Wall Street estimate, driven by the AI frenzy. The company revealed that its sales in the three months ending in July will be around $11 billion, in contrast to the average analyst estimate of $7.18 billion. Alongside, the company also asserted that it will boost its supply to cater to the rising demand for its AI chips that are used to power ChatGPT and other similar services. All these factors, in conjunction, led to Nvidia's rally.
In fact, when the chip maker said that it was benefitting from its bet on new tech, several AI crypto assets surged by more than 80%. From mid-May until the end of the month, Reder Token pulled off an 81.4% hike. While RNDR's rally ended slightly prematurely, other top AI tokens like Graph and Injective extended their bullish phase until early June. They rallied by 40%-50% each.
Meanwhile, Bitcoin's correlation with AI stocks continued shrinking from its Covid-era highs. From once flashing a value as high as 0.8, the number dropped down to 0.2 recently.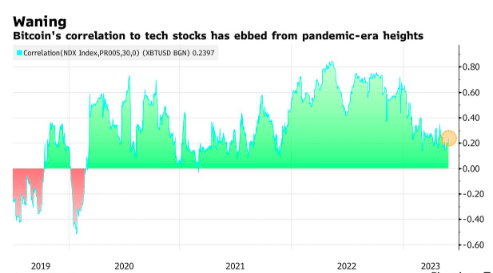 Also Read: Bitcoin Outperforms Nasdaq, S&P 500 Amid Correlation Dip
Game over?
Well, Nvidia's green streak is still on. It rallied by more than 4.8% yesterday, while on the weekly, it is up by more than 14%. Bitcoin, on the other hand, continues to put up a lackluster show. It dropped by more than 4.2% yesterday, and on the weekly, it has erased around 6% of its value.
Well, Al tokens are now following BTC's cues yet again. All top-5 AI tokens were trading in red on the daily, with losses extending in the 3% to 11% bracket. On the weekly, the state of affairs was much worse. Graph, Render, Injective, Oasis, and Singularity shaved 12%-25% of their respective values.
Thus, it wouldn't be wrong to contend that the NVDA-induced AI token boom phase is wearing off. However, the latest depreciation of AI tokens doesn't mean that the doors leading to recovery are closed. On the news of any major AI-related bullish announcement, another hype rally can be expected. However, for an organic long-term rally to transpire, these projects will have to lean on the shoulders of real utility.