Just as the industry seemed to be moving on from the aftermath of the collapse of crypto firms over the past year, the SEC decided to step up its enforcement actions. During the initial few months of the year, a handful of companies were brought on the radar of the agency and were ordered to make amends. Parallelly, agencies right from the CFTC, DOJ, and the SEC started suing companies from the space for violations. Binance and Coinbase have notably been the latest victims.
In the midst of the fragile state of affairs, market participants seem to be losing interest w.r.t. crypto assets. Highlighting how these assets and other related investment products are losing luster in the eyes of investors, a recent Bloomberg analysis revealed,
Nearly $172 million exited from global exchange-traded products tracking everything from Bitcoin to Cardano in the first six months of 2023 amid an industry-wide rally, following outflows of just $37 million in 2022. 
Contrarily, in 2020 and 2021, record-high inflows were registered. As per Bloomberg's data, around $10 billion and $6.7 billion were injected into the ecosystem in 2021 and 2020 respectively.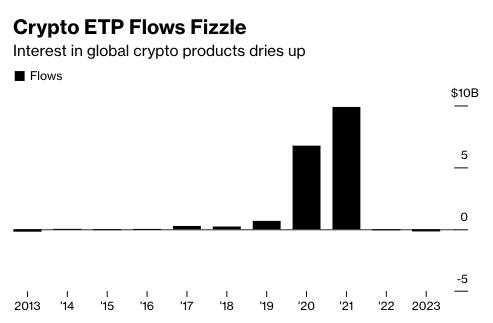 Also Read: Ethereum Registers 'Largest' Outflow Since the Merge: $35.6 Million Withdrawn
According to Roxanna Islam, Associate Director of Research and Head of Sector and Industry Research at VettaFi,
"Crypto doesn't have the same mass appeal that it did during 2020 and 2021. Investors who were previously burned by lower prices and market volatility may have already left the market late last year, and with Bitcoin prices hovering under $30,000 for the past few months, there hasn't been enough excitement to attract new investors."
2023's top-performing ETFs are all crypto-related
Crypto-related exchange-traded products have evidently not been able to attract user funds. However, the picture is not completely negative. According to etf.com, all the top-5 performing ETFs of 2023 are crypto-associated.
As illustrated below, the Valkyrie Bitcoin Miners ETF and VanEck Digital Transformation ETF have risen by more than 100% each so far this year. The Bitwise Crypto Industry Innovators ETF and the Global X Blockchain ETF have fetched investors more than 90% YTD returns. The other top-5 fund, i.e. the Invesco Alerian Galaxy Crypto Economy ETF, has glided up by around 87% in 2023. Their returns have clearly been higher than Bitcoin's YTD ROI of 56.95%.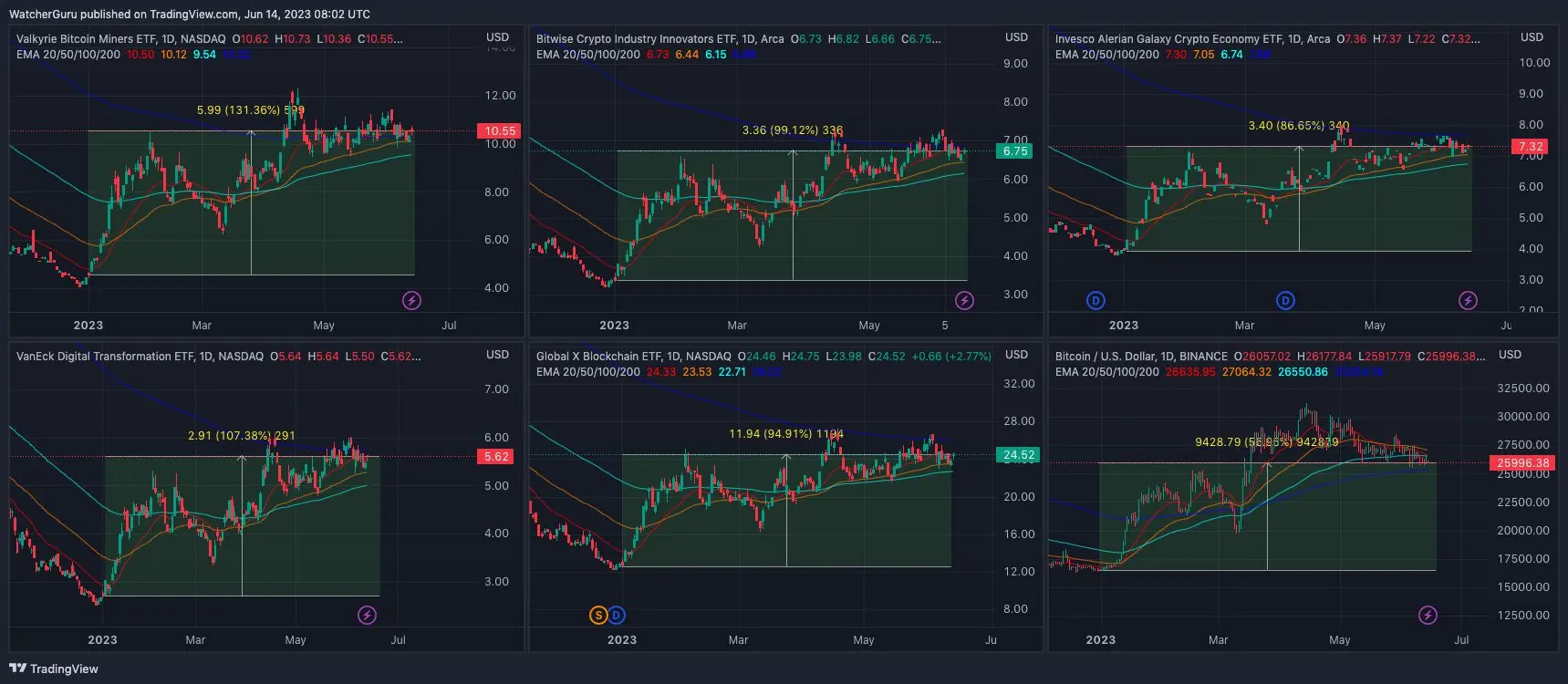 Several stalwarts from the space feel that there are a lot of "unknowns" in the current environment. BI ETF analyst James Seyffart pointed out that crypto has a "PR" problem at this point. Owing to the recent classic frauds, "crypto has lost its shine" from a vibes perspective, he said.
According to CoinShares International's Chief Executive Officer Jean-Marie Mognetti, "a lot of people are trying to read what's happening in general from a markets perspective and what it means for their investments." However, this is "not like the end of the world," he assured.
Also Read: Bitcoin Outperforms Nasdaq, S&P 500 Amid Correlation Dip