The crypto market is in its biggest slump of 2022 so far. Bitcoin (BTC) reached the $29k area, something which has not been seen in a long time. The original cryptocurrency has dropped by over 15% on the 7-day chart. Not only that, but because of BTC's falling price, Bitcoin mining stocks were also heavily affected.
Jaran Mellerud, a researcher at Arcane Research, took to Twitter and shared his thoughts on the tumbling price of BTC mining stocks, stating,
"Mining investors probably wish they had simply bought bitcoin instead at the beginning of 2022"
BTC mining stocks have vastly underperformed as compared to the coin they create.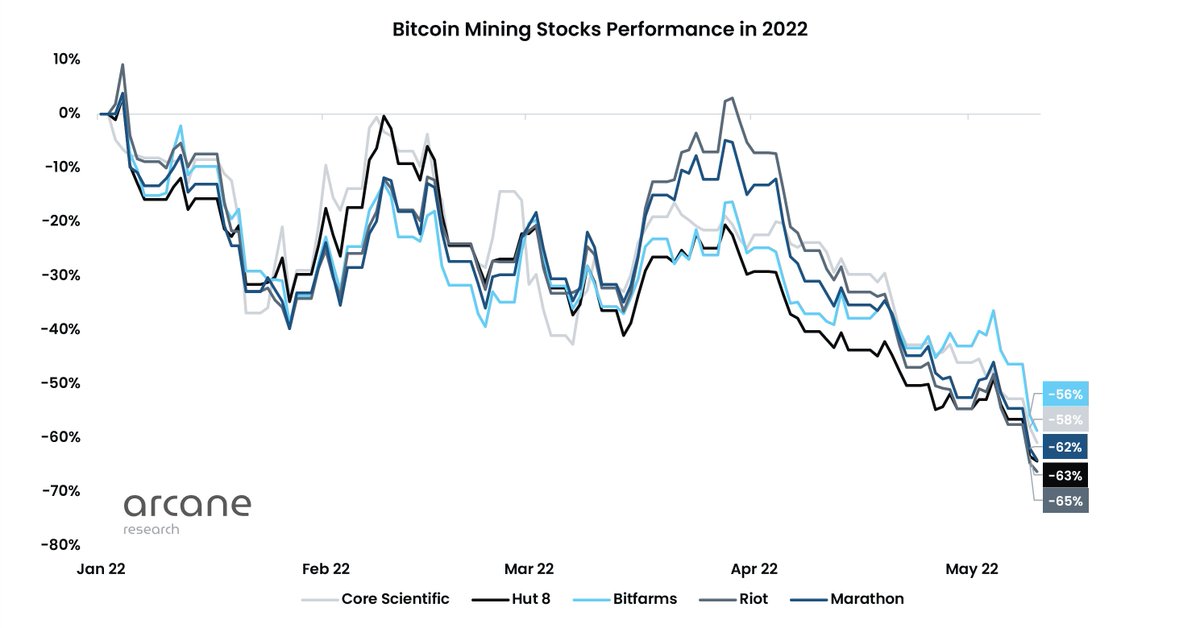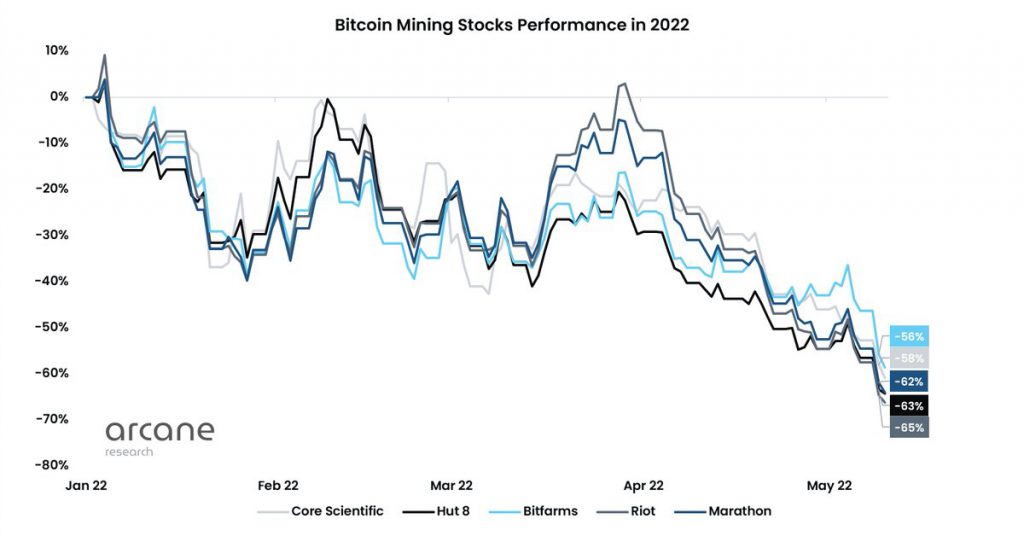 Mellerud says that since the beginning of the year, the market capitalization of the five largest mining equities has more than halved.
Riot is the worst performer, Mellerud wrote, down 65% year to date. While Marathon is in second place with a 63% loss. CleanSpark is the best performing BTC mining stock, and it too is down 41%. This indicates how bad this year has been for the whole sector, he says.
Why are Bitcoin Mining stocks falling?
The majority of these businesses own thousands of Bitcoins, while the price of BTC is down 34% in 2022. Most significantly, the drop in bitcoin's price results in a significant drop in income for Bitcoin mining businesses.
Mellerud says, when the price of Bitcoin declines, so does the worldwide hashrate, but this has not been the case this year. The combination of increased global hashrate and declining BTC price has resulted in these enterprises mining less Bitcoin and their mined BTC having a reduced USD denominated worth.
Furthermore, the researcher says, most of these firms have not increased their hashrate as quickly as investors had hoped. Investors may have lowered their growth expectations for these firms to more cautious levels.