Bitcoin mining stocks have had a phenomenal year so far in 2023. They have fetched investors double-digit returns. In fact, they have risen significantly higher than BTC and the average stock market index.
Riot platform has been 2023's top gainer. Its stock has appreciated by 442% from the lows registered on Jan. 3, 2023. Likewise, Marathon is also up 405%. Other mining company stocks, like CleanSpark and Bitfarm, have risen in the 180% to 290% range. Since the beginning of 2023, Bitcoin is up by 78%, while the Nasdaq Composite Index has appreciated by 35%.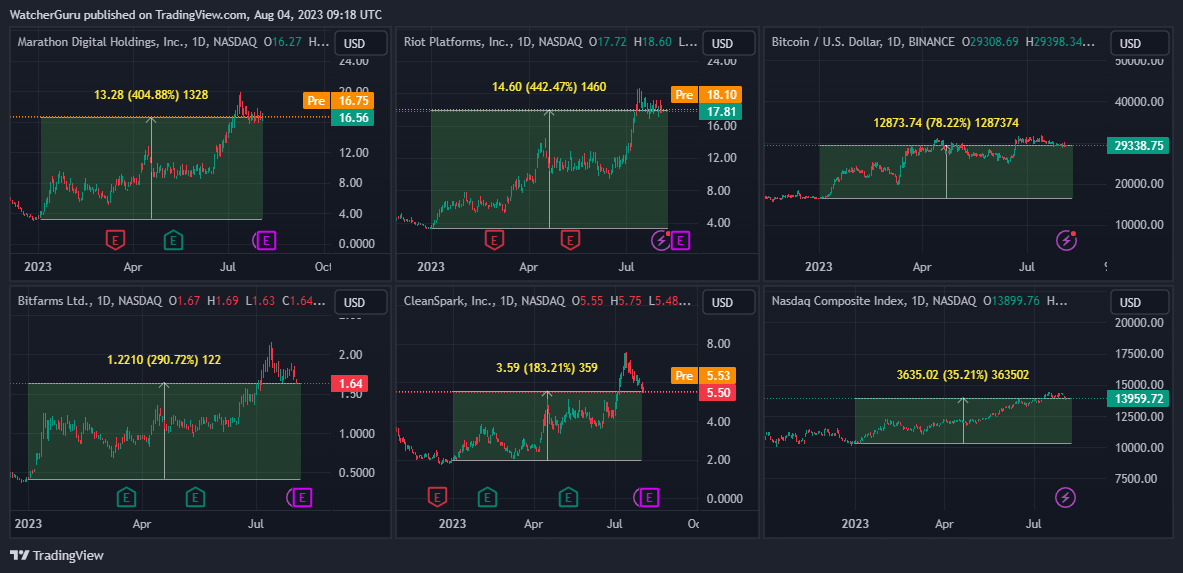 Also Read: Crypto Volume on Exchanges Dropped 12% to $2.6 Trillion
The Halving 'Risk'
Recently, several predictions have been made indicating that BTC could reach a six-figure valuation by 2024. More than traders or investors, mining companies need Bitcoin to attain a certain valuation for sustenance. A recent report published by Seeking Alpha examined the business model of Riot Platforms. Towards the end of June, Riot announced that it had struck a "landmark" deal to purchase 33,280 miners.
Additionally, the company forked out $162.9 million in total. This purchase was made with the intention to increase the self-mining capacity upon full deployment in 2024. With the halving scheduled for next year, miners' rewards would slash by 50%, putting the entire mining industry at risk. The report pointed out,
"The sector average total business cost per Bitcoin ranges from $30k-$60k while the currently known Bitcoin all-time high is only $69,000. Many Bitcoin mining companies might not survive a 50% cut in Bitcoin mining revenue."
The report indicated that they don't see "anyway" where the Bitcoin sector can come out unscathed from the halving. Even though all the stocks have outperformed Bitcoin in 2023, they are overbought at this point. The report cautioned investors that "hodling" BTC mining stocks is "extremely risky," without proper support from the underlying fundamentals. The report concluded by highlighting,
"Our model suggests that Bitcoin needs to trade above $98,000 to justify RIOT's current valuation (post-halving)."