CoinMarketCap's monthly survey that tends to understand the pulse of investors shows that the crypto community remains bullish on Bitcoin. The flagship crypto is hovering over the $21,000 mark after being rejected twice at $25,000 this month. BTC is trying to claw back to $25K again, but the market sentiments are stunting its growth. However, despite the crypto crash that sent BTC tumbling on Friday, investors believe the crypto will rally again this month. Despite the recent dips, there's confidence in the markets as BTC is holding to its resistance levels of $21,000.
Also Read: Bitcoin at Risk of Dropping Another 30%?
Crypto Community Sets Bitcoin Price Target For September
The crypto community has predicted that Bitcoin will rally in September and reach its June 2022 highs. The community has voted that Bitcoin's price target be $29,000 for September 30. BTC needs to spike nearly 37% from its present levels to reach $29K in the next 36 days. The Bitcoin price target for the next month is based on votes by nearly 21,000 community members.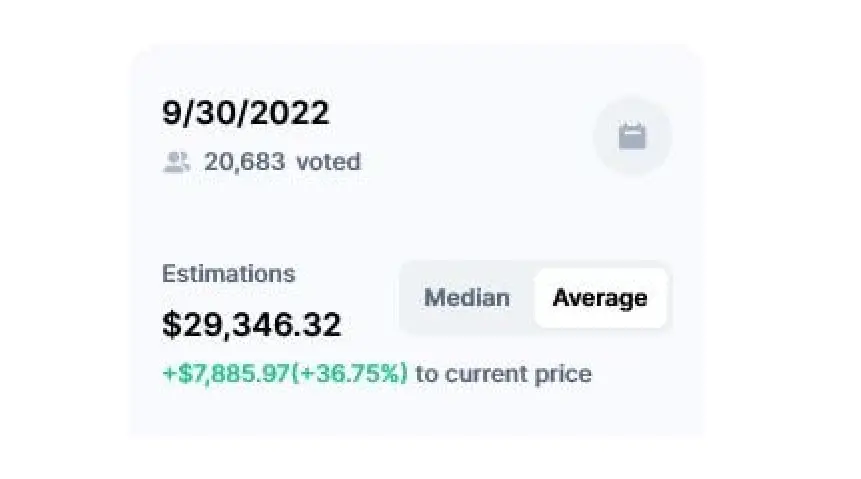 The last time BTC traded around the $29K mark was in June before it plunged to $18K the same month. Bitcoin is yet to recover from the fall as the markets drag it down every time it tries to claw back.
However, for Bitcoin to touch $29K, it must first break the barrier of $25K, which it has been struggling to breach since June. BTC had come close to $24,300 this month and headed south again to $21,000 after Friday's crash.
Also Read: Bitcoin On-chain data reveals more about future market direction
What Do Analysts Predict For BTC?
While the community remains bullish on Bitcoin, financial analysts predict that more correction is on the cards. Crypto analyst Rekt Capital shared a chart showing BTC trading below the 200-week moving average. In a recent tweet, the analyst claimed that BTC had historically plunged further once it breached the level.
According to the analyst, Bitcoin might slip 14 to 18% from here and has slim chances of spiking in price.
"BTC is down -8% below the 200-MA right now Historically, BTC tends to decline -14% to -28% below the 200-MA. In fact, BTC already declined -21% below the 200-week MA a in mid-June which was very much in line with historical numbers," he tweeted.
At press time, Bitcoin was trading at $21,414 and was up 1.1% in the 24 hours day trade. In November last year, the crypto was down 69% from its all-time high of $69,044.