On November 10 last year, Bitcoin attained its all-time high price of $69,000. The sluggish phase kicked in right after, and now, it has been more than a year since the market has been engulfed in its bearish phase.
On the macro front, however, the tale seems to be quite different. Investment Strategist Raoul Pal recently took to Twitter to highlight an interesting trend. He revealed,
"Interesting to see that in the last 10 years BTC has been the best-performing asset in 7 out of those 10 years."
However, as depicted below, in the years it wasn't the best performing, it was the worst performing asset class.
Since 2013, Bitcoin is up 114,000%. The Nasdaq 100 [NDX] and S&P 500 [SPX], on the contrary, only managed to rise by 392% and 203% respectively. The Fed Balance Sheet, on its part, noted a 201% upward inclination in the same period.
Bitcoin's lowest returns have always come during extreme bear market phases. The ROIs of -57.51%, -74.28%, -61.97% registered in 2014, 2018, 2022 justify the said narrative.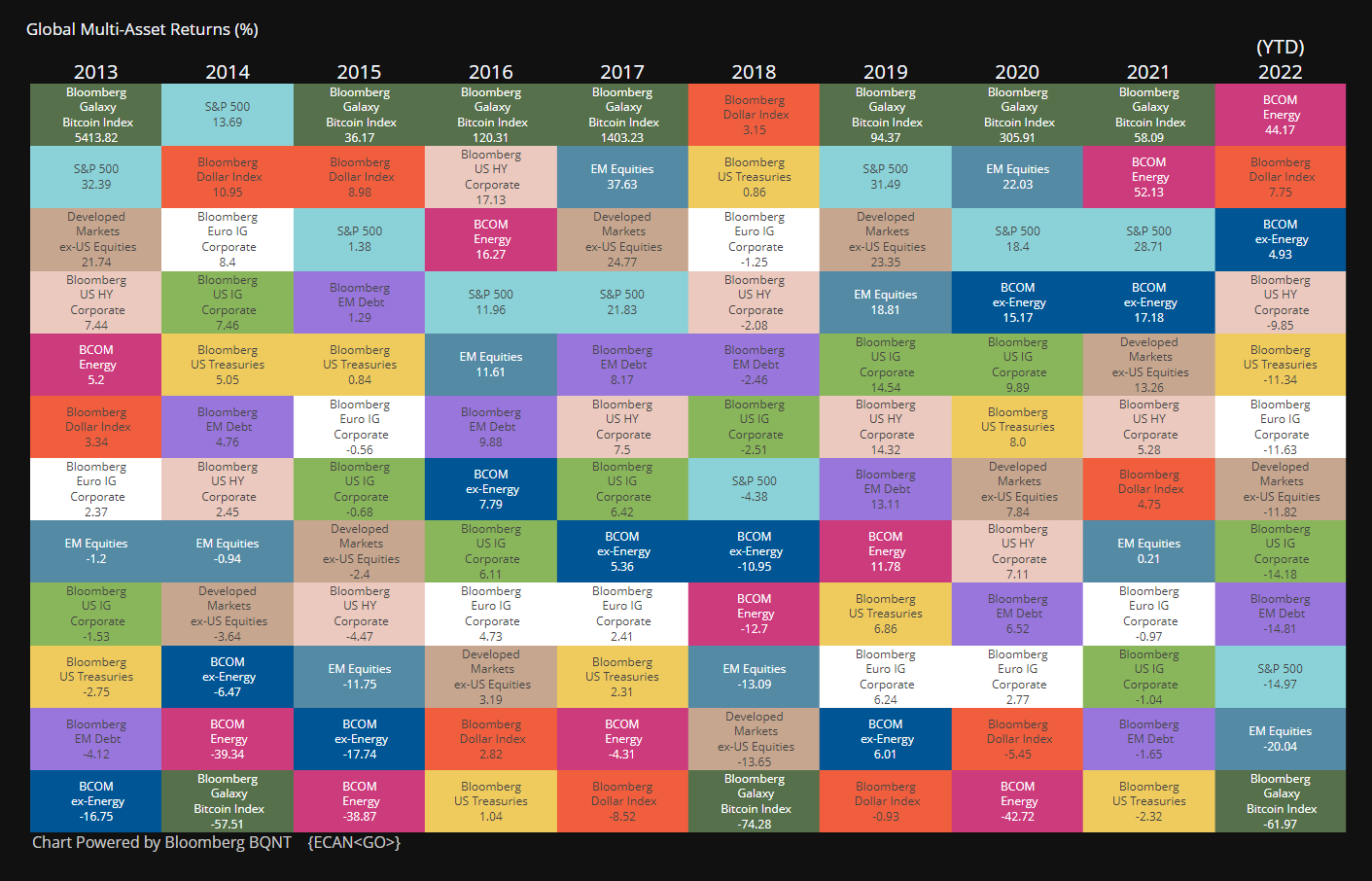 Also Read – Bitcoin: Investor Realized Losses Mount Up To $213 Billion
Is The Comparison Just?
A few from the community, however, felt that the comparison was not fair. A particular user noted that Bitcoin should be collated with other assets/indices only from its 2017 bull run period when retail investors flocked in. The user further opined that the $10k level attained that year could perhaps act as a starting point.
Bitcoin, as such, surpassed the $10,000 benchmark for the first time in November 2017. At the start of that year, the asset's price was less than $1,000.
Another user opined,
"Crypto should be compared with Pre-IPO equity not established indexes. If you compare it Facebook or something similar from ground level, early seed funding, that would be a more fair comparison."
Re-justifying why that should instead be used as the yardstick, another user explained,
"Yup. Realistically, you could call the Bitcoin "IPO" something like 2017. Right around crossing the $10K mark (Facebook IPO-ed at ~100 billion, $10K bitcoin would give it a valuation of ~180 billion at the time)."
Also Read – Bitcoin: Are Affordability & Accumulation Going Hand In Hand?