The correlation dynamics between Bitcoin and altcoins have been ever-changing. As illustrated below, the figure stood around 80% for most assets including Cardano, Dogecoin, Shiba Inu, Solana, Avalanche, Curve Finance, etc. However now, it has already dropped below the said threshold. In fact, for assets like XRP, the number is nearing a low of around 40%.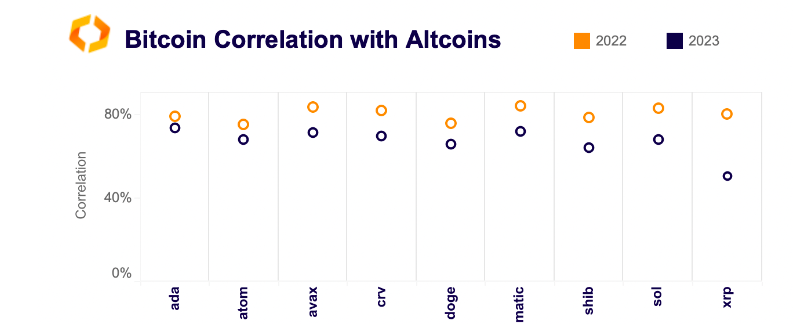 Also Read: Crypto Funds See $136 Million Inflows Amid 'Seasonal Effects'
The Bitcoin vs. Altcoins dominance battle
On the dominance part, Bitcoin has the upper hand at the moment. Over the past few months, its dominance has been able to rise from 39% to almost 52%. Yet, altcoins have collectively been finding it difficult to fare. Recently, their dominance broke above the downtrend line, but a recovery failed to fructify.
Interestingly, similar setups with Bitcoin's rising dominance and altcoins' falling dominance have been created in the past as well. Typically, they have acted like a precursor to a bull run. 2019 was a bullish year for Bitcoin, for the largest asset went on to clinch several high readings price-wise. Its dominance started rising months before the rally itself, in the midst of one of its worst-ever bear markets at that time.
Parallelly, altcoins' dominance followed the opposite path, similar to what the market is witnessing currently. At that time, it took almost 2 years for altcoins to register a breakout, and that happened only after Bitcoin created highs.
Well, altcoins' current downtrend phase has hardly lasted for a handful of months. The dominance not being able to recover at this stage is perhaps a signal that Bitcoin is preparing for its big leap forward. In fact, whenever Bitcoin's dominance has risen, altcoins have always benefited from the price, either before or after. However, when the dominance of altcoins has risen, the conditions have not essentially benefitted all coins price-wise. So, the current situation is perhaps a win-win, and despite the correlation drop, fundamentals and dominance show that there's no essential cause for concern.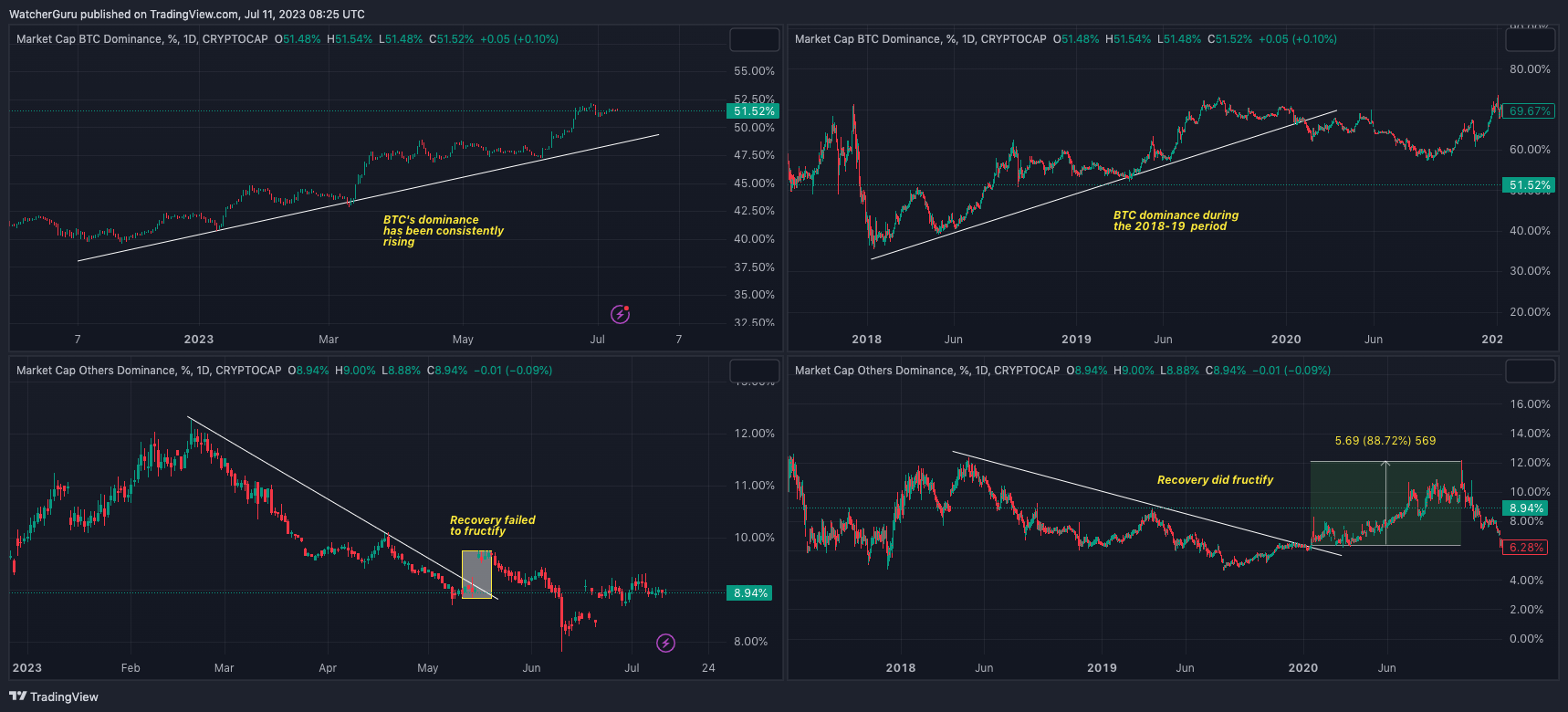 Also Read: Ordinals Renewed Bitcoin 'Building Culture': Ethereum Founder