Continuing its implementation of digital asset services, the $9 trillion asset management firm BlackRock has registered for an Ethereum Trust in Delaware. Indeed, Bloomberg analyst Eric Balchunas confirmed the firm's iShares Ethereum Trust in a post to X, formerly Twitter.
BlackRock made waves when it announced its filing for a spot Bitcoin ETF with the US Securities and Exchange Commission (SEC) earlier this year. Subsequently, BlackRock's iShare Bitcoin Trust was registered just one week before the landmark ETF filing.
Also Read: BlackRock iShares Bitcoin Trust Relisted on the DTCC
BlackRock Registers for iShares Etheruem Trust in Delaware
One of the largest asset management firms in the world, BlackRock, has continued to add excitement and intrigue to the digital asset industry. Specifically, the firm made waves when it announced its filing for the Spot Bitcoin ETF with the SEC this year. Indeed, a potential approval would mark the first such exchange-traded fund in the United States.
Now, BlackRock has continued to explore its digital asset options, as it has registered an Ethereum Trust in Delaware. The reports originally began swirling around a potential filing. Ultimately, Bloomberg analyst Eric Balchunas confirmed the news in a post to X, calling it the "first step towards filing for a spot ETher ETF."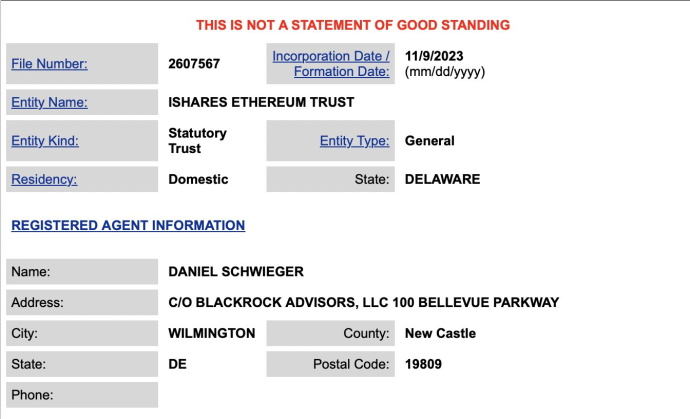 Also Read: SEC Charges BlackRock with Failing to Disclose Investments
BlackRock's eventual filing of a spot Ether ETF has long been pondered by pundits. However, the arrival of such a filing would certainly legitimize the firm's position within the industry. Subsequently, it reinforces the asset managers' belief in its long-term potential and impact.
Since its Bitcoin ETF filing, the asset manager has continually praised the asset's potential. However, the SEC still stands in the way of the first approval of such an offering in the country. Yet, many expect that to change, with approval predicted to occur at some point this year.