Volatility and Crypto Markets are like peas in a pod. Hence, a slow bleed out for Bitcoin from its April highs to recent lows was underwhelming, until last week. Unless readers have been sleeping under a rock, Blackrock officially filed for a spot Bitcoin ETF on June 15th. A partnership with Coinbase Custody will allow the world's largest asset managers to release its product.
Now, SEC's current qualms with various exchanges, which includes Coinbase, made it seem like odd timing for Blackrock's announcement. However, there was a meticulous calm to the chaos for the firm, which can be traced back to 2022. Let us look into the timeline and understand how Blackrock is putting itself in a very sweet position for 2024.
Blackrock and Coinbase: The Initial 'Quiet Step'
During peak bear season in 2022, Blackrock announced a partnership with Coinbase to facilitate Bitcoin access for its institutional clients. On August 4, 2022, the firm mentioned that investors will be able to trade, gain custody, prime brokerage, and reporting through Coinbase Prime.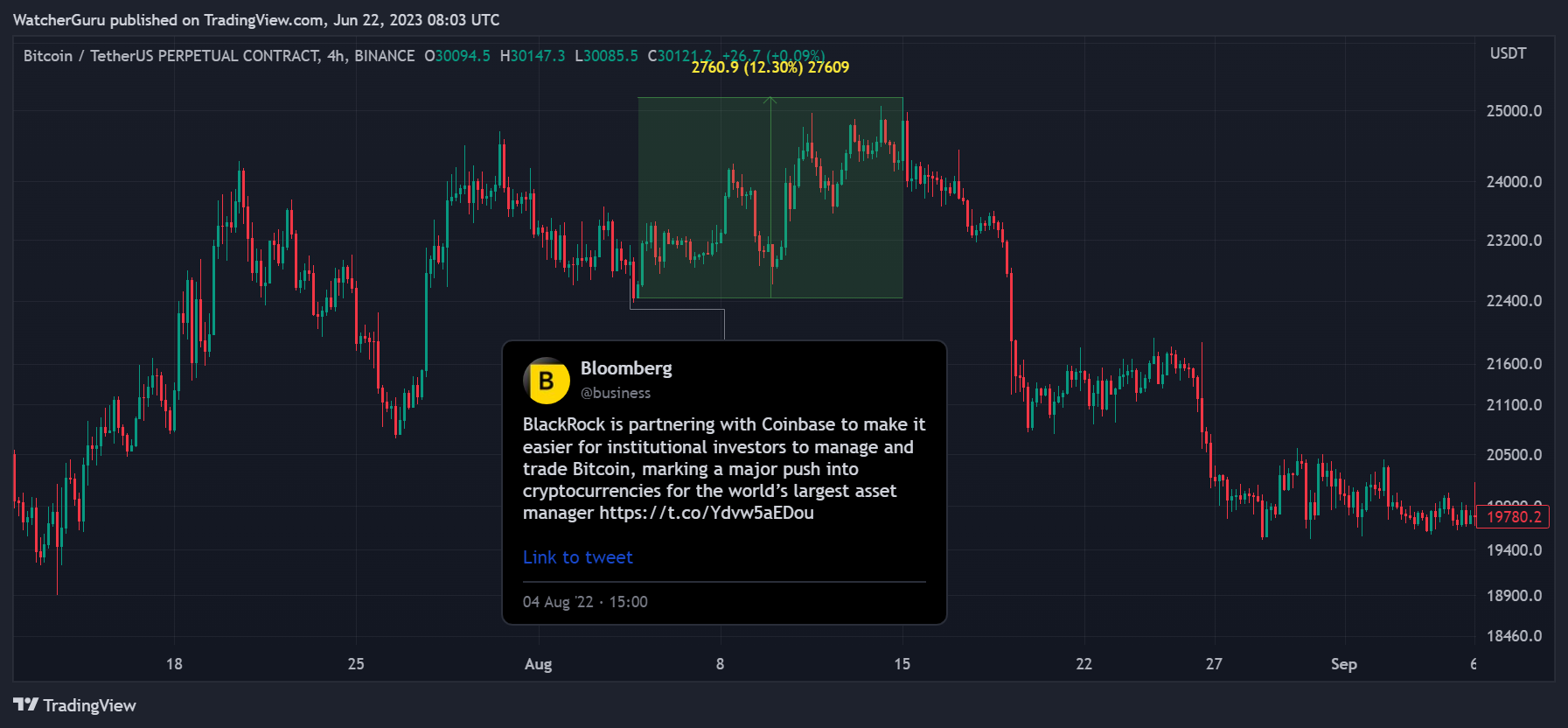 Bitcoin reacted positively to the partnership as well, rising 12.30% before continuing its correction phase last year. COIN also registered a decent rally of 16%. However, it is important to note that neither BlackRock nor Coinbase mentioned anything about a potential spot ETF. The plan was most likely discussed last year as well, but both organizations remained tight-lipped.
Fast forward to June 2023, the cat was out of the bag, and for a certain part of the industry, it came across as surprising. However, like most financial firms, Blackrock is thinking 3 steps forward, while taking half a step at a time. While the ETF news did trigger a bullish rally for Bitcoin, the objective to reap a position of advantage might come early next year.
Bitcoin Halving and ETF Approval: Aptly Position for Q1 2024?
Blackrock has taken the first important step towards an ETF right now. However, the filing and approval is still a lengthy process. According to K33 Research, ETF filings usually carry a 240-day deadline for respective applications. This means the current Bitcoin rally will potentially fade away in the coming weeks. Recent lows will be tested again unless Bitcoin rips out a massive rally, which will definitely catch everyone by surprise.
However, Blackrock might not be worried about that right now. Previously, multiple Bitcoin spot ETFs have been rejected by the SEC. The likes of Grayscale, Wisdom Tree, and VanEck have all faced a dead end in their approval pursuit. For Blackrock, the landscape is easier from a point of privilege.
According to Blackrock's iShares Bitcoin Trust application, on page 36 of its Nasdaq 19b-4 filing, the organization plans to avoid market manipulation by bringing in a surveillance-sharing agreement. It will enable an exchange of information on market trading, clearing activity, and customer verification. The largest asset manager in the world also maintains a 'friendly relationship' with the regulators, unlike other companies applying for BTC ETFs in the past.
Blackrock's 'Halving Seat' in 2024
Now, joining all the dots together, Blackrock has currently 240 days at the maximum limit, to receive regulatory approval for its Spot ETF release. So investors might be able to gain the financial vehicle by the end of February 2024 i.e. a couple of months before the Bitcoin halving. By that time, the cyclic bear market may also be near saturation, bringing a fresh bull start for the kingcoin. The largest benefactor in that situation would be, as inferred, Blackrock. The organization's ETF move can be termed as surgical and it is unlikely that they haven't recognized Bitcoin's long-term strength as we speak.
Volatility will be back for the crypto markets in the upcoming 2nd half of 2023. As mentioned earlier, these peas in a pod will be together.