While the bearish scare is slowly fading away, investors have been exploring the developmental side of crypto. The community has a lot to look forward to, like Ethereum's big transition into proof-of-stake, Shiba Inu's game launch, and Cardano's much-awaited Vasil hard fork.
The Cardano network was hoping to roll out the hard fork in July. However, the network revealed that it was being pushed. It should be noted that this wasn't the first time that Vasil encountered a delay. Usually, during times like this, the community grows somewhat wary and continues to sell off their holdings. But the ADA community seemed to be optimistic about the launch.
As per data curated by on-chain analytics firm Santiment, Cardano investors were bagging the highest level of profits since March.
With the profit/loss ratio at its highest profit, investors are likely to sell off their stakes. This could further be detrimental to Cardano as its rally would be cut short if traders went on a selling spree.
At press time, ADA was trading for $0.56 with a 1.46 percent surge over the last 24 hours.
Not too long ago, Messari went on to label Cardano as "priced aggressively." The critical usage metrics of the network were relatively low compared to its counterparts like Solana [SOL]. However, the network seemed to be getting immense traction ahead of the Vasil hard fork.
Cardano-related transactions peak
It seemed like the sun was finally shining over Cardano land. The network was prepping for the arrival of the Vasil hard fork, and critical metrics were playing along.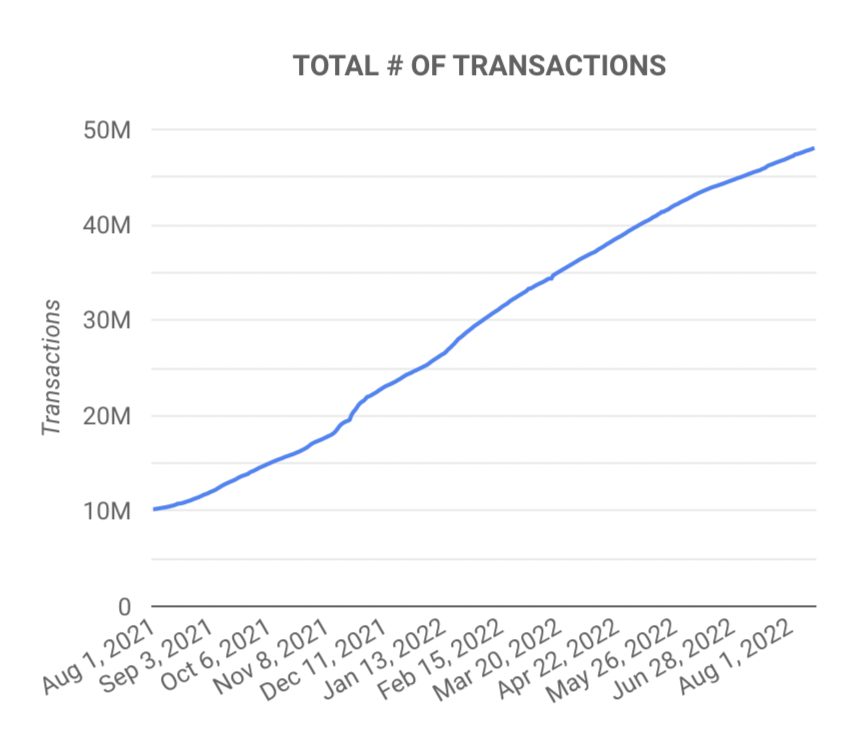 The above chart shows that the number of transactions hit a yearly high. This week, the total number of ADA transactions was over 48,000,000.
In addition, it should be noted that whales were bagging ADA in huge numbers. Throughout August, whales were seen buying the asset. Last week, it was pointed out that whale and shark wallets purchased $138 million worth of ADA.
As seen, the enthusiasm around the network has already been surging. With the upcoming hard fork, the price and usage metrics are sure to attain a much-awaited boost.