Similar to the Ethereum network, Cardano [ADA] has been garnering immense traction on social media. The Vasil hard fork has pushed ADA into becoming the talk of the crypto town. Despite being delayed, the fervor around the project remains intact. Several even went on to laud the network for not rushing the hard fork. Amidst all of this, Cardano has been floating around the $0.50 price range. Messari, an on-chain analytics firm, however, believes that the asset was priced more aggressively.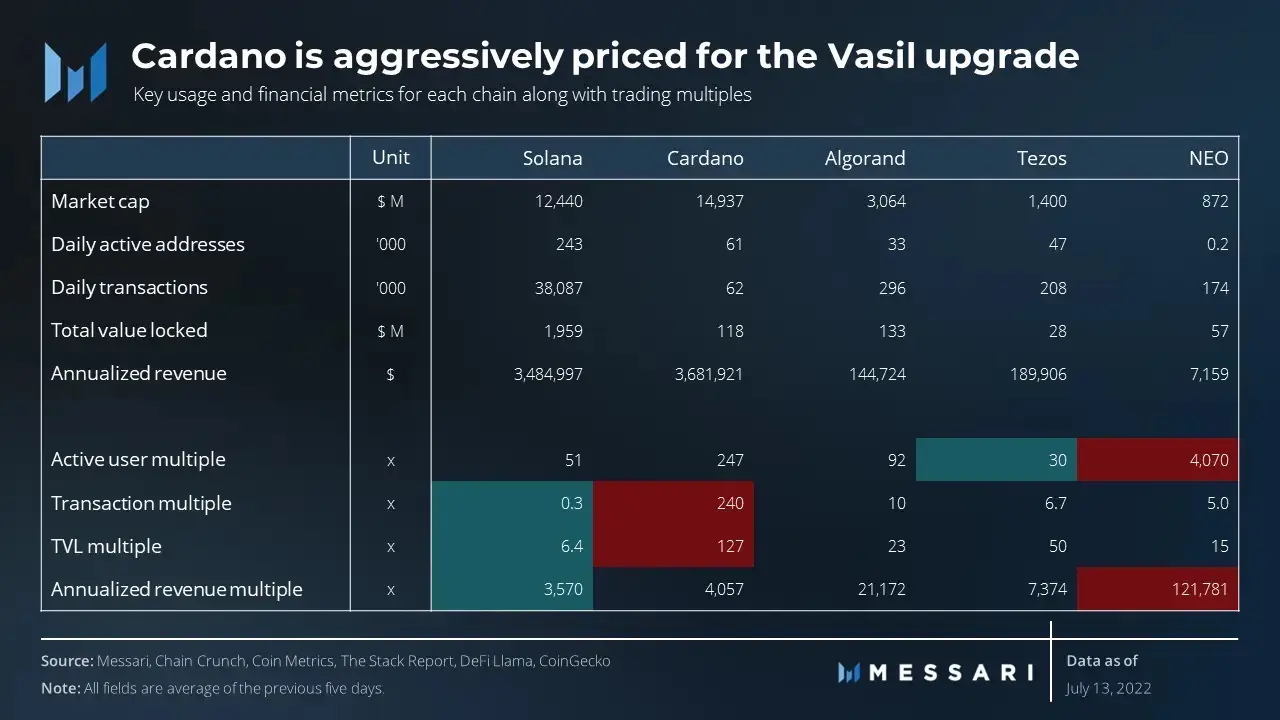 As seen in the above chart, Cardano's key usage metrics were lower compared to that of Solana [SOL]. However, in terms of active user multiple, transaction multiple as well as TVL multiple ADA was increasingly higher. The aforementioned financial metrics evaluate the value of an asset.
Therefore, Messari was implying that Cardano was overvalued ahead of the Vasil hard fork.
This did not sit well with the ADA community. An array of them came forward and called out Messari for its flawed chart and even took jabs at Solana. One Twitter user pointed out the shortcomings of the Solana network and tweeted,
It should be noted that Cardano was touted as one of the most undervalued assets. Back in February, the altcoin was trading for a little over $1 and was considered to be undervalued. Prominent crypto analyst Ali Martinez had previously brought this to light.
Whales continue to pocket Cardano ahead of Vasil
The Vasil hard fork is expected to spruce up the network in terms of throughput as well as smart contracts. The network upgrade was scheduled to take place towards the end of July. However, it was pushed. With more time for the hard fork, sharks and whales of the network were accumulating ADA.
As the community defends Cardano and whales bag the altcoin, it continued trading at $0.5214, at press time. The asset had plummeted by 4 percent over the last 24 hours.