The leading cryptocurrency lender Celsius Network filed for Chapter 11 bankruptcy last month after facing a cash crunch due to the bear markets. However, despite filing for bankruptcy, its native token CEL attracted heavy buying pressure and its price doubled in 14 days. CEL's price now stands at a 3-month high after it breached the $2 mark after plummeting to $0.19 during mid-June. In the last 2 weeks, CEL shot up 110% delivering handsome returns to investors who brought the dips.
Also Read: Shiba Inu's Bone Doubles in Price: Breaches $1 From $0.50 in 30 Days
In addition, the CEL token recorded massive inflows this month with sustained buying pressure making its price double. Its market cap jumped from $170 million on August 1 to $473 million today. Today alone, its price climbed 25% and is still attracting heavy bullish sentiments.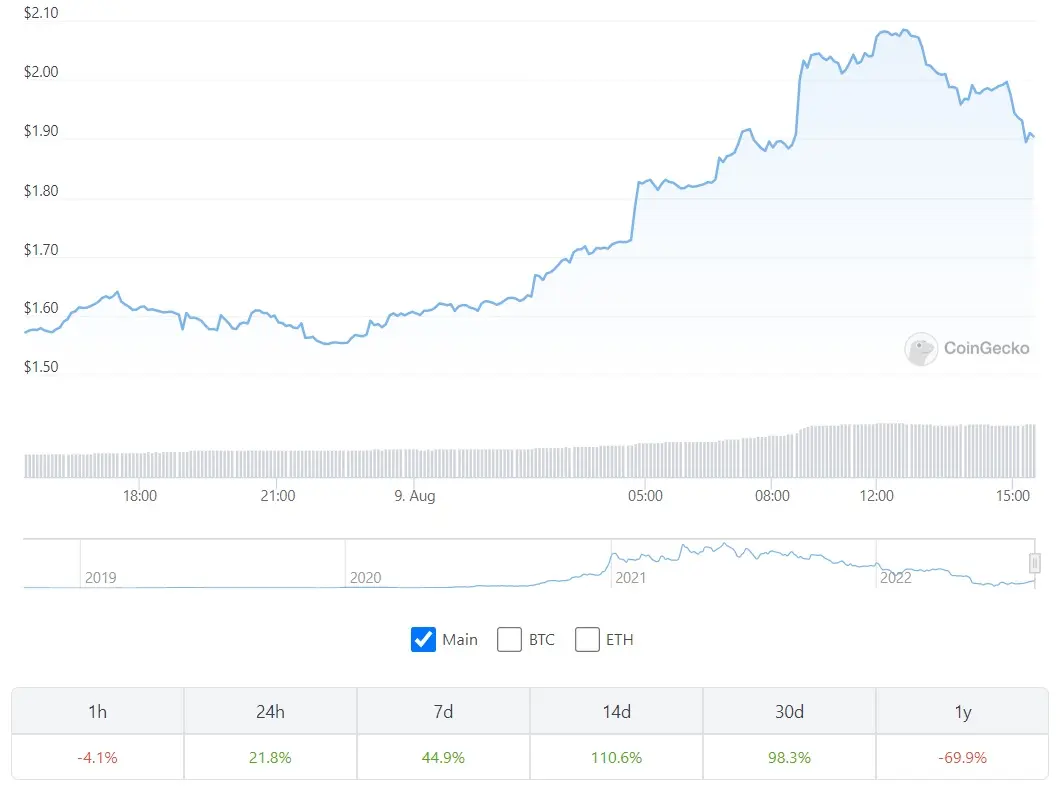 Why Is Celsius Token's Price Rising?
The CEL community ganged up lately on social media to conduct a 'short squeeze' campaign. The coordinated activity started on Twitter with the hashtag #CELShortSqueeze urging investors to drive up its price. The community eventually got together and force closed short sellers positions driving its price to head north.
Also Read: Prediction: What Could Be the Price of Hex 5 Years From Now?
However, this isn't the time that the Celsius community tried to drive up its price through the short squeeze campaigns. On July 14, the community similarly tried the short squeeze and successfully got its price up. The price rise occurred despite the Celsius Network was in turmoil and filing for bankruptcy.
Two other attempts were made to create short squeezes the next week, but eventually failed and fizzled out.
Also Read: Bitcoin Reaching $100,000 Is A Matter of Time: Bloomberg Analyst
Should You Buy CEL Now?
CEL has already doubled in price and the short squeeze attempt might soon be coming to an end. The day's profits are dipping by the minute and taking an entry position now might prove to be costly. Investors have made their profits and are most likely looking for exit positions. In addition, Celsius Network has not fully come out of its turmoil, and a disaster is not wiped off.
At press time, the Celsius token was trading at $1.87 and is up 16.6% in the 24 hours day trade. CEL is down 77% from its all-time high of $8.05, which it reached in June last year.