Chainlink was one of the first few altcoins to start rallying even before 'Uptober' could commence. From a low of around $5.7, LINK rose by more than 40% to $8.2. However, it applied brakes right after. As chalked out below, LINK is currently at critical juncture from the technical perspective. Over the past year, the $8.3 threshold has acted like a strong resistance, and has rejected LINK from rising further more than a handful of times. Last week, LINK yet again attempted to break through this level, but was unsuccessful in doing so. It has been consolidating around $7.3 ever since.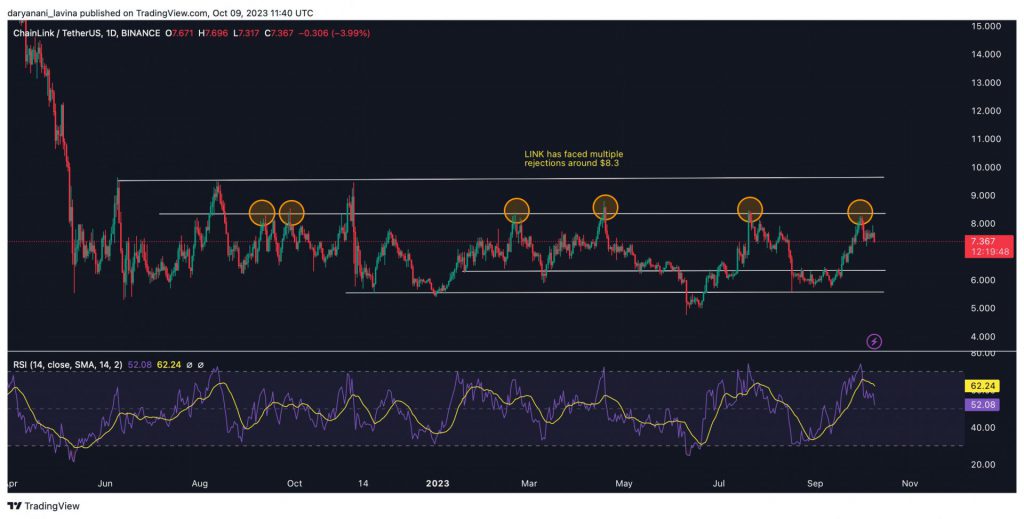 Also Read: Crypto: When is the 'Perfect' Buying Opportunity?
LINK Buy Bias Starts Fading
Data from IntoTheBlock revealed that LINK has been facing hurdles from the on-chain perspective. Over the past week, the new addresses and and the active addresses on the network have shrunk by 27% and 3% respectively. This is indicative of reduced activity of market participants. Among the ones participating, the buy-bias has slowly been fading. At press time, the large holders' net flow metric had been hovering around in the negative territory. It flashed a value of -142.84k LINK, indicating that whale sell orders have been surpassing the buy orders lately.

Also Read: Crypto: XRP, Solana, MATIC Options to Debut on Deribit in 2024
On the weekly chart, LINK's macro downtrend has concluded. However, it is yet to secure a successful retest to fully confirm the breakout. Pointing out another box that is yet to be checked for a macro uptrend to commence, pseudonymous analyst Rekt Capital recently noted on X [formerly Twitter],
"Macro Downtrend is broken, but the Accumulation Range High hasn't been broken yet. Both are needed for a new Macro Uptrend."
Thus, until buyers are back into the market, and the accumulation high is not breached, LINK would find it challenging to renew its up-streak and march past the rejection juncture.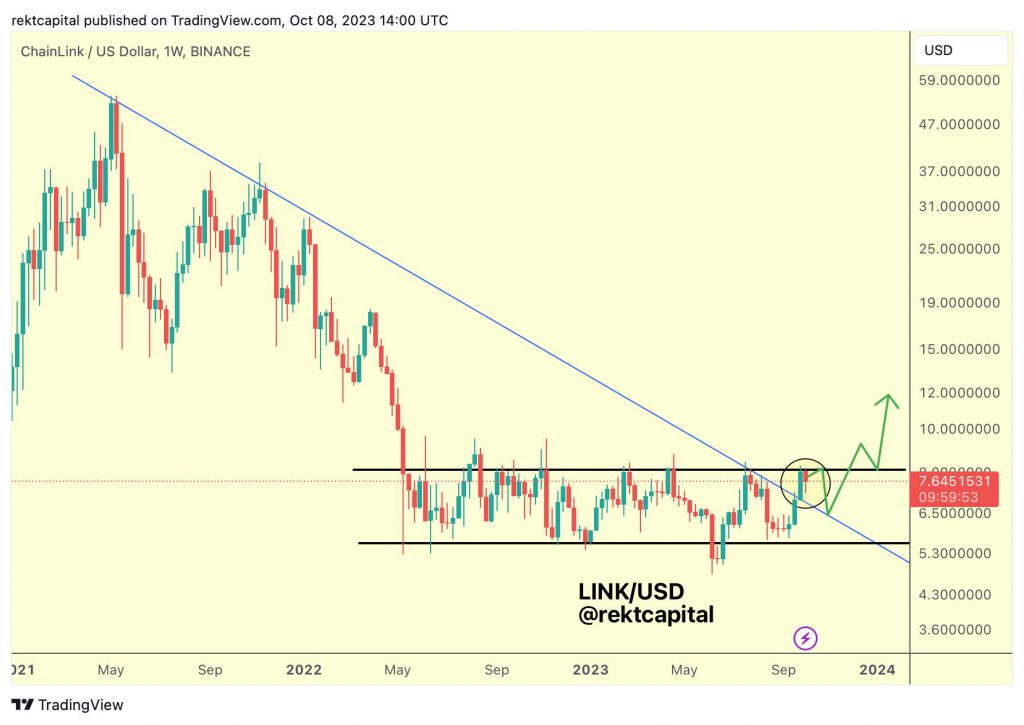 Also Read: Crypto: Abu Dhabi is the New 'Capital of Capital' Says Kevin O'Leary