Chainlink has been thriving in the face of adversity. On the monthly frame, Bitcoin is up 1.7%, while Ethereum is down 1.6%. Other altcoins like Solana, Cardano MATIC, and XRP have shed 3%–8% of their respective values. Chainlink, however, has risen by 33% in the same timeframe. In this process, it has already nullified the 22% loss registered last month. Retrospectively, LINK is up 24% in Q3.
In this process, LINK has managed to rise up on the rankings chart. In fact, it recently overtook Shiba Inu on this front. SHIB was the 19th-ranked asset at press time, while LINK occupied the 17th position. As illustrated below, the market cap flip just transpired a few hours ago.

Also Read: Bitcoin Cash Up 8%: Can Bulls Push BCH to $250?
What to Expect from LINK in Q4?
In the weekly timeframe, LINK has registered a bullish flip from its downtrend line initiated in 2021. As a result, analysts like 'Rekt Capital' have started questioning if the macro downtrend is over for good. In fact, others like Michaël van de Poppe have also pointed out that LINK is "rolling" towards its high range. So, does this mean Chianlink will end 2023 on a high note?

Also Read: Ethereum Creates 'Bullish' Divergence: 12% Rally to Follow?
It is essential to note that on all the macroframes, LINK is at a critical juncture. In 2021, the asset collected liquidity in the $6.8 to $11.2 range for a few months before initiating its 370% rally. Over the past few months, LINK has arguably been doing the same, but buyers lack conviction. However, with that narrative change in Q3, things could improve going forward. At the moment, LINK is merely 12.3% short of its $8.7 high registered in 2023. If the same momentum is rolled forward, then it is just a matter of time until the asset clinches a new yearly peak.
From a long-term perspective, it is essential for LINK to convert its quarterly resistance into support over the next few weeks. It will allow market momentum to carry the asset above the $10 range, which has been elusive in 2023.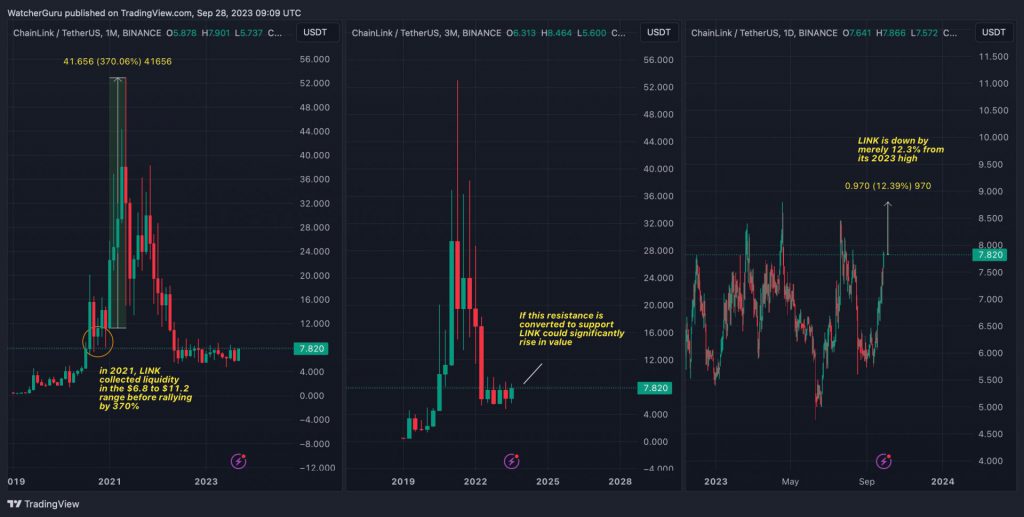 Also Read: PYUSD: Crypto.com Partners With PayPal, Paxos
Chainlink is Already Winning the Fundamental Game
On the fundamental and development front, LINK has consistently been making progress. Just a day ago, it extended its cross-chain capabilities to Coinbase's Base. Right before that, Gaming platform BetSwirl integrated Chainlink's CCIP across its Arbitrum, Avalanche, Ethereum and Polygon mainnets. In fact, Sergey Nazarov recently brought to light that CCIP is the "only" cross-chain infrastructure that provides the 5th level of cross-chain security. Even community members are optimistic about Chianlink's utility prospects. The Business Operations Manager at Maple Finance recently tweeted,
"I expect something similar for CCIP. Much more value will flow through it than just interbank transfers. It unlocks a wide arrange of use cases we cannot even imagine right now."
Such developments add long-term credence to the project and will likely rub off positively on LINK's valuation going forward.