Cathie Wood's ARK Invest has been making notable strides lately in the crypto realm. The latest one, however, is certainly advantageous for her but not the prominent crypto exchange, Coinbase [COIN]. Time and again, Wood's has purchased a substantial amount of shares of the exchange. However, according to the latest development, ARK has offloaded a whopping $12 million worth of COIN shares.
According to reports, ARK sold a total of 135,152 stakes in Coinbase. While $12 million is a substantial amount, the number of stakes disposed only accounted for 0.14% of the fund's total assets. This sale happened at a peculiar moment considering the recent notable increase in the stock price of Coinbase. Just a few days ago, the price reached a peak of $90.9.
Also Read: Coinbase Shares are Up by Over 50% Amid SEC Lawsuit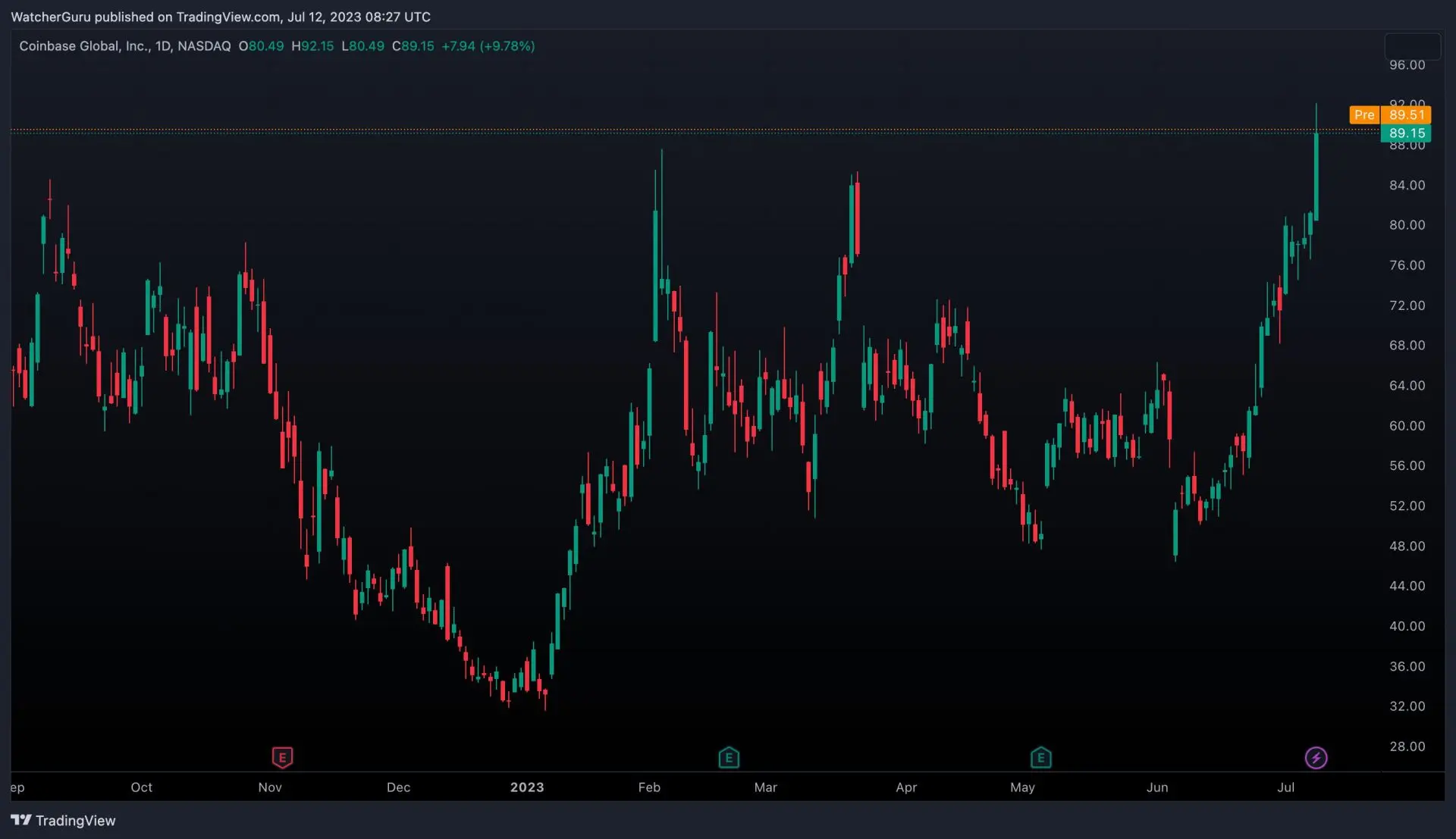 Coinbase shares have surged by over 60% in the last month, with a year-to-date gain of more than 140%.
This selloff is happening at a time when many of Coinbase's executives are selling their shares. On July 6, Brian Armstrong and other senior members of Coinbase sold a total of 88,058 shares worth almost $6.9 million. Chief legal officer Grewal Paul bought 1,818 shares for around $140,000. Accounting Director Jennifer N. Jones sold 7,335 shares for approximately $550,000, while director Rajaram Gokul sold 4,580 shares for about $366,500.
However, Armstrong stayed at the peak of this list by vending 74,325 shares, valued at over $5.8 million. It should be noted that the Coinbase CEO possesses a total of 16% stake in the company.

Why are Coinbase shareholders on a selling spree?
There are numerous speculations behind these sell-offs. To start with, these executives and Wood might be simply selling for profit as COIN continues to surge. Additionally, the sales might be taking place due to personal financial planning as well. Occasionally, executives acquire shares of a company. Consequently, they tend to diversify their portfolio in order to reduce increased tax payments.
While there is an 'individual benefit' to insider dumping, there are also negative consequences. In May, a complaint was filed by a Coinbase investor against the current and former executives, and board members, including Armstrong and Marc Andreessen. The investor alleged that these executives sold Coinbase shares shortly after the firm's public listing in April 2021, avoiding losses of approximately $1 billion. This action was taken based on insider information.
The lawsuit claimed that the executives mentioned in the case were aware of negative information that was about to be made public. As a result, they sold their stocks before the news was released in order to avoid financial losses. This has led to speculation that the recent sell-off could be an indication of impending negative news.
Also Read: Coinbase's Retail Trade Volume Has Dropped 65% In 3 Years