The cryptocurrency landscape has witnessed numerous changes in recent years, with both positive and negative implications. One such negative aspect is the substantial decline in retail trade volume on Coinbase over the past three years. This is concerning, considering that the interest of retail investors in the crypto market has generally grown during this period.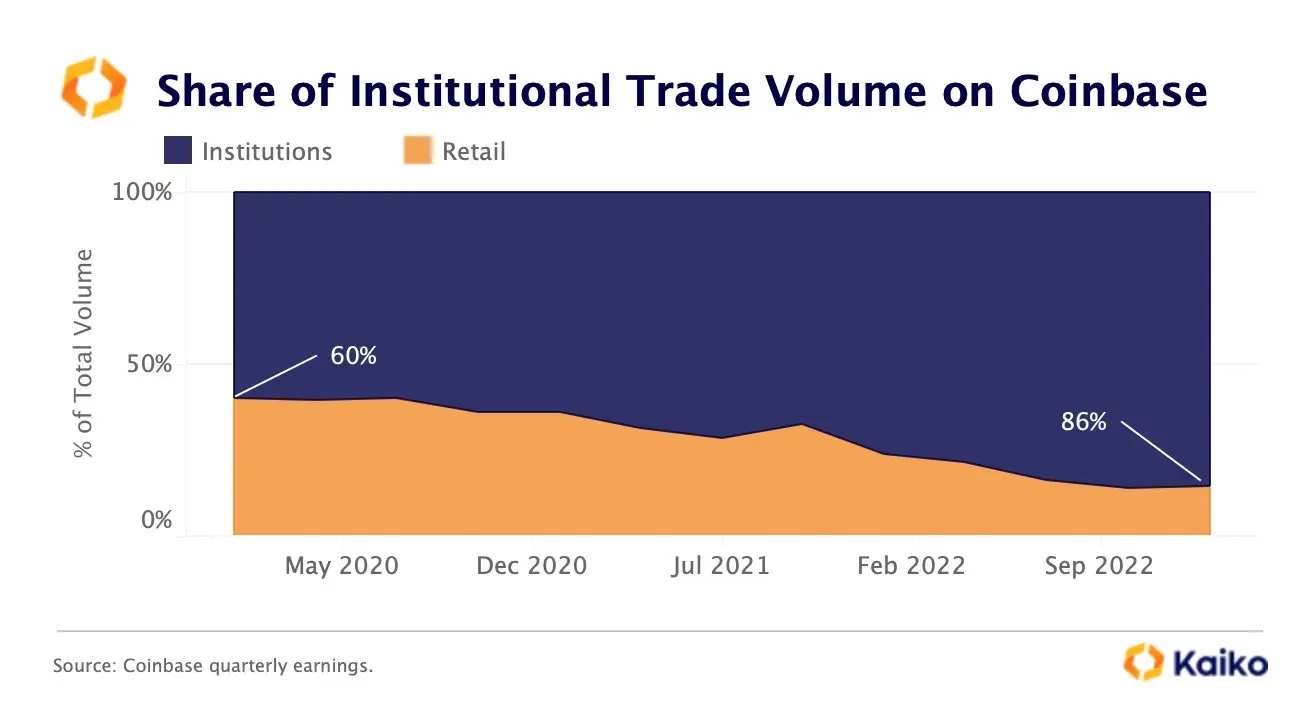 As seen in the above image, the institutional interest or trade volume on Coinbase has been soaring. Meanwhile, retail trade volume plummeted all the way from 40% down to 14% i.e 65% over the course of three years. But what is the reason behind this drastic drop?
Also Read: Crypto Volume on Binance, Coinbase Dips 50%-70%
Analyzing Coinbase's decline in retail investors
Coinbase has implemented fee increases for smaller traders to counterbalance the decline in trading volume. However, customers have started to voice their concerns and push back against Coinbase's higher fees for smaller cryptocurrency trades. This further contradicts with other platforms like Robinhood's approach of not engaging in such practices.
Additionally, the heightened regulatory scrutiny surrounding Coinbase has had a significant impact. The exchange faced a lawsuit from the Securities and Exchange Commission [SEC] as part of a broader crackdown on cryptocurrencies. While several other exchanges chose to comply with the SEC's requirements, Coinbase stood its ground and contested the allegations made by the regulatory body.
Lastly, it is important to highlight that institutional investors hold a significant 43% stake in Coinbase Global, Inc. This indicated that institutions possess the largest share in the company. In contrast, the general public, including retail investors, holds a 35% stake. The relatively smaller size of retail investors in comparison to institutions could potentially be discouraging for retail traders. However, in its May 2023 shareholder letter, the exchange noted the importance of retail investors and wrote,
"Retail customers continued to 'hodl' their crypto assets on Coinbase at levels similar to Q4, which we believe indicates that retail customers, on average, maintain long-term conviction in crypto."
Also Read: Coinbase Shares are Up by Over 50% Amid SEC Lawsuit