Irrespective of the market conditions, market participants have been accumulating crypto assets. However, during the second quarter, the trade volume has not been appealing. As illustrated below, the aggregate number stood below $2 billion, the lowest since 2020. A recent Kaiko research report pointed out that Binance registered the "strongest drop." The volume on the largest exchange dropped by nearly 70%.
This was likely a consequence of the exchange re-introducing fees for its "most liquid" BTC pairs. Nevertheless, the state of affairs on other exchanges was also similar. The volume on Coinbase, Kraken, OKX, and Huobi also dropped by over 50% in Q2.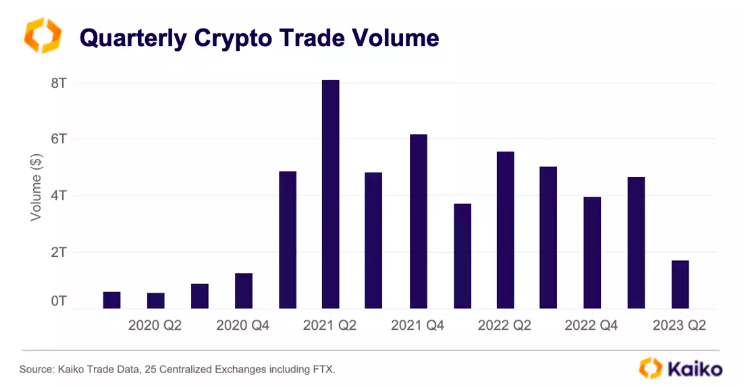 Well, Coinbase has been consistently making it to the headlines of late. Over the past few days, several Bitcoin ETF applications have been re-filed, with Coinbase being added as the surveillance partner. The shares of the company are up, by over 13% over the past week. However, Coinbase has not been able to capitalize on the optimism as an exchange. With the same lackluster Q2 momentum extending, the volume settled on the exchange dropped from its $2.4 billion peak to $1 billion this week.

Also Read: Shiba Inu Investors are Holding SHIB for 200+ Days on Coinbase
How did crypto assets fare during the quarter?
Well, during the initial half of Q2, not a lot took place in the crypto market. That could possibly be one of the reasons why investor interest remained withered. Layer 2 tokens, for instance, underperformed during the said period. Kaiko pointed out,
"Layer 2 tokens were the worst performers in Q2 after registering the strongest returns in Q1. The decline was widespread as all the assets in our simulated equally weighted L2 basket dropped between 20% and 40% in Q2. Layer 1 tokens also fell by 24% in Q2."
DeFi tokens, on the other hand, closed the quarter down 8%. Nevertheless, they did gain momentum in June, driven by MakerDAO's MKR and Compound's COMP token. Contrarily, Bitcoin, and Ethereum were the only set that managed to wind up two consecutive quarters with positive growth. Even so, the overall crypto sector's return remained underwhelming during the quarter.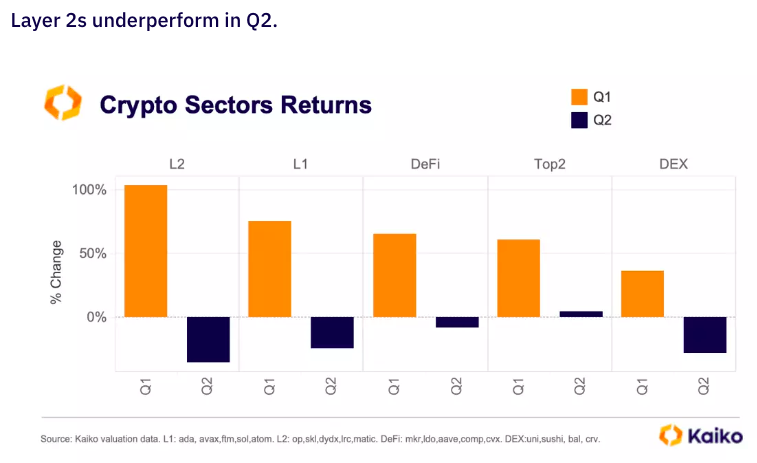 Also Read: Bitcoin: Investors Buy 1.01 Million BTC in 602 Days