Coinbase, a leading cryptocurrency exchange, introduced its layer-2 network called Base earlier this year. This network quickly gained widespread recognition and adoption. To further enhance its offerings and foster transparency, the Base network has recently made its code repositories and smart contracts open source. Through this, it emphasized its commitment to developing in a transparent and collaborative manner.
In a recent blog post, Base announced its decision to grant developers complete access to the network's codebase. The primary motivation behind this open-sourcing initiative is to offer developers greater visibility into the project's development process. Base has disclosed that all of its smart contracts and scripts are now accessible to the public on GitHub. The blog post further read,
"By sharing our work openly, we enable the community to track our progress and ensure that we're living up to our commitments. Open source is a win-win for our onchain future. Builders get access to a trove of knowledge, improve on what's already been done, and in turn inspire others in the space."
Although Coinbase and Base's decision to open-source their code is a significant step, it does come with inherent risks. One such risk is the potential for open-source code to be exploited. However, Coinbase has taken proactive measures by encouraging security-focused developers to thoroughly examine the layer-2 network's code and remain vigilant for any vulnerabilities. To incentivize this security effort, Coinbase is offering a bug bounty program. This entails rewards of up to $1 million for identifying and reporting bugs.
Also Read: Coinbase Announces 80 Trading Pairs To Be Delisted
So how is the Base network faring?
Data from DeFi Llama reveals that the total value locked in the Base network has been experiencing a decline. In September, the network witnessed a remarkable surge. The network climbed from just $8 million in August to an impressive high of $410 million. However, the network's positive momentum encountered a setback, with the total value locked declining to $303.64 million at the time of this report. Additionally, there has been a significant decrease in the network's trading volume, the number of users, and the overall transaction activity on this layer-2 network.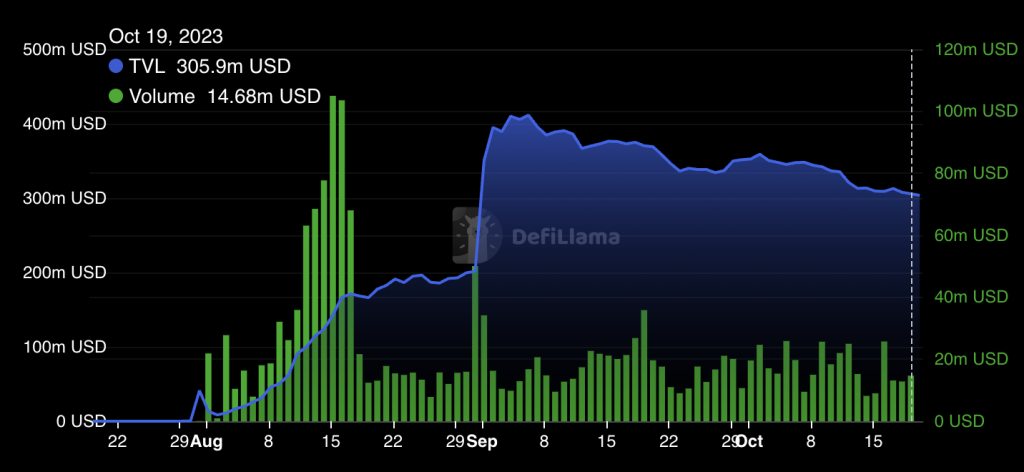 Coinbase's latest move could certainly attract more users into the Base network.
Also Read: Coinbase's Base TVL Surges 25% Post Tokenized US Treasuries Inclusion