The XRP community has time and again proven its loyalty towards the altcoin. Despite its decline over the last couple of years as well as the ongoing lawsuit in which the Securities and Exchange Commission [SEC] has labeled it "security," the XRP Army stood its ground. In a weird turn of events, John Deaton, a crypto attorney who has been representing the XRP community has compared the asset to a cockroach.
In a recent tweet, Deaton was explaining how XRP has been the most "resilient" coin. The lawyer decided to take a dig at a prominent crypto news portal and its latest comment about the altcoin. Deaton wrote,
"Call it the Banker's Coin – call it a shitcoin – call it a security – call it whatever you want – but no Coin has been more resilient. Let me use lingo #BTC Maxi's will enjoy: XRP is a🪳- even a nuclear war won't kill it."
Deaton's comment was in reaction to a video featuring Emily Parker, Executive Director at Coinbase. She emphasized XRP's remarkable market dominance in Korea's major exchanges. XRP recently surpassed BTC to take control of the trading rates on South Korea's major platforms. Parker further attributed the recent rise in XRP's price to South Korean traders' increasing demand for the asset. In addition, she spoke about optimism regarding the legal dispute between Ripple and the SEC.
XRP's eventful March
While most of the cryptocurrency market recorded a significant upswing in the last month, XRP fared much better than its counterparts. The altcoin surged by 35.6% throughout the last 30 days. Even though the asset's yearly rise has shrunk by 37.5%, its latest surge was lauded by the community. At press time, the altcoin was trading at $0.514922 with no major daily fluctuations in its price.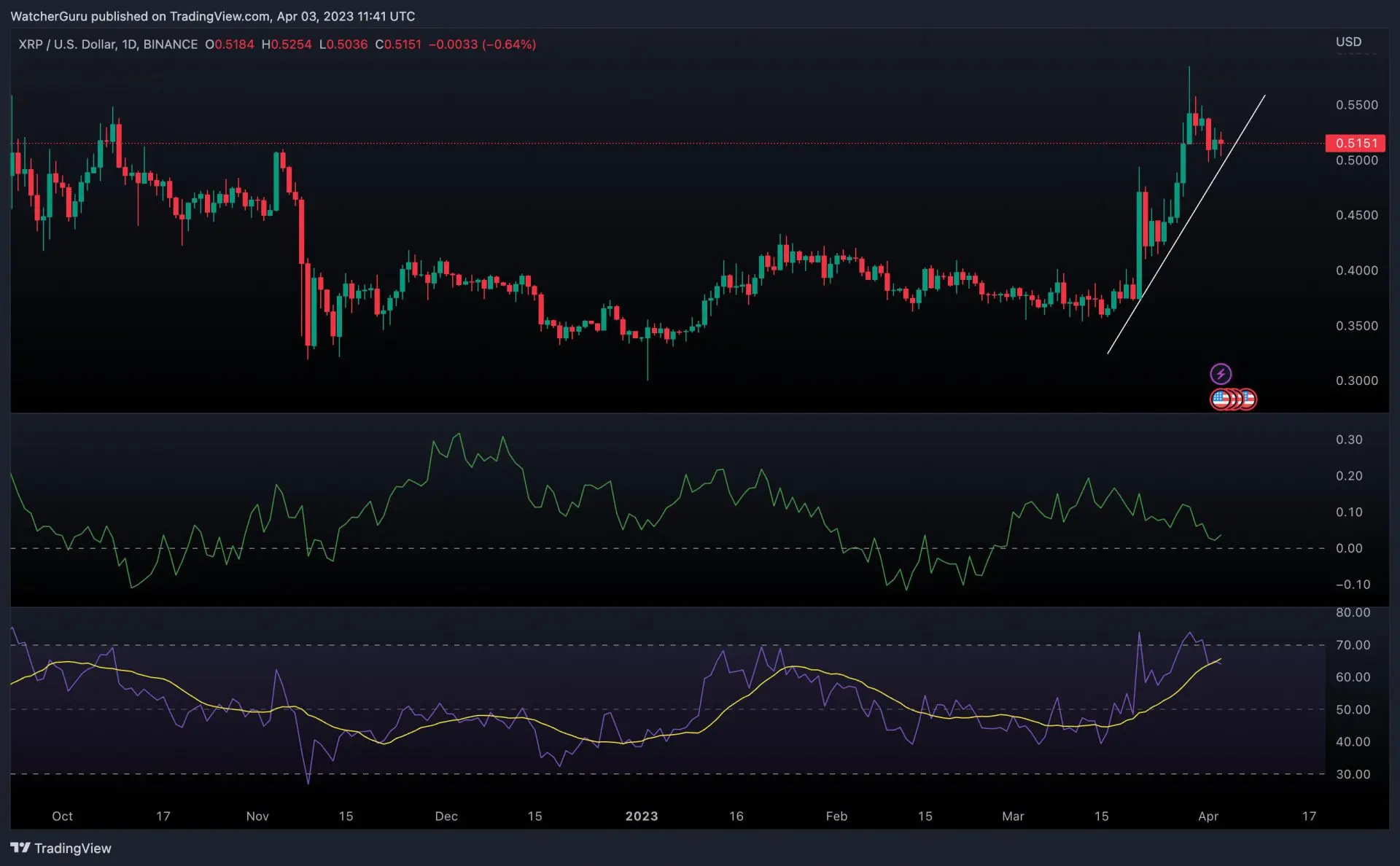 XRP's uptrend has been highlighted in the above chart. The Chaikin Money Flow [CMF] indicator further exhibited a bullish notion. The CMF marker is above the 0 median which is considered to be a positive indication of price. The Relative Strength Index [RSI] indicated increased buying in the XRP market. Taking these indicators into consideration, the altcoin could be enduring a slight correction before it continues on its upward trajectory.