The verdict in the SEC-Grayscale case was accompanied by a short-term price respite in the crypto market. A brief institutional accumulation spree was also registered. However, neither of the two trends could pass the test of time. The aggregate valuation of the market is down to $1 trillion yet again, with BTC trading below $26,000.
Also Read: 99% Nigerians 'Aware' About Crypto, 90% Ready to 'Invest'
Crypto Asset Managers Register AUM Declines
Recent research by CCData revealed that Bitcoin-based investment products saw a decline of 12.8% in AUM to $21 billion. Consequentially, the market share of these products shrank to 70.5%. Even Ethereum-based products shared the same fate and registered an AUM drop of 12.2% to $6.75 billion.
Grayscale's apex GBTC trust added $1.17 billion to its AUM on Aug. 29 and 30 following the verdict announcement. This market saw an increase of 7.20%. However, on the overall front, it noted a decline. The report highlighted,
"Grayscale, which continues to hold a dominant position in terms of AUM by Company, saw its AUM decline 11.8% to $21.8 billion."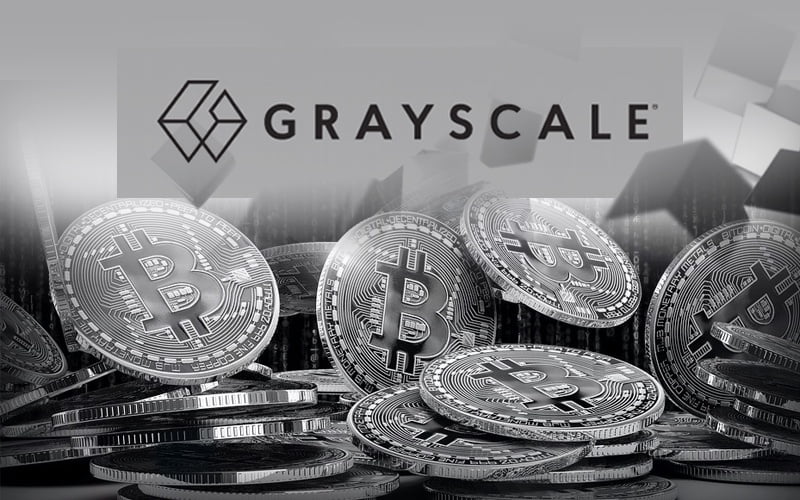 Also Read: Grayscale Investors Can Get Exposure to Bitcoin Cash At Merely $0.007
According to CCData, "all" digital asset management companies recorded a decline in managed assets in August, triggered by the aftermath of the recent drop in BTC price. 21Shares experienced a dip in assets managed, which settled at $1.03 billion as of Aug. 25, following a decline of 14.0%. Due to the decrease, its market share declined to 3.45%. XBT Provider faced a downturn of 11.4%. In fact, other top crypto asset managers also followed suit.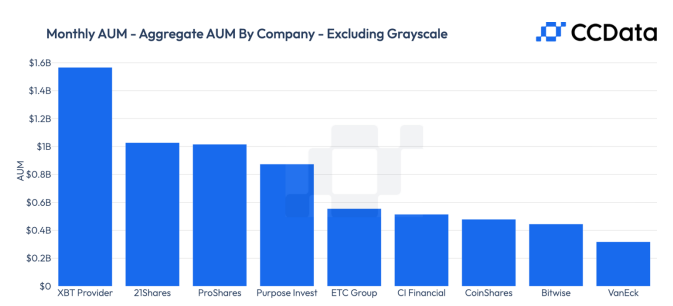 Trust and ETF Products Lose Market Share
Furthermore, trust products recorded an asset decrease of 11.8% in August. Likewise, ETF products noted a 15.1% decline. Consequently, their market shares shrank to 73.5% and 12.6%, respectively.
Yet, several believe that the approval of spot Bitcoin ETFs by the SEC could reverse the tides. CryptoSea founder, Daan de Rover, pointed out that billions of dollars worth of funds would flow into the market once a favorable decision was made. According to him, ETFs offer "significant tax advantages and the ability to borrow against them." Thus, buying Bitcoin Spot ETFs could become "more appealing," especially for pension funds, leading to a rise in demand. He added,
"Numerous institutions keenly awaiting a streamlined regulatory pathway to capitalize on Bitcoin's upward price trajectory."
Also Read: Dogecoin Averages +24% in Asian Hours but -15% During US Hours