Crypto investment products saw significant inflows over the past week, totaling $78 million, according to CoinShares' latest report. This marks the highest weekly volume since July.
The asset management firm said it was the second consecutive week of inflows, fueled by a 37% increase in crypto exchange-traded product (ETP) volumes to $1.1 billion. Bitcoin trading activity on trusted exchanges also rose 16%.
Solana led altcoins, notching its highest weekly inflow level since March amid a recent price resurgence. However, new US Ethereum futures ETFs attracted only $10 million in their first week, showing a muted appetite.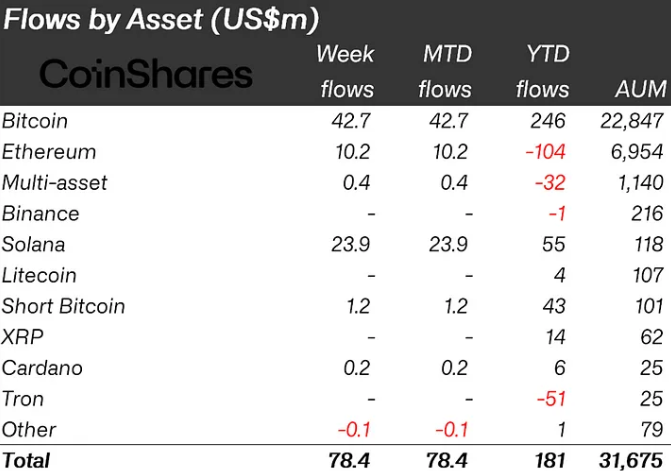 Europe accounted for 90% of total crypto investments
Geographically, Europe accounted for 90% of total inflows at $70 million. Germany and Switzerland contributed $37.3 million and $31.3 million, respectively, making up 88% combined.
The data reveals strengthening interest in crypto investment vehicles as prices stabilized in recent months. Sustained inflows could support extending the market recovery.
Also read: Ripple vs. SEC: Lawyer's Predictions Point to a Potential 2027 Resolution
Nonetheless, the predominantly European capital flows highlight the region's role as a crypto investment hub. Jurisdictions like Germany and Switzerland have cultivated crypto-friendly regulatory environments.
Ongoing adoption by European investors could compel regulators in other regions to introduce accommodative frameworks to attract activity. But supportive policies remain critical to unlocking institutional investment at scale.