Riding on the ETF hype wave, the crypto market noted renewed activity over the past week. Several new participants stepped into the market, while the existing ones also kept the wheel rotating by buying assets. Institutions registering positive flows during the same period were just the cherry on the cake.
According to CoinShares' latest weekly report, crypto and other digital asset investment products noted their "largest" single weekly inflows since July 2022. The same summed up to $199 million. In effect, almost half of the prior 9 consecutive weeks of outflows have now been corrected already.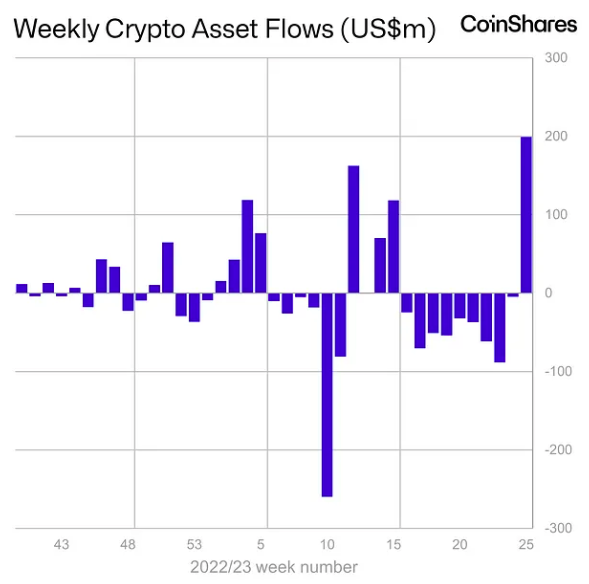 Also Read: With Ethereum at $1.9k, Exchange Balance Drops to 'All Time Low'
Goes without guessing that Bitcoin was the biggest beneficiary last week. Around 94% of the inflows, i.e. 188 million, were registered by BTC. The multi-asset basket and Ethereum followed next, noting around $8 million worth of positive inflows. With respect to Altcoins, CoinShares' report noted,
"This turn in sentiment didn't trickle down to altcoins with only very minor inflows."
Assets like Solana and XRP registered minor flows worth $200k million. Litecoin, however, was the odd one out, for institutions reduced their holdings by $100k. Nevertheless, it should be noted that the total assets under management are now at $37 billion. This is the highest level attained since the pre-3 Arrows Capital collapse period.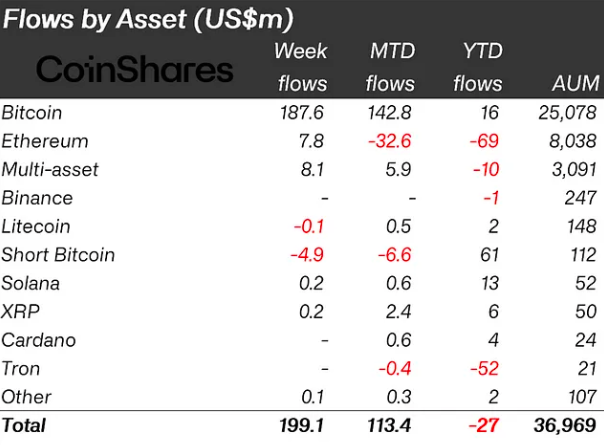 Also Read: Bitcoin Cash Rallies 111% in 5 Days: Back From the Dead?
Who'd likely get the first ETF approval?
According to people from the community, BlackRock is leading the ETF approval race for now. Well, the asset manager has a record-high success rate when it comes down to its ETF applications with the SEC. To date, it has got 575 approved, with only one being rejected.
However, according to ARK Investment executives, Cathie Wood's firm is the first in the queue to get potential approval for a spot Bitcoin ETF. BlackRock seemingly distinguished its application with the addition of a "unique" exchange surveillance-sharing agreement intended to prevent market manipulation. However, Ark's analyst Yassine Elmandjra pointed out that "other applicants will be able to amend their filings with similar agreements at little cost." Elmandjra added,
"In April, ARK and 21Shares filed an application with the SEC for a Bitcoin ETF that now is the only one ahead of BlackRock's."
Bloomberg Intelligence ETF analyst James Seyffart was also on the same page and said,
"21Shares, ARK, and CBOE are first in line because their next SEC decision date is 8/13/23 and we don't yet have a date for the other 19b-4 applications like the one from BlackRock. I would assume Cboe is looking to update their 19b-4 rule change proposal to add a surveillance-sharing agreement with Coinbase if they believe it could be a path to an ETF approval."