The crypto industry has been dealing with nothing but mishaps throughout 2022. As this year comes to an end, it would go down as one of the worst years. Hacks and attacks on DeFi platforms have been detrimental to the entire market. A whopping $3 billion was wiped out of the market this year.
The lack of regulatory clarity in the U.S. has been troublesome for businesses, investors, traders, and the regulators themselves. While 2022 recorded the biggest hacks in the history of crypto, 2023 is speculated to be even worse. However, proper regulations could save the ecosystem.
Therefore, the Financial Crimes Enforcement Network [FinCEN] revealed that it is "looking carefully" at the DeFi space. The agency will soon be seeking feedback from the banking industry for the same. Speaking at the American Bankers Association's Financial Crimes Enforcement Conference, Himamauli Das, FinCEN's acting director wanted to assess how DeFi was curbing the agency's efforts in curbing financial crime.
Das pointed out that the agency was particularly focusing on the Money Laundering [AML] and Combating the Financing of Terrorism [CFT] framework for crypto assets.
Elaborating on the same, Das said,
"We are engaging with relevant U.S. government stakeholders in this effort. We welcome engagement with industry — including the banking community — to better understand your assessment of the vulnerabilities and risks."
The agency will need to reduce the risks of illegal finance and national security presented by the abuse of digital assets according to Das, who acknowledged that DeFi will continue to disrupt the financial services industry.
Will this Disrupt DeFi's ethos?
DeFi is the only part of the crypto-verse that remained true to Bitcoin's original ethos of decentralization and privacy. In addition, maintaining detachment from government surveillance was also pertinent.
Things could be changing as the increased number of hacks and scams have been bothering regulators across the globe. If the U.S. government regulates the DeFi space, the last leg of decentralization would disappear from the industry. This is mostly because most users of the DeFi space are from the U.S.
A recent report from Huobi highlighted how the U.S. accounted for 31.8 percent of the global usage of DeFi.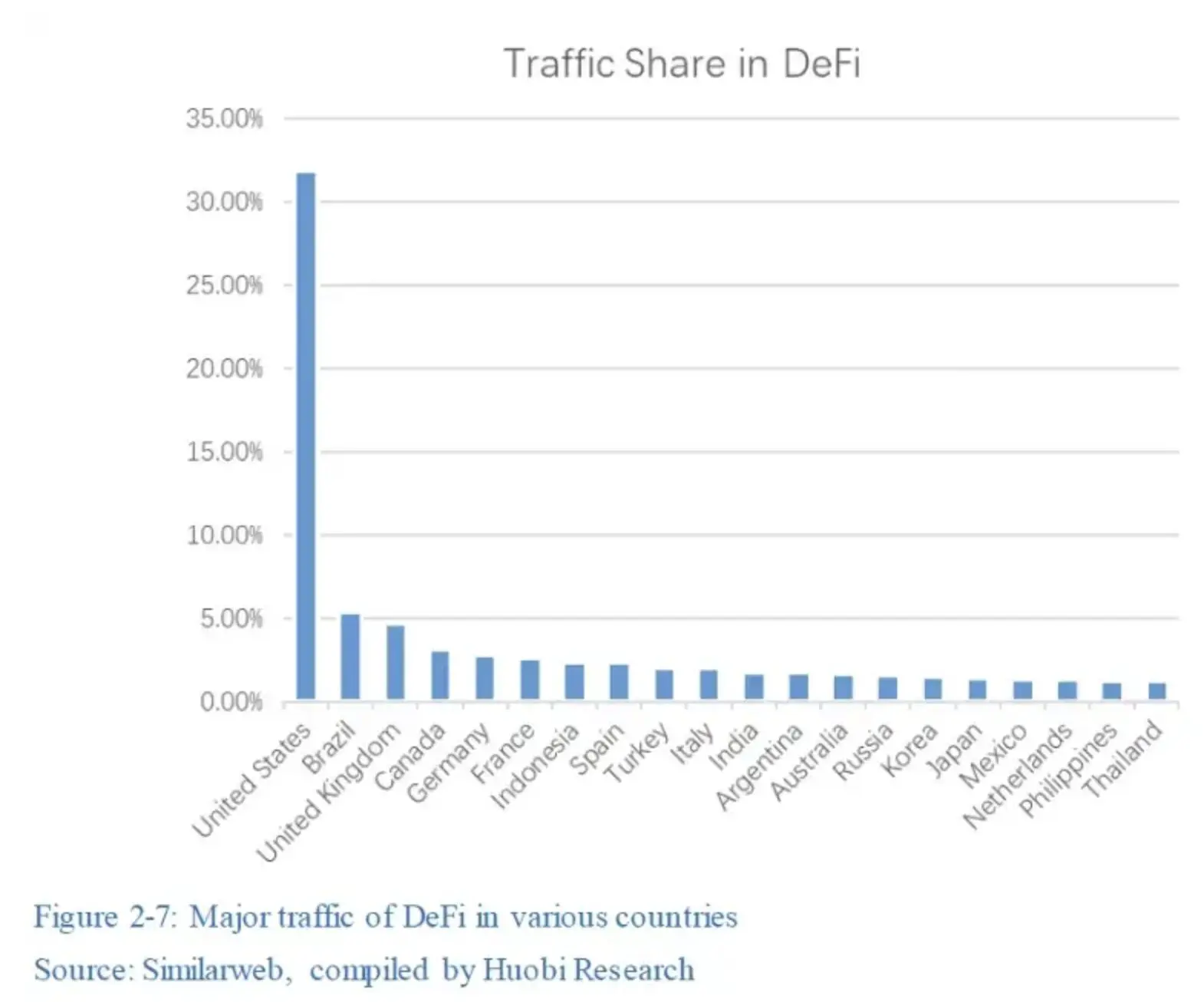 Elaborating on the same, Huobi wrote,
"[This may] be tied to the fact that DeFi was originally rooted in the U.S soil. The U.S. has invested tremendously in the crypto industry with ongoing influx of funds and talents; many startups flocked to tech and financial hubs such as Silicon Valley and NYC."