With the collective market consolidating, DeFi token AAVE has managed to register a 35% rally. From its daily low of $56.95, the asset climbed up to $76.9 in just less than 12 hours. Its 35% uptick, however, quickly lost steam and AAVE started retracing. At press time, the token is at $64.63, down 16% from the aforementioned peak.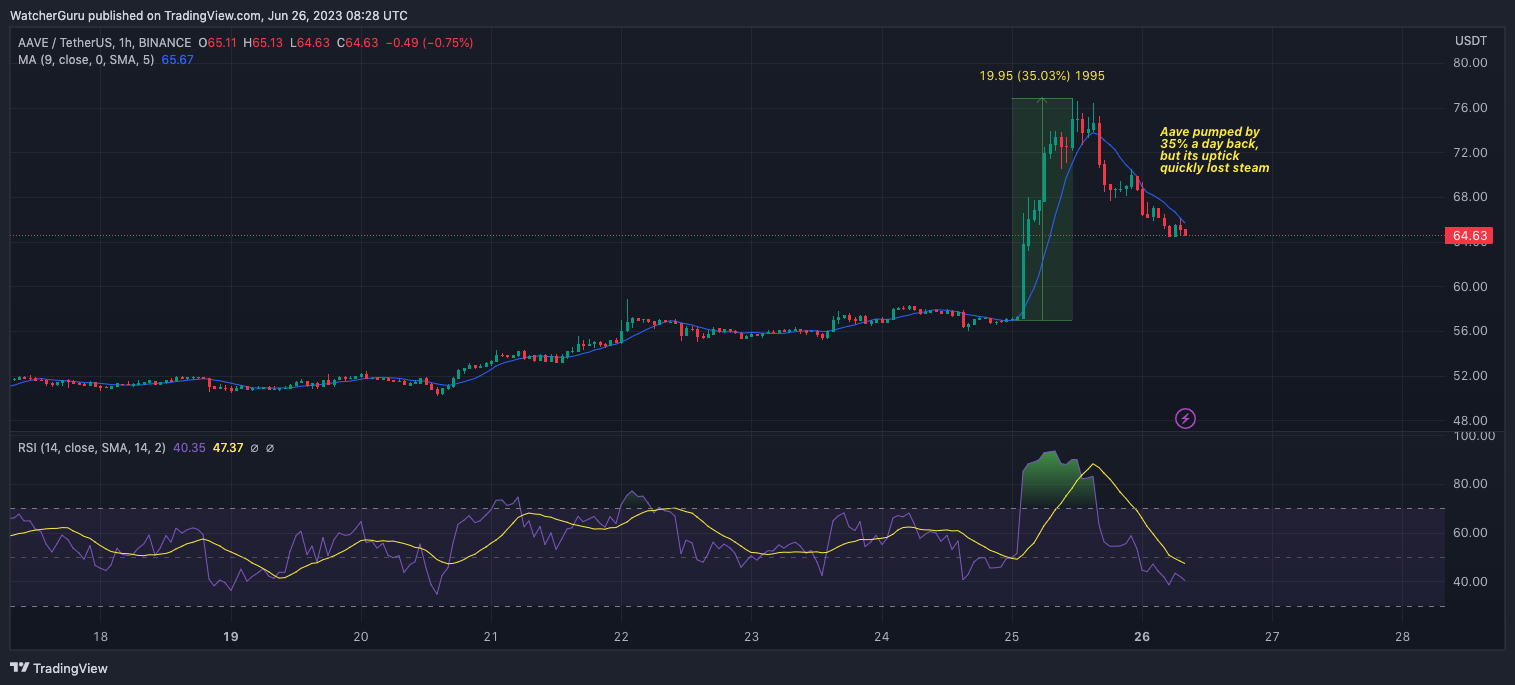 Also Read: Crypto Hacks Drop 70% in Q1 2023: Research
Data from Lookonchain revealed that a particular whale accumulated 182,152 AAVE tokens, approximately worth $13.2 million from exchanges via multiple addresses over the past day. Post all the 'in' transactions, the whale's wallet held a total balance of 399,585 AAVE, worth $29 million.
However, a couple of hours back, the whale started selling tokens. According to on-chain data from Etherscan, the large participant transferred 'out' around 38,000 AAVE tokens. These tokens, in retrospect, were sent to exchanges via multiple addresses.

Along with the whale, Tron founder Justin Sun also recently executed a huge AAVE transaction. Lookonchain pointed out that the executive deposited all his 111,910 tokens worth $776k into Huobi a few minutes back. Prior to this, he disposed of millions worth of tokens when the valuation of the asset was 3 digits, back in 2021 and 2022.
Other market participants also seemed to be following suit. Data from ITB revealed that the number of zero balance addresses associated with AAVE has noted a 1016% incline over the past week. This means the addresses transferring out all of their balance are currently on the rise, re-underlining the selling bias.
Also Read: Is Pepe Coin & Co. Helping DeFi Thrive?
Bottom Line
Fundamentally, not a lot has changed over the weekend. Let's consider the protocol's TVL. According to data from DeFiLlama, the value of all the funds locked on Aave has been stagnant at around $5.6 billion, providing no incentive for the bias to flip to bullish.
Parallelly, the broader DeFi market continues to struggle. From an aggregate valuation of over $48.3 billion, the value of all tokens from the sector has dropped down to $47 billion in just the past 24-hours, bringing to light the not-so-optimistic sentiment of market participants. Thus, unless another massive purchase takes place, there's not much on-chain or fundamental support at this stage that can help AAVE renew its bullish streak.
Also Read: Tether, USD Coin, DeFi Could be Targeted by SEC Next: Berenberg